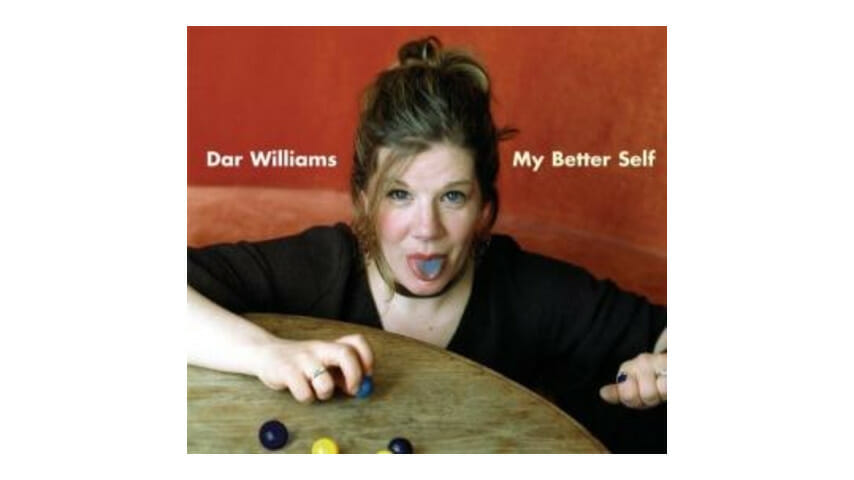 Politics of the Heart: Politically conscious folk rocker opts for humility in lieu of brazen polemics
Political diatribes in the music world have grown tiresomely commonplace these days. There's a coarse symmetry to the proceedings: Toby Keith wants to kick the asses of all the bleeding-heart liberals, Steve Earle wants to kick the asses of all the warmongering conservatives, and everybody else wants to bludgeon anybody who happens to maintain an opposing ideological stance; an eye for an eye, a spiked middle finger for a spiked middle finger, and a rock 'n' roll screed for a rock 'n' roll screed. In such a highly charged atmosphere, Dar Williams' My Better Self—as politically minded as any album released in the past year—arrives as a soothing, self-aware lullaby that actually manages to generate some light in the midst of the heat.
Williams has always been a fine writer with a highly idiosyncratic, frequently humorous lyrical bent. Her first album contained a song that mentioned Ronald Reagan and Sid Vicious in the same line, and she's made a career out of such quirky juxtapositions. This time, however, she's opted for a much more straightforward, less-ironic approach, both when she's addressing issues of global importance and when she's baring her soul in full late-night confessional candor.
"The Empire," the album's most overtly political song, finds Williams confronting the establishment hegemony and its spin masters, noting, "for every five tanks, we pitch a sentimental story," and wondering when the sun of justice will shine on everyone. It's a message as old as the prophet Amos and as contemporary as the genocide in Darfur, and it's notable for its lack of histrionics, venom and spleen. "Teen for God" dissects the fear and judgment crouching in the heart of isolationist Christian culture, but is surprisingly tender in its conclusions, wondering how and when the song's narrator—once all the Christian cultural props have been removed—will be able to find a God for such cynical times.
Williams has always been labeled a folk artist, but she's long since moved beyond such pat categorization. My Better Self features a musical palette encompassing folk, pop, roots rock and bluesy torch songs. The album sags toward the end with a couple pretty, but ultimately lightweight, acoustic songs, though there's a fair amount of variety here, and the choice of covers—Pink floyd's "Comfortably Numb," with a wonderful counterpoint vocal from Ani DiFranco, and Neil Young's "Everybody Knows This is Nowhere," with sparkling harmonies from Marshall Crenshaw—not only rock, but simultaneously illuminate the sad state of our cultural landscape.
Even with the world's political climate, Dar Williams keeps in touch with her own weaknesses and wisely refrains from spouting glib pronouncements or angry denunciations. In the lovely closing song, "The Hudson," she envisions the river flowing gently past the man-made wonders of the modern world, and muses on the beauty escaping the notice of millions who take it for granted. "We thought we did it on our own," she marvels, amazed at the hubris of such a notion. In the process, she manages to shine her gentle spotlight on two qualities all too rare in the music world—humility and grace. It's a timely and tuneful reminder that we all have the capacity to be better than we are.