Today in the Paste Vault: David Bowie Plays the Hits, Covers The Who in 1983
A rejuvenated Bowie and his 10-piece band kill it on Rebel Rebel," "Heroes" and more
Music
Features
david bowie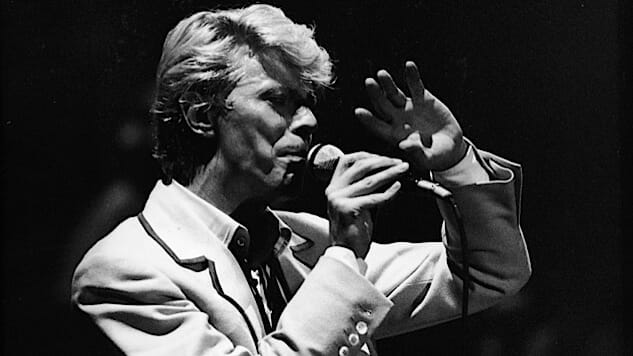 Did you know that Paste owns the world's largest collection of live music recordings? It's true! And what's even crazier, it's all free—hundreds of thousands of exclusive songs, concerts and videos that you can listen to and watch right here at Paste.com, from Muddy Waters to The Rolling Stones to R.E.M. to LCD Soundsystem. Every day, we'll dig through the archive to find the coolest recording we have from that date in history. Enjoy!
On July 12, 1983, David Bowie brought his Serious Moonlight Tour to the Montreal Forum for the first of a two-night engagement. Complete with a 10-piece band, a resplendent blonde pompadour and his finest tenor, Bowie played the hits from his new album Let's Dance, which at that point were just the first two singles: the title track and "China Girl." He also played album cuts "Modern Love" and "Cat People."
Here's "Let's Dance."
The Serious Moonlight tour reunited Bowie with guitarist Earl Slick, who had replaced Mick Ronson for the Diamond Dogs recording sessions in 1974. Also on board were the Tower of Power horn section and Chic/Power Station drummer Tony Thompson. The result was a souled-out steamroller of a backing band that re-energized Bowie in the early-80s after his turn to darker, more experimental music during his mid-'70s Berlin period. (Not that those albums weren't great. Here's Bowie doing "Heroes" in Montreal.)
Besides the "Let's Dance" numbers, the band helped Bowie rip through dynamic (and sometimes reimagined) versions of past classics like "Space Odyssey," "Life on Mars," "Rebel Rebel," "The Jean Genie" and "Young Americans."
Here's "The Jean Genie," with a fun fake-out opening.
This tour only featured one song from Bowie's legendary 1972 album Ziggy Stardust, "Star," but it's a great one, with Thompson's drums leading the band out of the gate.
Finally, Bowie threw some choice covers into his 27-song Serious Moonlight set, including The Who's "I Can't Explain," The Pretty Things' hit "Sorrow," and a full-bodied version of The Velvet Underground's "White Light/White Heat," where every corner of the band gets to flex its muscles.
All in all, a great show brimming with a veritable greatest-hits setlist, nearly half of which eventually wound up on Paste's 2013 ranking of Bowie's 24 Best Songs.