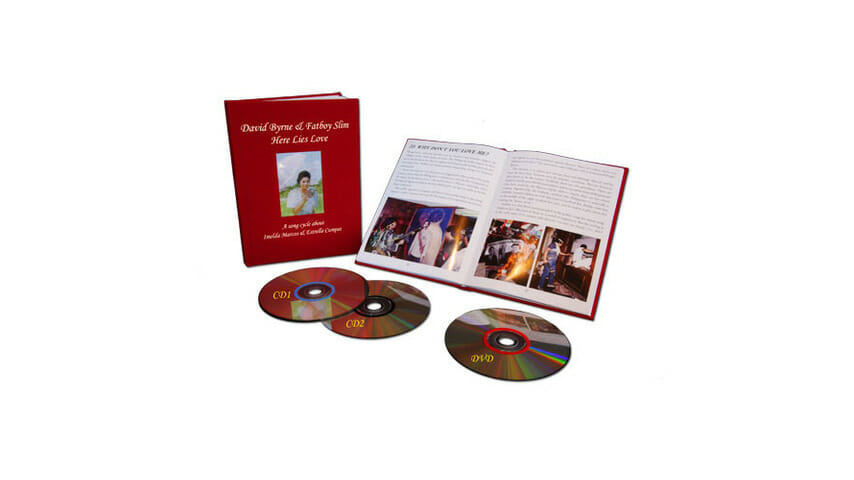 High-concept album underwhelms
A concept album is a tricky thing. It strives to occupy the intersection of narrative and song, telling a compelling story though original musical compositions. They've been done quite well (think The Who's Tommy), but they can also be cheesy, overwrought and far more reminiscent of a Disney film than a rock opus.
Byrne and Slim fall into this trap again and again during the first half of Here Lies Love, their concept album paralleling the life of former first lady of the Philippines Imelda Marcos and the women who raised her. The duo aspired to make an album of dance tracks inspired by the swanky clubs Marcos frequented in the '70s, but Slim's mild-mannered beats coupled with a sort of world music-lite instrumentation too often evoke the image of an animated princess sashaying through town, telling her story through song. Byrne is aware of this (in the liner notes, he calls "The Rose of Tacloban" a "quasi-Disney song"), but that doesn't make it any more fun to listen to.
Listeners who can subsist on the first suite of songs' occasional gems (Nellie McKay's breezy "How Are You?" and Steve Earle's "A Perfect Hand") are rewarded for their patience when they pop in disc two. Sharon Jones' electric funk opens the second half of the record with casual bombast, followed by Alice Russell, who coos, then grunts, over a grungy guitar line. Whereas the first twelve songs find their wildly different singers somehow all sounding the same, vocalists like the B-52's Kate Pierson, Zero 7's Sia and Santigold have personality to spare on the album's B-side.
Overall, however, the narrative is disjointed. With multiple narrators voiced by a plethora of singers, it's hard to follow which character is speaking at any given time. Extensive liner notes clear up the confusion, but it feels like a lot of work for an album that's not particularly revelatory in either music or story.