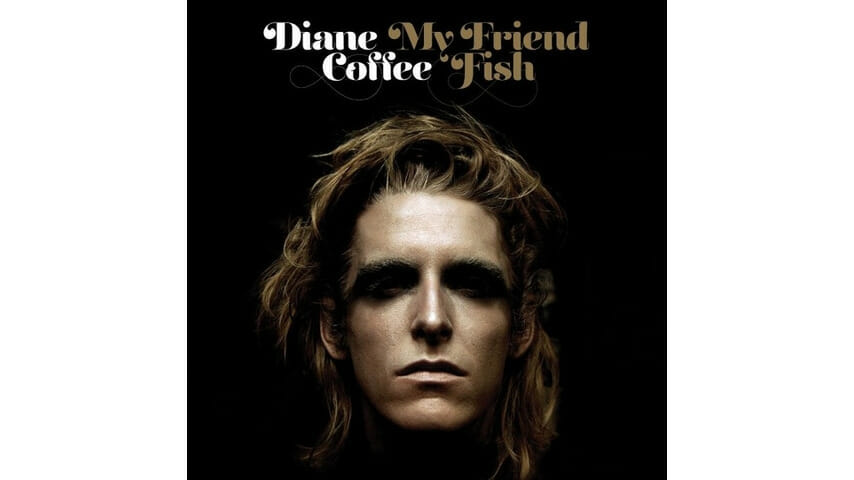 Packed with peace, love and jangly guitars, Diane Coffee's debut LP, My Friend Fish, is an irresistible ode to '60s psychedelia. After only a few listens, it's hard not to slip into dreams of floral-crown-wearing hippies and cozy Haight-Ashbury cafés.
As the drummer for retro-rock outfit Foxygen, Diane Coffee (the solo moniker of Shaun Fleming), isn't a stranger to nostalgic jams. And My Friend Fish oozes West Coast cool, a feat considering that it was recorded using bare-bones tools—think: an iPhone and an old kitchen pot—in a cramped NYC apartment. At the time, 26-year-old Fleming was dealing with a nasty case of cabin fever. Lucky for us, his miserable experience created a 10-track collection filled with organs that hark to both a traditional gospel concert and a jubilant acid trip.
The aptly titled "Hymn" opens the album with humming organs and pops of haunting choral vocals. Cheeky lyrics—"I give you my word/ though it's certainly one that you've heard/ I think that you're cool/ oh yeah, I catch a cold with you"—ripple through a swirl of reverb and percussion, building to a wonderfully noisy climax. The resulting chaos provides the perfect high-energy ending to an otherwise gentle intro. Taking more of a folky turn, "Never Lonely" has a funky flare with a defined bass riff leading throughout and warbled lyrics that act more as a separate instrument than a focal point. "Tale of a Dead Dog" begins like something off of Pink Floyd's Wish You Were Here. The simple guitar pairs wonderfully with ethereal, layered vocals.
Fleming has said that My Friend Fish was inspired by his youth and records from the Beatles, Bowie and Bill Withers, and it shows. Since recording the LP, the artist has moved from NYC to Indiana, but his time spent dreaming of California while living in The Big Apple is perfectly immortalized in his debut. "The album's my two-week odyssey," he says. "It's a document of my new East Coast existence. I missed the quiet. I missed the being able to have a fire. I missed the color green."