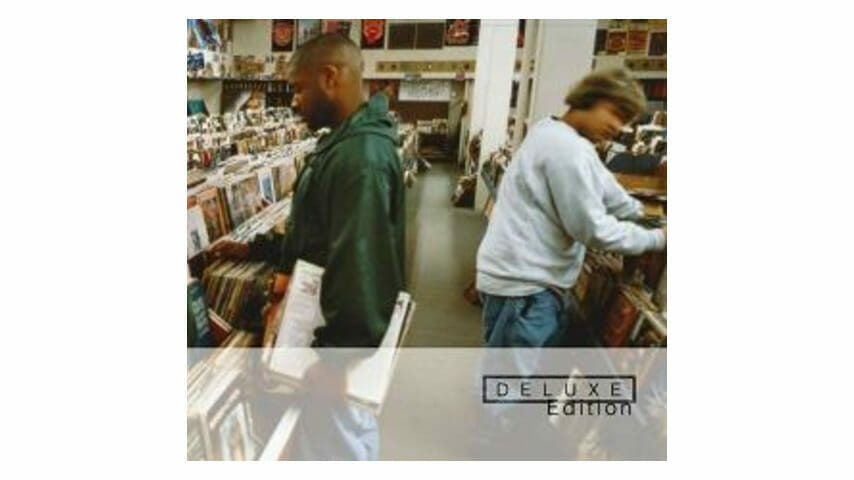 Standing In His Own Shadow: Generous reissue of DJ's stone classic sets the bar…again
In 1996, Bay Area DJ Josh Davis—known to the world as DJ Shadow—released his debut album Endtroducing. The 23-year-old had already enjoyed a run of highly regarded 12" singles on British label Mo' Wax, establishing himself as the producer to contend with in the emerging trip-hop genre. But, as good as those singles were, Endtroducing was better. Shadow's patient, detailed style—in which he sampled small bits of forgotten vinyl and meticulously stitched the pieces into new compositions—worked best in the long form. Endtroducing perfectly distilled the possibilities inherent in the sampling aesthetic and was received as an instant classic.
The dilemma of how to follow such a record is something Shadow's had to battle ever since. The long-in-the-making all-star album Psyence Fiction (recorded under the name UNKLE with Mo' Wax founder James Lavelle) and its low-key follow-up The Private Press both have their moments (and the latter is de?nitely underrated), but neither approaches the uni?ed vision of Endtroducing. Likely aware that many still consider the album his masterwork, Shadow has given it the deluxe reissue treatment, pairing the original album with an extra disc of outtakes, alternate mixes and remixes.
Endtroducing is a great record in part because of its unusually ?uid sense of genre. Though Shadow unfailingly calls his music hip-hop, the textural precedents spring primarily from other corners of the record shop. Film scores and the post-Floyd "head music" of the mid '70s are obvious touchstones, but other in?uences are more surprising. With its foreboding piano loop and a background chorus that sounds like dark angels accompanying a funeral dirge, "Building Steam with a Grain of Salt" can be heard as symphonic goth in the tradition of 4AD bands like Dead Can Dance. Further medieval heaviness emerges on the epic "Stem/Long Stem," with its delicate passages of plucked nylon-string guitar and glockenspiel accents leading to thunderous drum climaxes that dissipate into a mournful cello riff. Then the rolling bass groan of "What Does Your Soul Look Like Part 4" fuses with the wordless chants of some deep robotic voice, evoking the same uneasy futurism and techno-anxiety of Shadow's one-time tourmate Radiohead.
Dark clouds are only part of the story. "The Number Song" is a dense and explosive party jam, combining thick bass drones with nimble drum programming and playful vocals counting out the beats. "The Changeling"—which at ?rst suggests the laidback instrumental funk fueling the "rare groove" movement with its opening organ refrain—builds to a climax of ascending synth chords that stays just this side of cheesy, like a Miami Vice theme from a (cooler) alternate universe. Spoken-word bits from Bay Area crony Lyrics Born lighten the mood in a couple places, like goofy cartoons sandwiched between segments of a double feature. And then the closing "What Does Your Soul Look Like Part I" ends the album on an up note, with a warm sax and keyboard refrain evoking a Western cityscape at dusk, af?rming Endtroducing as one of the great California albums.
The bonus disc caters mainly to fans devoted enough to track down every last scrap. "Excessive Epherma," Shadow calls it, as he sequences the rarities and castoffs almost identically to the record proper. Roughly half the disc consists of "original demo beats" and alternate takes that offer insight into Shadow's composition process but otherwise drive you back to the album versions. Jurassic 5 DJ and Shadow-pal Cut Chemist contributes an awesome remix of "The Number Song" that received a fair amount of club play in the late '90s; also fun is the "Extended Overhaul" version of "Organ Donor," previously collected on the singles compilation Pre-Emptive Strike. The sharply designed package includes a thick booklet with an essay by Eliot Wilder, who's writing a book about Endtroducing for Continuum's 33 and 1/3 series, along with explanatory notes from Shadow and a whole slew of photographs of him looking serious as a heart attack beside skyscraping stacks of vinyl.
Some records are so complete they become nigh impossible acts to follow. My Bloody Valentine's Loveless and Neutral Milk Hotel's In the Aeroplane Over the Sea are classic examples, and in both cases their makers essentially gave up on music instead of trying. Shadow hasn't gone that route, thankfully. Perhaps he's releasing the Deluxe Edition of Endtroducing now, a year before its of?cial 10-year anniversary, as a way to purge himself of its legacy before lighting out in a new direction. It brings to mind the line from George Bernard Shaw about the two tragedies in life: One is to not get your heart's desire; the other is to get it.