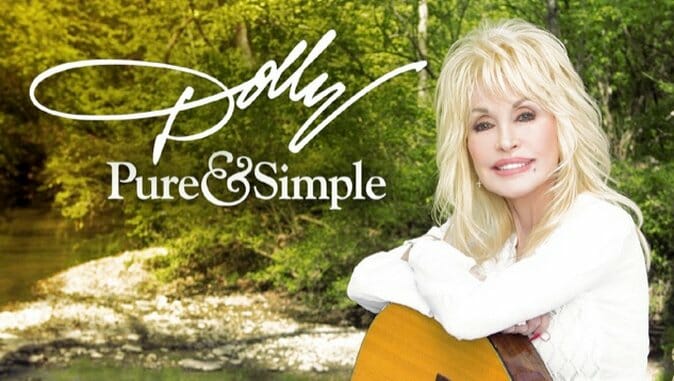 Dolly Parton's career has been incredible by any standard, racking up chart-topping singles along with dozens of beloved albums that delve beyond the borders of country music into pop and bluegrass and collecting plenty of awards and accolades along the way. But Parton isn't just a musician—she's built her career around iconic acting roles, bolstered growth in a Tennessee town with her ventures in tourism and hospitality, funded philanthropic efforts that reach across the continent, and done all of it with a business sensibility that should be held up as something to aspire towards. So while Parton is preparing for the release of her 43rd (Yes. FORTY. THIRD.) studio full-length, Pure and Simple, out tomorrow, we had to catch up with the 70-year-old country music legend to talk about plenty more, including her upcoming TV special, the various releases in the works in support of her foundation, and the background that built it all. Check out the interview in full below.
Paste: Pure and Simple is your 43rd studio release. Do you have a favorite album, and what were you hoping for when you went into this album?
Parton: They're all special. You know, if you're a songwriter, your songs are like your kids—some are better than others, but they're all yours! I don't know that I have a real favorite album. I've enjoyed doing all of them over the years, and I'm just so happy that they're still going strong. This particular one, it just seemed to be a good time to write an album of all love songs.
Paste: What else were you going for when you went in to record this latest album?
Parton: Well, when we went on tour together we were calling it Pure and Simple because we broke down the band to where there's just very few of us on stage. Pure and Simple seemed like the natural thing to call it. So I thought, 'Well, we need an album called that.' Then, of course, if we have an album called that, we needed a song called that! And I thought, 'Well, what am I going to write about?' I thought pure and simple love would be good. This year is my 50th anniversary with my husband, Carl Dean, and I thought, 'Well I could write a whole album of just love songs.'
Paste: That's something I wanted to ask you about—this is obviously a record full of love songs, and it got me to wondering what you think makes a good love song, when you're writing or when you're listening.
Parton: I love to write about everything. Love is always good. As you well know, I love story songs. Usually, my albums have a lot of things that tell stories. But love is a story—there's nothing better than a good love story. I try to cover all the emotions of love in this particular album, not just pure love but flirty love, passionate love, sexy love, cheatin' love—just all the colors of love. I guess you could call the album Love of Many Colors. I tried to look for, if it's not something I've experienced myself, I try to write for other people who are not able to write, so there are a few songs in the album that I've based off of relationships of other people that are dear to me.
Paste: You've been in music and country music for a long time. Are there any recent albums or artists coming up who have caught your ear?
Parton: I don't really have time to listen as much as I'd really like to, but there are a lot of wonderful new people out there. There's new ones coming along every day, and there's always going to be a Taylor Swift and a Carrie Underwood and a Miranda Lambert, who I especially love a lot. I've always been a huge fan of Allison Krauss. I just know they're all waiting in the wings—there's a lot of great talent out there, and I'm open and excited to support them and to see what people are coming up with next for country music.
Paste: It's great to hear you name all of these women in country, because I think a lot of women in music and outside of music look to you as a role model. One thing I've always admired was your business savvy—you own all of the publishing rights to your songs, and you even denied Elvis a publishing split when he was interested in recording "I Will Always Love You." What helped you build your business sense, especially as a young artist? Do you have any advice for young creatives?
Parton: Well, my daddy had a good business mind. My daddy wasn't educated, but he was just one of those really smart people who kind of just knew what to do and when to do it, and how to do it. I'd like to think that I got a little bit of my business sense from him.
But I realized early on that I didn't want to just be a singer. They call this the music business, and I wanted to make sure that I took care of the business end of show business. Because it really is a business, and you can give it all away and let other people tell you what to do, or you can try your best to try and own as much as you can of your own life and your own creativity. In your early days it's hard to do that, but as soon as you can get a grip on things, you should pay mind—be mindful—of your business things, and try to control and own as much of yourself and your things as you can.
Paste: Another thing I really admire about your business ventures is the way they revolve around and work within Sevier County. What is it like to be connected to your hometown, and do you feel like you're still able to be a part of the community?
Parton: It's always great to feel like a hometown hero, and I take great pride in the fact that they're proud of me. But they're no more proud of me than I am of them, and of the Great Smoky Mountains in general. We've got the most visited national park in the United States! I just happened to be born up there in the foothills of the Great Smokies. I knew it was a good place to do business, so I thought very early on in my career that if I made it, I was going to invest and do some business things [in Sevier County, Tennessee]. I also wanted them to have things that would provide jobs for a lot of people there—my neighbors, and my friends, and a lot of my family. So we do have several businesses in East Tennessee that I'm proud of—we have Dixie Stampede, our dinner theater out on the parkway. Also, we just opened a new one called Lumberjack Adventure. We have Dollywood and Dollywood Splash Country, and we're always looking for new things. It's a really good thing for the local people. It's good for the tourists who come visit, but it's good for the locals, because it provides a lot of jobs for a lot of people.
Paste: You do plenty of outright philanthropy, too. Dolly's Imagination Library has gotten enormous.
Parton: I'm very proud of that. Those are some of my proudest times, is when I hear all of the things going on with the Imagination Library and the Dollywood Foundation. We give books to children from the time they're born until they start school, once a month they get a book, so they can learn to read and be self-educated—get a good start in life. We've given away almost a million books since we started that. It started in my hometown, just for the folks locally because my dad didn't get an education, and he was very helpful to me in getting that started. I wanted to do something to honor him, and he was very proud of that. The fact that we started that in our hometown, and now we're all over the world…. We're just going to continue to put them books in the hands of children!
Now we have a new book, it's an illustrated book of the story, "The Coat of Many Colors," that's coming out in October, and all proceeds go to the Imagination Library. I also have a children's album that I've recorded that's coming out sometime, and all that money will go to the Imagination Library as well.
Paste: That's an incredible amount of things to have going on at once. What do you hope people come away with when they see the TV special for Coat of Many Colors?
Parton: I just hope that it brings families close together. People have been missing family and faith-based shows on television, like Little House on the Prairie, The Waltons, and that sort of thing. So I kind of decided I was going to do that. We're doing a sequel for Christmas, too, called Christmas of Many Colors. We might even do a series based on my life! A Life of Many Colors. That whole song—the theme of that—has meant a lot to a lot of people. It's an attitude and a philosophy. It's about giving. It's about the differences in people. It addresses the bullying that's such a prominent thing now with the children in schools. It shows you how you really should celebrate the differences in people. We're all different! We're all brought up different, and we should appreciate other people for who and what we are. So the little song has a lot of stuff in it that seems to be healing—in this day at time, especially.
Paste: Definitely—it can be tough to stay out of the name-calling these days. I've seen where you've been dragged into politics, between the elections and controversial bills at the state level. What kind of role do you think musicians and artists have in shaping politics and current events?
Parton: Well, I think there's two or three ways that we can do it. If you're actually a celebrity or in a prominent place in society, you have a way to make your causes known. A lot of the artists choose to get involved in politics. I never have wanted to get into the bickering of it—favoritism and all that—but of course I have my own opinions and my own thoughts. As songwriters, we actually can write what's going on in the world. That's how some of the most wonderful songs back in the '60s you loved [came about], protesting the war. They were great, wonderful, sing-able songs. Everybody can do it different—everybody should, based on what their thoughts are, based on their personality, what their following is, and how you think you can touch people. The world is crazy right now. For me, I just want to try to be a light in this world somehow and to try to do something, to have a good, positive attitude and to uplift mankind if I can. I think that's what all of us should try to do, whether we're celebrities or not.
Paste: What are the things in your life, whether it's your personal life or career, that fuel those positive interactions?
Parton: Well, I love what I do. I have a lot of faith in God. I have good friends. I have good business people. I try to just stay true to the values that I grew up with back home in the Smoky Mountains and try not to do anything that would embarrass people, my parents or my family. But I just try to make people feel good, if I can, because there's just so much awful stuff out there. I just pray that God will use me somehow to be a positive force in this world.