Daily Dose: Empath, "Drunken Angel" (Lucinda Williams Cover)
It shouldn't work—but it does. It really does.
Photo by Troy Memis
Music
Features
Empath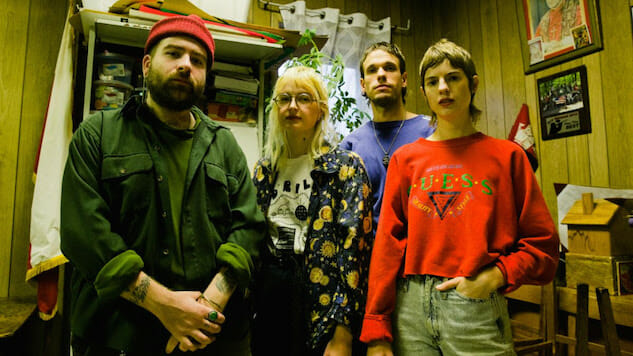 Indie acts have really enjoyed covering country songs in years of late—boygenius famously tackled the Dixie Chicks' "Cowboy Take Me Away" at KEXP last year, whereas Maggie Rogers did a number on Taylor Swift's "Tim McGraw" for Spotify. Now, Philly noise-rockers Empath, arguably the farthest thing from country a band can be, have shared a take on Lucinda Williams' "Drunken Angel," from the rebel singer/songwriter's 1998 classic Car Wheels on a Gravel Road.
It may seem like a left-field decision for Empath to cover the red-dirt Americana rocker, in which Williams memorably eulogized fellow musician Blaze Foley, the Texas country singer who was shot and killed in 1989. But they pull it off without a hitch. They spout the lyrics in a frenzy, shooting off every "Drunken angel, you're on the other side" with a hurried shout and a gnarly guitar solo while feedback and synth nearly overtake the other sounds before the cover warps into a four-minute jam session which they've titled "The Other Side." In other words, they Empath-afied this song. And it sounds totally badass.
"We were interested in reworking a song outside of our typical style of music," says Empath's Catherine Elicson. "We also wanted to pay homage to Lucinda Williams, one of the greatest living songwriters. So we dragged 'Drunken Angel' through the Empath filter, and the result is what made it to the other side. Lucinda, we hope you don't hate it!!"
How could anyone hate something this outlandishly awesome? Empath re-released their debut album Active Listening: Night On Earth on Mississippi rock label Fat Possum this month, after its initial arrival on Get Better Records earlier this year. They also released a pair of EPs in 2016.
Listen to the Empath's fizzy, fiery cover of a Lucinda Williams classic below, along with a bonus, Paste archives-plucked performance of the track by Williams herself circa 1998. Revisit our review of Active Listening: Night On Earth right here.
Read: The 15 Philadelphia Bands You Need To Know in 2018