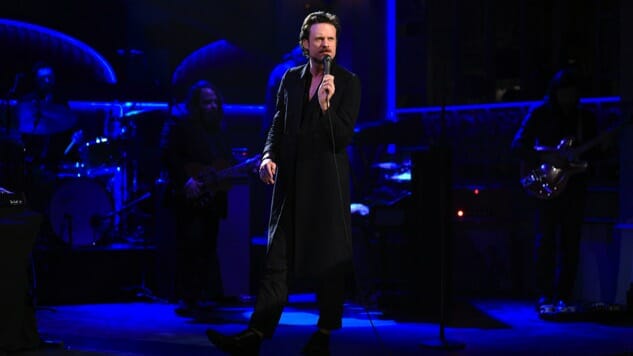 Father John Misty's been rolling out his new album Pure Comedy for a while now, and this weekend the sardonic songwriter popped up to SNL to perform a few fresh cuts.
FJM played Pure Comedy's "risen zombie" and "celestial virgin"-skewering title track, as well as "Total Entertainment Forever," a new tune that targets "virtual reality" and casually mentions sex with Taylor Swift in the Oculus Rift in its opening line. With a fine-tuned band behind him, the singer never really let his satirical guard down, though he did showcase some sharp dance moves.
Watch him perform "Total Entertainment Forever" above and "Pure Comedy" below. You can see Father John Misty on the cover of Paste Quarterly Issue One here, grab your copy here and check out FJM's full slate of tour stops below, along with Paste Cloud audio from his 2012 Daytrotter Session.
Father John Misty Tour Dates:
March:
20 – Paris, France @ Café De La Danse
21 – Amsterdam, Netherlands @ Zonnehuis
24 – London, England @ Rio Cinema Dalston
26 – Glasgow, Scotland @ 6 Music Festival @ Tramway
April:
12 – San Diego, Calif. @ Humphrey's
14 – Indio, Calif. @ Coachella
21 – Indio, Calif. @ Coachella
May:
05 – Toronto, Ontario @ Royal Alexandra Theatre
06 – Toronto, Ontario @ Royal Alexandra Theatre
10 – Brooklyn, N.Y. @ Kings Theatre
13 – Mayer, Ariz. @ FORM Arcosanti Festival
15 – Chicago, Ill. @ Chicago Theatre
24 – Seattle, Wash. @ Paramount Theatre
26 – Burnaby, British Columbia @ Festival Lawn at Deer Lake Park
June:
07 – Mexico City, Mexico @ Metropolitan Theatre
22-24 – Oslo, Norway @ Piknik I Parken Festival
23-25 – Ewijk, Netherlands @ Down the Rabbit Hole Festival
July:
28-30 – Niigata, Japan @ Fuji Rock Festival
August:
04-06 – Montreal, Quebec @ Osheaga Festival
31 – Dorset, England @ End of the Road Festival
September:
01-03 – Dorset, England @ End of the Road Festival