Flying Lotus Announces Wide Release for His Grotesque Directorial Debut Kuso
Image via BrainFeeder Films
Music
News
Flying Lotus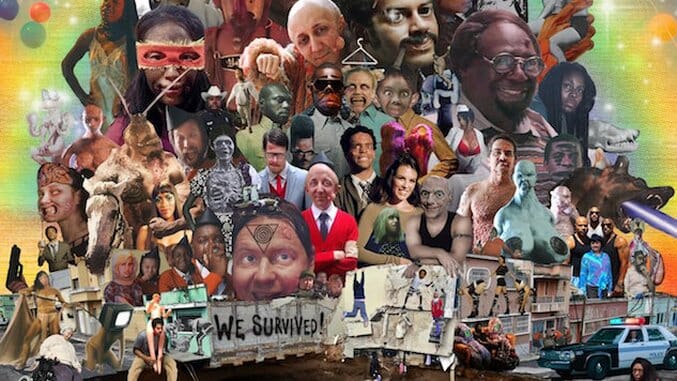 After premiering at Sundance in January, Flying Lotus' grotesque directorial debut Kuso has been picked up by horror streaming service Shudder.
The film is set for wide release on Shudder July 21. Kuso will also play in select theaters and become available on iTunes and Amazon the same day.
The film abstractly tells a story of Los Angeles following an apocalyptic earthquake. Called "the grossest movie ever made" by The Verge, the film's Sundance screening reportedly caused numerous audience members to walk out.
Iesha Coston, Zack Fox, Anders Holm, Tim Heidecker, Hannibal Burress and George Clinton star in the film, which features some disturbing circumstances that have drawn comparisons to Salvador Dalí and Luis Buñuel's 1929 surrealist short film Un Chien Andalou.
As could only be expected, the film also features a long list of music contributors, including Aphex Twin, Thundercat, Akira Yamaoka, Kamasi Washington and Flying Lotus himself.
The producer and rapper took to Twitter today to detail the release. He praised Shudder, claiming Netflix was "afraid" of he and writer David Firth. He also confirmed a physical release for the film is still to come.
Watch the trailer for Kuso below and see Flying Lotus' remarks from Twitter further down.
So happy to finally tell u all that KUSO has been picked up by the good people at amc/shudder.

— FLYLO (@flyinglotus) June 6, 2017
After Kuso played at Sundance, Shudder have been on top of this thing. I'm so glad my first film will be in the best home possible.

— FLYLO (@flyinglotus) June 6, 2017
We are doing a big ol physical release later https://t.co/5DlwLWqOpK

— FLYLO (@flyinglotus) June 6, 2017
I love shudder. Best curation of horror films and weirdo shit. Kuso will sit next to Tetsuo the iron man??? And visitor q?That's a good home

— FLYLO (@flyinglotus) June 6, 2017
Y'all can't hate on shudder. Netflix are scared as fuck of me and @DAVID_FIRTH. Shudder came thru like hey. $ and a Yo. We got u. ??

— FLYLO (@flyinglotus) June 6, 2017
If I knew how hard it was gonna be to make Kuso I'd have probably never done it. Making movies is hard terrible and fucked up.. but!

— FLYLO (@flyinglotus) June 6, 2017
Seeing something come to life from my imagination is the most rewarding part of the creative experience for me…And all the faces u make.

— FLYLO (@flyinglotus) June 6, 2017