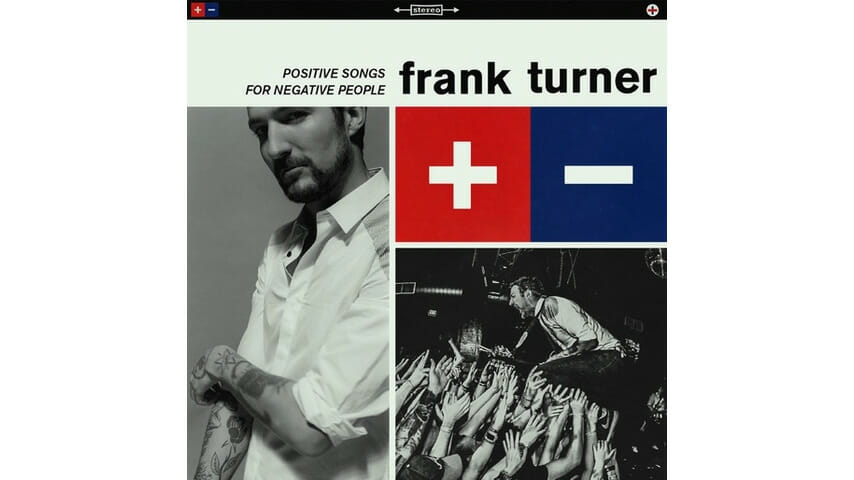 Frank Turner emotes the way Reggie Jackson swings: with full force, and zero fear of striking out. A decade ago, the British songwriter fled post-hardcore outfit Million Dead, reinventing himself as a folk-punk troubadour—and he's carved out a unique niche, balancing Mumford & Sons' stadium-sized Americana churn with the abrasive uplift of Billy Bragg. Whether he's yelping about social issues (2007's Sleep Is For the Week) or romantic fall-out (2013's Tape Deck Heart), Turner attempts to condense the entire human experience into three chords and an everyman melody—gumption both dorky and divine.
His sixth solo album, Positive Songs For Negative People, opens with a folk LP cliché: the incidental thud of the performer stumbling into the studio and picking up a guitar. But "The Angel Islington" benefits from that awkward intimacy, as Turner sings of wanting to "wash my feet and cleanse my sins" in a lullaby cadence over fingerpicked chords. That's this dude in a nutshell: redeeming every inevitable cringe with a tearjerking moment of clarity.
The sappy road-weariness of "Mittens"—with its lines about unreturned postcards and thrift stores that "sell postcards by the yard"—is redeemed by its chiming, ascending hook. The album's goofiest moment happens during powerhouse "Demons," when Turner reflects, "Goddamn / It's great to be alive!" And just as the gag reflex kicks in, the track revs up with elastic electric guitar and mandolin. For every face-palm-worthy lyric on Positive Songs (see: "I could have been anyone I imagined I could be / I just needed somebody to wake me from my sleep / I could have Napoleon, could have been Beethoven"), there's a chorus that steel-toe-boots you in the goddamn gut.
Turner strips back the theatrics on closer "Song For Josh," the album's devastating centerpiece. The live-recorded acoustic ballad—written for D.C. club manager Josh Burdette, who committed suicide in 2013—finds Turner channeling his grief without cutesy metaphors or forced angst. "You can measure the mark of a man on the day that he died," he croons, with a quiver. "In the mixture of memory and wreckage that he leaves behind."
Turner leaves behind considerable wreckage with Positive Songs—in ways both cathartic and clumsy. And as usual, he goes down swinging.