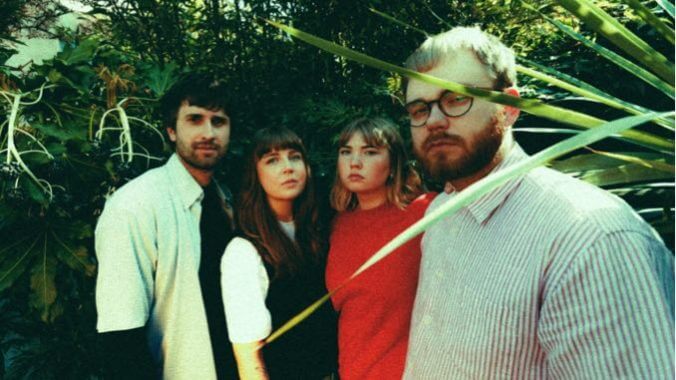 Girl Scout, a rock quartet from Sweden, have only released, at the time I'm writing this sentence, three songs. Even so, they are the best new band in the world. But how could that be? Just trust me. Of course, propping an artist up on such a tall pedestal can have its consequences. But, sometimes, you can tell when there is magic. Is it hyperbolic of me to make such a grand assumption? Perhaps, depending on the musical tastes of those receiving my proclamation. Yet, few artists in recent memory have come out of the gates as quickly, and as powerfully, as Girl Scout. The lead single from their debut, five-song EP Real Life Human Garbage, "Do You Remember Sally Moore?," wasn't just their first official release as a band, but their first song ever.
Even if Girl Scout were to never make anything beyond Real Life Human Garbage (Spoiler Alert: they have much more to give), the statement of their impressiveness would remain unequivocally true. Emma Jansson, Viktor Spasov, Per Lindberg and Evelina Arvidsson Eklind are the electric and immediate future, stuffing their sound with bedroom pop, jittery New Wave and seething indie rock fashioned together like an amiable smorgasbord of untapped potential. The band wrote, recorded and mixed Real Life Human Garbage in two months, and it was mastered at Abbey Road Studios, a real full-circle moment for the band and their origins.
Shortly after meeting at the Royal College of Music in Stockholm while studying jazz, Jansson and Spasov began making music as a duo, playing small gigs at malls or clothing stores. Jansson and Spasov would rework Burt Bacarach and Beatles songs into their own jazz arrangements, while Spasov wrote original songs for his own solo indie project on the side. "[Viktor] listened to indie when he was younger, and I did as well, then when jazz took over, we were both very engrossed in that," Jansson says. "I thought it was really cool that he was going back to his roots and playing indie college rock stuff. So I was like, 'Maybe we should start writing stuff together, since we have a duo.' We went from standards to covers to our own material."
Jansson and Spasov did the two-piece thing for a while before deciding it would be cool to have a full band. They brought in Eklind, who was also in Jansson and Spasov's class at Royal College, and Lindberg, a drummer Spasov knew who'd just moved to Stockholm. The genesis of Girl Scout was simple: A group chat and then a four-hour rehearsal. "Victor brought three song ideas and then, by the end, we had six songs," Jansson says. We were like, 'Great, let's just finish these and then we'll record them.'" Unfortunately, good timing wasn't on the band's side, as the pandemic hit pretty soon after they officially formed as a quartet. "There was nowhere to play," Jansson adds. "We were like, 'We either just rehearse for nothing and play the songs for nobody or we demo them and send them out to people, because we don't have anything we can do right now, except for that.'"
The band did what any artist in the digital era does: They created an official Instagram account, where they posted, as Jansson calls them, "analog photos" combined with sound bites from their songs, which led to them getting a manager, signing to Made Records and building a small following across the globe. They've remained steady in their output, creating 15-20 songs in an eight-month span. Girl Scout also has a secret SoundCloud of around 50 demos, and the number keeps ticking upwards. "I think our goal is to have songs ready for upcoming releases all the time and just never really stopping, so you don't run the risk of getting writer's block because you waited and then got out of rhythm," Jansson says.
Girl Scout's jazz roots are not immediately evident on Real Life Human Garbage. As Jansson says herself, you don't hear the arrangements on "Weirdo" and think, "Oh, that's jazz." Instead, it's a structural and technical influence, as the average jazz song often jumps between two or three keys. Understanding how to navigate harmonics was a crash course that really helped spread out what kind of sounds the band could make. "We've played a lot of weird stuff, so the possibilities feel more broad, because, things that might sound out of context, you can put them into context because you've played weird music," Jansson adds. "I'm terrible at jazz theory. I'm really, really bad at that. But, I think you train your ear to hear how you can put things together."
The way Girl Scout make a song fluctuates. Sometimes, Jansson writes the whole thing, brings it to the rest of the band and they learn the track from start to finish; other times, she and Spasov trade writing the verses and choruses, playing off of each other without being afraid to call out a weak lyric or arrangement. "We've gotten very good at adding to each other's work, but making it feel seamless, because I know his musical tendencies and he knows mine," she says. "We've gotten really good at finding a common ground and how we sound combined. From song to song, we've collaborated in every way possible."
Culling influence from Phoebe Bridgers, Elliott Smith and Big Thief, Jansson calls the compositional inspiration for Real Life Human Garbage "a phase of rediscovering indie." But a lot of the EP found its way through Girl Scout subverting the narrative they'd been in. "[Real Life Human Garbage] was very influenced by switching lanes, going to a jazz school and doing that and then, all of a sudden, completely switching it up and being the odd one out, doing something completely different than nobody else," Jansson says. "Nobody that we knew had a band. We weren't in that scene at all. It felt very much like we were doing something different from our peers."
That type of singularity only adds to Girl Scout's lore. According to Jansson, there are many great indie acts working in Sweden right now, like Amason, a "breezy, synth-generated, Nordic kind of indie pop" band. There are Snail Mail-type groups, but Girl Scout is not running in those circles. "For us, I think it's been so much more individualistic in the sense that we don't have a physical music scene where people meet up and see different bands," she adds. "It's not how it was in the olden days, when there was a club and all the bands hung out at that club and they all influenced each other."
You won't hear any explicit references to the band's home country or hometown on the EP, either, which is par for the course among many Swedish bands. "There's something inside of me that feels like it would be awkward to refer to Stockholm in a song, it sounds kind of clunky," Jansson says. "Anytime I hear anything referring to Sweden in a song, it feels crammed in because it feels too specific to me. [Los Angeles] feels very general, because it's done so much. It feels weird mentioning Sweden in a song. Maybe I should actually try it." Instead, Real Life Human Garbage is a very coming-of-age record written during the apex of the pandemic, when quarantine was still in place, as Jansson and Spasov found inspiration in bingeable, accessible Netflix shows like Sex Education, The End of the F***ing World and Stranger Things.
But most importantly, the EP tracks heartache and nostalgia with familiar yet evocative imagery, like "I remember that I drew a heart around her name / While crying on the floor" and "Tongue-tied / Covered in rust / Letting go would be unjust" or "I feel fine when I'm driving by my high school / Buildings look small and I am supersized / Guess it's alright to put the shame aside / When I look up at the sky and see a meteorite." You can't lift these memories from a television show, which makes Real Life Human Garbage so great. It's a lived-in record, brimming with moments listeners can fully step into. Across the five songs, Girl Scout asks us to step into their color.
Real Life Human Garbage is, as Jansson calls it, a "band song" type of record. The arrangements are fundamental, concrete and play boldly into formulaic indie rock. But Jansson's quick to note that she and the band are gradually broadening their influences, experimenting more with production and trying to avoid their debut pigeonholing them into this sound forever. "I think it's important to not get an expectation of what your musicality is supposed to sound like. That's when I think you start choking and get writer's block, because you feel there's an expectation for you to write a certain type of material," she says. "Me and Victor, we do a lot of weird stuff. We do a lot of jazz standard-sounding songs, we have some very math rock-ish things. We've talked about making demos completely electronically produced and seeing what that does to the sound of the songs."
Jansson, Spasov, Lindberg and Eklind's musical direction felt natural from the jump. And, though they have established their sound and ensconced themselves in the warmth of its textures, they are acutely aware of how critics sometimes disfavor sonic transitions in discographies. But they're unafraid of always moving, and that confidence has only heightened the band's chemistry. "I think we do have a clear image of what we sound like and our tendencies, which I think is good, because we're probably going to reach a point where we want to steer away from that, because you don't want to do the same album again and again and again and again," Jansson adds.
When trying to understand what the magic of Girl Scout really is, it's hard to look away from the fact that the band writes cathartic songs joyously. All signs point there, as the band looks to tell their stories in a language that doesn't feel so puffed up with pretty filler or rewritten cliches. Sometimes the tracks do resemble the "sad girl indie" trope that has been weirdly heaped onto non-men in music who make albums that are emotionally dynamic and immense. But the tales of having anxiety, worrying about being an outcast and reflecting on high-school crushes on Real Life Human Garbage are not cry-for-help laments. Retrospect comes aplenty in Girl Scout's orbit, but never uncomfortably, as they look to beacons like Bridgers and Lucy Dacus for inspiration on how to inflect hope into their own worries. In turn, the songwriting mimics how Jansson speaks of her own sorrow: vulnerable yet grounded, unafraid of getting a bit ugly with the uncool details.
"I can talk about most things, but I don't like to feel sorry for myself or feel like I'm pitying myself. I don't like to wallow in things," Jansson says. "The song 'Run Me Over' is just about asking someone to run you over with your car because you're not achieving enough, so you could just die. It's very melodramatic and not serious, and I think that's how I usually communicate. And I really love songwriters that can capture that."
The trajectory of Girl Scout is one for the books. Who could've foreseen a bunch of jazz punks banding together to make the best debut of 2023 so far? For the band, the chemistry was immediate. On "Weirdo," Jansson opines about being an outcast. "I am just a woman / Who doesn't feel like something real / And I don't feel like a woman / I'm just a kid / Trying to stay hid / From everyone else," she sings. Jansson wrote the song after working at a grocery store during the early hours of the pandemic, and the way she translates how social interactions have become skewed, as have our perceptions of ourselves, in the last two years is painfully honest. The way in which Girl Scout lean into their own cringe is not akin to the artists who make parody purposefully. They are more than happy to explore the dorky parts of life's ups and downs. Real Life Human Garbage is a reliquary; a never-ending pillage of hindsight's kooky, unhinged and unrelenting presence in our lives.
Jansson, Spasov, Lindberg and Eklind have more music on the way in 2023, but I implore you to take a moment to fall in love with Real Life Human Garbage. If you are going to SXSW in March, catch their set while you're there. At the opening of "All The Time And Everywhere," Jansson sings: "All the time it feels like I'm running on the inside." Though the track is a masterclass rendering of how anxiety comes in fits and can often explode in seismic proportions, I believe the line also speaks greatly of the months leading up to the EP's release. Because of the pandemic, the band couldn't tour the first songs they wrote. So they wrote more songs. And then some more after that. Now, the clock is winding down. They've begun playing shows, slowly. The compositions are widening, finding new shapes in front of new audiences. Soon, Girl Scout will be running laps around indie rock, because they are not just the future, but, undeniably, every piece of the present, cutting through the noise, and expectations, with gracious, witty and kaleidoscopic rock and roll.
---
Matt Mitchell is Paste's assistant music editor, and a poet, essayist, and culture critic from Northeast Ohio. Find him on Twitter @matt_mitchell48.