All the 2019 Grammy Winners Who've Performed at Paste
Brandi Carlile photo by Alberto E. Rodriguez/Getty
Music
Lists
Grammys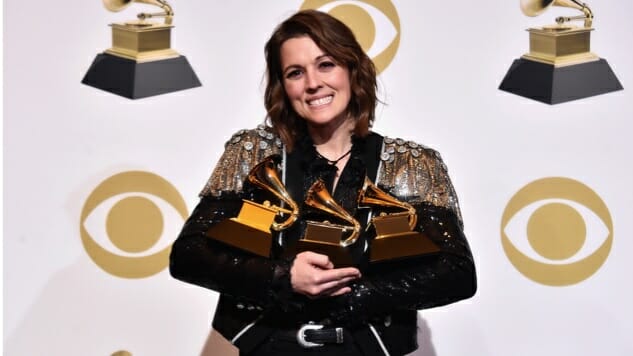 We've written extensively about this year's surprisingly entertaining Grammys. Now we want to share some of our favorite performances by this year's Grammy winners in the Paste Studio. Before they were taking home statuettes, they were performing at one of our recording spots. You can see all our Paste Studio videos on our YouTube channel (Please subscribe!). Congrats to the following artists on their 2019 Grammy victories.
Brandi Carlile
2019 Grammy Awards: Best American Roots Performance ("The Joke"), Best American Roots Song ("The Joke"), Best Americana Album (By the Way, I Forgive You)
Date of Paste Session: Oct. 10, 2009
I'll never forget the date of this performance because it was my daughter Jordan's 11th birthday, and Brandi Carlile was her favorite musician, making me a hero that day. The three-song performance was basically her birthday party, with the studio audience filled with pre-teen girls. Carlile was amazingly gracious with the kids and gave them a wave from the stage at her concert later that night. She'd first performed at Paste three years earlier at the first Paste Rock 'n' Reel music and film festival. Anyone tuning into the 61st Grammys on Sunday night discovered what we've known for more than a dozen years. No one sings like Brandi.
Fantastic Negrito
2019 Grammy Award: Best Contemporary Blues Album (Pleast Don't Be Dead)
Date of Paste Session: Aug. 27, 2018
This was Fantastic Negrito's second consecutive Grammy. And this recording was his third time in the Paste Studio (you can watch his performances from 2016 and 2017 here, as well). His original take on the blues is unlike anyone else you'll hear. Watch this video, and you'll see why he's welcome back into our studio any time.
Punch Brothers
2019 Grammy Award: Best Folk Album (All Ashore)
Date of Paste Session: March 16, 2012
Chris Thile and his band of Brothers played the Paste Party in Austin during the 2012 SXSW Music Festival to a raucous outdoor crowd. Be sure to check out Paul Kowert's bass solo during "Flippen." Thile and Michael Daves also played two other sessions for Paste in 2011, at our headquarters in Atlanta and at the Paste Ruins at the Newport Folk Festival.
The Travelin' McCourys
2019 Grammy Award: Best Bluegrass Album (The Travelin' McCourys)
Date of Paste Session: Jan. 24, 2019
We had the Del McCoury Band into our New York studio last year, and the younger generation of the McCoury clan returned to our Daytrotter Studio in Davenport, Iowa, last month, to play three songs from their self-titled album that would go on to win a Grammy. Brothers Ronnie and Rob McCoury, along with Jason Carter, Alan Bartram and Cody Kilby proved they're great players even with dear old dad leading the charge.
Bonus: Janelle Monáe
She may not have won a Grammy this year, but she continued to win us over with her stunning performance of "Make Me Feel." Here she is performing for our cameras at an abandoned house we stumbled upon in Austin, Texas in 2009. It was just too good not to share.