Lin-Manuel Miranda Announces The Hamildrops, Enlists The Decemberists for "Ben Franklin's Song"
Images via Theo Wargo/Getty, Mark Metcalfe/Getty, Atlantic Records
Music
News
Hamilton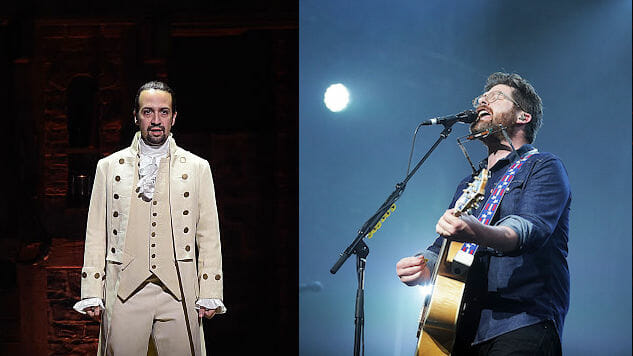 Last year, Lin-Manuel Miranda perpetuated the much-deserved Hamilton hype by releasing The Hamilton Mixtape, a collection of songs from the legendary musical, reinterpreted by musicians from across the genre spectrum. Now, he's back with more music, this time in collaboration with The Decemberists, "Ben Franklin's Song."
It all started when Miranda composed Decemberists-esque lyrics from the point-of-view of Benjamin Franklin, but because he couldn't figure out how to incorporate the kite-flying Renaissance man into his play, he never set the lyrics to music. Naturally, he reached out to Colin Meloy himself to take on the task, and the rest is history … kind of. "Ben Franklin's Song" is just the first installment in a ongoing project dubbed The Hamildrops. Miranda plans to unveil new Hamilton content every month until next December.
As described by The Decemberists, their song is very "swear-y," but also very educational and informative, adequately introducing the founding father by conveying his many accomplishments in a voice that perfectly represents him, or at least we'd like to think so. "If you're a HAMILTON fan, we hope it will add a new dimension to the world of the show for you—but you can also just enjoy it as a history lesson," the band said. "Franklin invented bifocals, you know. And the glass harmonica. WHAT A F***ING GUY."
Listen to "Ben Franklin's Song" below, and revisit our review of The Hamilton Mixtape here.