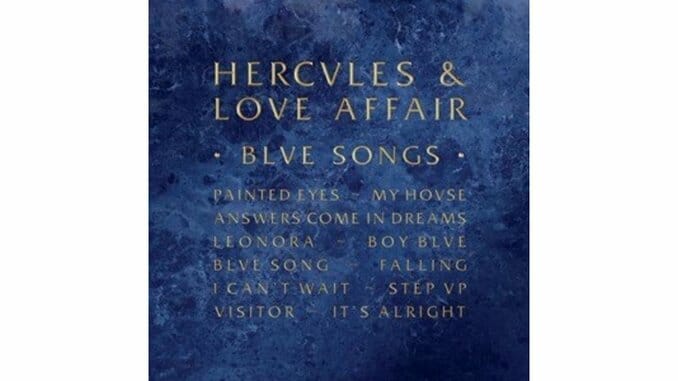 Hercules and Love Affair is not really a band—at least not in the traditional sense. Consider them a concept; an ever-evolving mixture of ideas and motifs consolidated into a centralized working machine. In interviews producer-mastermind Andrew Butler would talk about the group as something of a masquerade, one which would be adapted and reconfigured through decades, and with a long line of new vocalists. What that means for Blue Songs, the group's second record, is that the singular talent of Antony Hegarty is gone—in fact almost the entire band has been turned over, save for Butler and Kim Ann Foxman.
It's an exciting, if a little aggressive idea, especially considering the universal acclaim for the debut ensemble. Blue Songs is a systematic overhaul; it does away with the shimmering disco with darkened, pulsing, subwoofer-attacking house. Those blinding anthems "Blind" and "Hercules Theme" are missing; instead they serve songs like the hypnotic "My House" or the personal, interpretation-ready "I Can't Wait." As the title implies, the record is monochromatic. The beats are beaten into a hardy, closed-in thump; the flair and the fun give way to a humorless dancefloor attack.
If that sounds troubling to you, you probably hold the first album pretty close to your heart. One of the best things about Hercules' debut was its pristine, passionate soul—unfortunately Blue Songs tends to lean hard on the spiritless side of music-making, more concerned with organization rather than the intangible warmth of the songs. Butler is tackling some denser issues—life, destiny, the sanctity of a child's happiness—and it can sound like he's a little too self-conscious commentating on such seriousness through the flirtatious dialogue of disco, almost like he's talking himself out of writing the predictable (but great) songs we'd expect of him. This is especially striking on the centerpiece "Blue Song" which sounds nearly Jungle Book-like, which doesn't really work as ambience, dance, or even pastiche.
There are plenty of beats to latch onto throughout Blue Songs, but the only true, repeatable, mixtape-ready song is the aforementioned "My House" which, unsurprisingly, has the band at their most decadent. A lot of the miffed disappointment could come from the fact that Butler pulled the rug out from under his solidified, circa-2008 sound, but if nothing else the new incarnation is a lot harder to fall in love with.