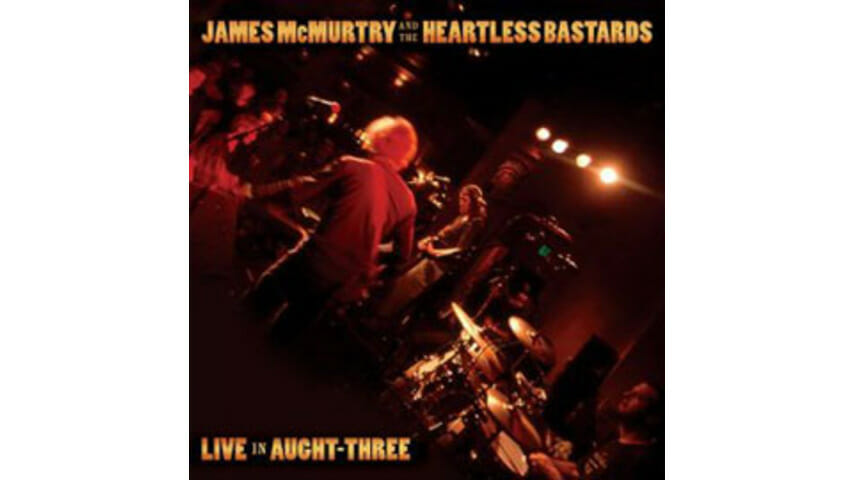 "I used to think I was an artist … come to find out I'm a beer salesman," croaks James McMurtry to a lively Nashville crowd in his dry-as-dust deadpan, never shying away from his role as one of the most legitimate stepchildren of the outlaw movement. Such is the life of a genuine Texas troubadour, and McMurtry has never cut an ambiguous profile in that regard, his seven albums reveling in the kind of smartly evocative and slyly probing songwriting that characterized a generation of down-and-out bards. And as any troubadour worth his salt lives and dies on the stage, it's only appropriate that he have a live album to document his authentic muses in their naked glory.
Live in Aught-Three captures one such moment (actually, a number of moments spread out over four shows). Having inherited his father screenwriter Larry McMurtry's eye for cinematic detail, he's a master in shrinking a fully fleshed narrative down for the small screen of the story-song, making the stage—with its attendant vulnerability—the perfect setting for his craft. Here, first and foremost, McMurtry serves the function of storyteller, the lurching blues stomp of "60 Acres" and the uneasily biographical "Levelland" breathing with a deep humanity and believable authority, touching on something both tangibly immediate and unsettlingly universal. As always, his Nick Cave-via-Kris Kristofferson phrasing lends his songs an even greater sober confidence, rendering the smart wordplay of "No More Buffalo" and the agitated guitars and threats of retribution coloring "Red Dress" all the more direct and cautionary.
As his best work has always had the effect of seamlessly pasting listeners into the setting of his impeccable illustrations—so as to draw them away from him as creator—it's here that we get what might be our first real glance of 'McMurtry the person,' as opposed to 'McMurtry the persona.' Whether inhabiting the role of thoughtfully redolent redneck, admiring the American expanse with a detached and queasy reverence, or as the self-effacing sage with the jaundiced eye and lascivious smirk, his ability to command the stage with little more than the power of his words places him among the best songwriters in his idiom.
Frequently criticized for getting stuck in one sonic gear on his studio albums, McMurtry stretches out here, as Aught-Three's 14 tracks allow him ample room to explore the different moods comprising his admittedly single-minded oeuvre. Even if his range as a musician and arranger isn't nearly as considerable as his depth as a writer, he uses such limitations to his advantage. He moves with extraordinary ease from the sad, fragile acoustic lilt of "Out Here in the Middle" to the rumbling garage blues riffage of "Choctaw Bingo." In fact, the lack of polish provided by the live setting finally puts McMurtry in a setting that intuitively feels right, allowing the characters in his songs to emerge even more clearly under the guise of his stage persona.
Still, he tends to get lost in the slow simmer of reverb-driven electric guitars, and it's an amazing testament to his power as a songwriter that he can get away with stretching so many of these songs out over six minutes without sacrificing the listener's attention.
It's not hard to see why McMurtry's work remains largely unknown outside Texas troubadour aficionados and similarly-minded singer/songwriters. While his talents are fairly immediate in their presentation, the full effect of his artistry does require the attention of an observant listener, and some might not be able to see through his general lack of commercial polish to discover the more subtle appeal of his songwriting. Somewhat paradoxically, the lack of polish on this recording makes such nuances stand even more starkly apart from the commonplace trappings of his music's artifice, making it obvious why everyone from John Prine and Joe Ely to John Mellencamp and Dwight Yoakam have counted themselves as fans. James McMurtry is the rare songwriter whose actual work trumps the inferred credibility of the company he keeps.