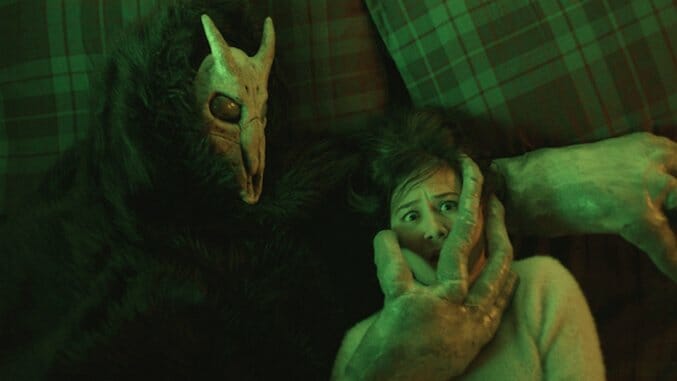 Japanese Breakfast (aka Michelle Zauner) has released the video for "Road Head," the third single from her much-anticipated Soft Sounds From Another Planet.
The eerie clip, influenced by Fallen Angels and Twin Peaks, is directed by Zauner herself. In her fifth collaboration with director of photography Adam Kolodny, the duo decided to focus on staging and an exaggerated color palette, according to a press release.
The follow-up to her highly acclaimed debut LP Psychopomp is a self-reflective work about healing based in science fiction. Inspired by outer space, Zauner's writing creates its own thematic galaxy. Previously released singles "Machinist" and "Boyish" already show maturity in Japanese Breakfast's sound, making us thrilled for what the remainder of the project has to offer.
One of the album's Paste is most excited about this month arrives July 14. Check out the "Road Head" video above and below, find upcoming Japanese Breakfast tour dates, including the conclusion of her tour with (Sandy) Alex G and Cende, dates with Tegan and Sara, and a headlining tour supported by Mannequin Pussy and Spirit of the Beehive.
Japanese Breakfast Tour Dates:
July
06 – Brooklyn, N.Y. @ Music Hall of Williamsburg *
07 – New York, N.Y. @ Bowery Ballroom *
08 – Philadelphia, Pa. @ Union Transfer *
15 – Brooklyn, N.Y. @ Union Pool ~
27 – Halifax, Nova Scotia @ Rebecca Cohn Auditorium ^
28 – Portland, Maine @ State Theatre ^
29 – Buffalo, N.Y. @ Town Ballroom ^
31 – Cleveland, Ohio @ House of Blues ^
August
02 – Covington, Ky. @ Madison Theater ^
September
07 – Washington, D.C. @ Black Cat +
08 – Richmond, Va. @ Stranger Matter +
09 – Raleigh, N.C. @ Hopscotch festival +
10 – Atlanta, Ga. @ The Masquerade (Purgatory) +
11 – Orlando, Fla. @ Will's Pub +
12 – Tampa, Fla. @ Crowbar +
13 – New Orleans, La. @ Hi Ho Lounge +
14 – Houston, Texas @ Walter's +
15 – Austin, Texas @ Barracuda +
16 – Dallas, Texas @ RBC +
18 – Phoenix, Ariz. @ Valley Bar +
20 – Los Angeles, Calif. @ The Echo +
21 – San Francisco, Calif. @ Swedish American Hall +
22 – Oakland, Calif. @ Starline Social Club +
23 – Eugene, Ore. @ HiFi +
25 – Portland, Ore, @ Holocene +
26 – Vancouver, B.C. @ Fox Cabaret +
27 – Seattle, Wash. @ Crocodile +
28 – Boise, Idaho @ Neurolux +
29 – Salt Lake City, Utah @ Kilby Court +
30 – Denver, Colo. @ Larimer Lounge +
October
02 – Minneapolis, Minn. @ The Triple Rock +
04 – Chicago, Ill. @ Subterranean +
05 – Bloomington, Ind. @ The Bishop +
06 – Detroit, Mich. @ UFO Factory +
07 – Toronto, Ontario @ The Garisson +
08 – Montreal, Quebec @ Bar Le Ritz PDB +
11 – Cambridge, Mass. @ The Sinclair +
12 – Brooklyn, N.Y. @ Music Hall of Williamsburg +
21 – Bristol, Great Britain @ Simple Things Festival
23 – Cologne, Germany @ Blue Shell
24 – Hamburg, Germany @ Hakken
25 – Berlin, Germany @ Badenhouse
26 – Paris, France @ Pop Up Du Label
27 – Gent, Belgium @ NEST
28 – Amsterdam, Netherlands @ London Calling
November
02 – Brighton, Great Britain @ The Joker
03 – Manchester, Great Britain @ Soup Kitchen
04 – Edinburgh, Great Britain @ The Mash House
05 – Glasgow, Great Britain @ The Hug and Pint
06 – Leeds, Great Britain @ Headrow House
07 – London, Great Britain @ The Dome Tufnell Park
(* w/ (Sandy) Alex G & Cende)
(~ Free Record Release Show w/ Yohuna (Starts at 2PM))
(^ w/ Tegan & Sara)
(+ w/ Mannequin Pussy & Spirit of the Beehive)