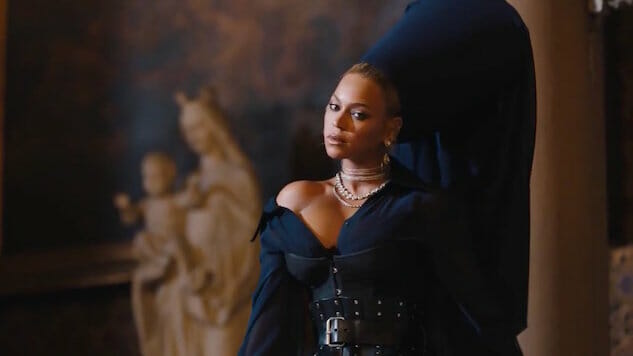 Jay-Z has released an accompanying visual for almost every track of his glorious, Grammy-nominated (he topped the lot with eight nods) album 4:44, and tomorrow will bring him a little bit closer to finishing out the deed. Via Tidal, he teased the video for "Family Feud," and survey says: It'll be one to watch for.
The video for the Beyoncé-featuring track also features Beyoncé herself, alongside Jay-Z and their child Blue Ivy. The family affair takes place in a church, with scenes of the rapper in a confessional booth and walking up the aisle hand-in-hand with his daughter, while Beyoncé helms the pulpit. Meanwhile, in a separate setting, a scene of intimacy between two people takes a violent turn.
Keep an eye out for the clip when it drops on Dec. 29, but until then, check out the preview of it below, and read our review of 4:44 here.
.@S_C_'s "Family Feud" x 12/29 x #TIDAL: https://t.co/We5OlPBrLlpic.twitter.com/sNoRbI8R56

— TIDAL (@TIDAL) December 28, 2017