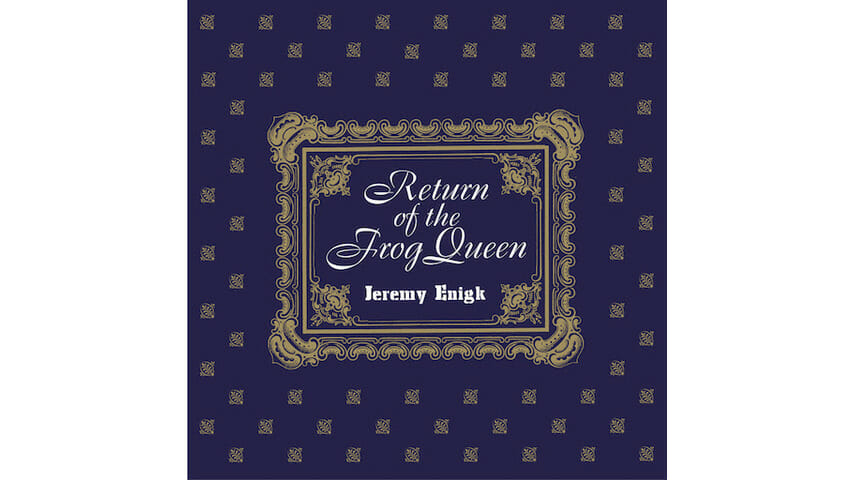 If you were a Sunny Day Real Estate fan back in the day, hearing singer Jeremy Enigk's 1996 solo debut for the first time must have been a bit of a shock. Gone was the frenetic punk edge that influenced so many of the emo bands that would follow, replaced by hard-strummed acoustic guitars and rickety orchestrations. Enigk didn't completely ditch the formula, though: Return of the Frog Queen kept the angst, and maybe even amped it up on nine songs that don't quite stretch to a half-hour.
The album, reissued this week on Sub Pop, conjures a pastoral fantasy world that falls somewhere between childlike whimsy and existential despair—"Lizard," on the face of it, is a dreamlike account of a lizard that lives in a castle, waiting for some unspecified moment to arrive. It's as if Enigk was trying his best to hold tight to youthful innocence even as it trickled away, like hugging a pile of warm sand. You couldn't blame him: Enigk was just 22 when Return of the Frog Queen came out, following the unexpected success of Sunny Day Real Estate's first two albums. The sudden attendant pressure helped break up the band as Enigk converted to Christianity and, apparently, tried to make sense of it all on his first solo album, with the help of a 21-piece orchestra.
Sometimes the songs are stately: Opener "Abegail Anne" starts softly with Enigk singing and alternating between two chords on an acoustic guitar, not always pressing his fingers down hard enough on the strings to avoid a buzzing sound that lends a handmade feel. A chiming guitar part comes in halfway through as the song expands into something grander, but no less homespun. Sometimes things are more chaotic: Enigk's voice is sticky amid a woozy barrage of woodwinds and strings on "Carnival"; and after starting as a fairly standard chamber-pop number, the title track begins to fray, with overwrought vocals blending with strings and percussion into a relentless crescendo. "Shade and the Black Hat" is almost its own beast, with bold piano and sprightly orchestrations framing raw vocals that turn unhinged about halfway through. The rest of the 5-minute song is essentially a prolonged scream of anguish and frustration, with oblique lyrics that offer few clues about the source of Enigk's misery.
Then again, who needs a source? Whatever else emo has represented over the past 20-plus years, it has always been a place where angst can exist for its own sake, almost as a kind of shorthand among the like-minded or -hearted. Return of the Frog Queen pushed beyond the emo formula to become something different and, for its time, new. In fact, there wasn't much at all like it when the album came out: Neutral Milk Hotel had released On Avery Island just a few months earlier, and it was years before acts like Joanna Newsom, Beirut or Bon Iver began exploring some of the same territory. Yet Enigk's album hasn't aged particularly well. It sounds very much of its moment, and while that doesn't make Return of the Frog Queen any less groundbreaking, it does show the album for what it mostly is: a searching, insular and sometimes grandiose group of songs that feel like a statement that doesn't actually say very much.