Jessica Hopper's Night Moves is a Love Letter to Chicago's Music Scene and The City's Vivid Glimmers and Faults
Photo by David Sampson
Music
Features
Jessica Hopper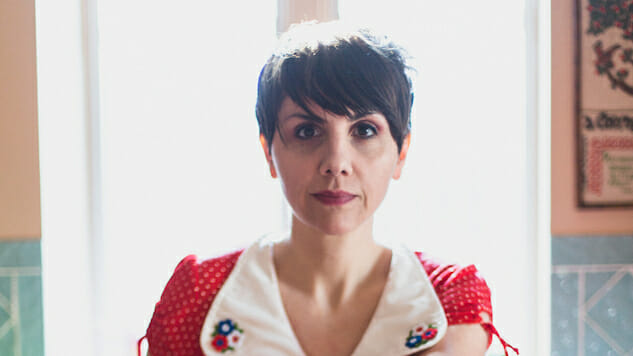 "I love Chicago as is, burnished perfect from years of disrepair," writes Jessica Hopper in her new book, Night Moves. "It makes me want to press my face to the rails of the Green Line L tracks and pledge allegiance to the long concrete meadows of Lake Street."
Now 42 and still based in Chicago, Hopper has been a music critic for more than two decades and she is the author of several books, most famously, The First Collection of Criticism By A Living Female Rock Critic. Her work has been published by Rolling Stone, Pitchfork, Buzzfeed, New York Magazine and more.
Her forthcoming music memoir, Night Moves, available on Sept. 18, chronicles her time in Chicago where she was ingrained in the city's underground music scene through her work as a music writer, DJ, occasional musician and as a general lover and consumer of music, enthralled with live shows and possessing a freedom that fed her boundless musical curiosity. Throughout the book, she embarks on a series of adventures (and misadventures), most often at night, under the glow of streetlamps, perched on top of a bike, with youthful invincibility and a like-minded group of friends she would do anything for. The book is a collection of personal journal entries from the mid to late '00s, many of them from her fanzines and blogs and taking place in punk houses, warehouse parties and other peculiar backdrops, though notably, these entries aren't in chronological order.
"I liked the informality of it," Hopper says. "I wasn't really interested in creating this tidy arc where it's like, at the beginning I'm dreaming of becoming a writer and at the end I'm writing my first book. To me, that's a little too cute." Thankfully for Hopper, if there's one word that does not describe the contents of this book, it's cute. Towards the end of the book, she writes of her surroundings, "The yard is a fantasia of schoolkid trash and perennials and weeds, with four shitty, rusted-up, and basketed Schwinns chained to the stoop as sentries." And keep in mind that's only her yard, muchless the city's grubby alleyways, dive bars and the interiors of her ramshackle dwellings.
Hopper was inspired by the format of The Folded Clock by Heidi Julavits, also a collection of diary entries, and she wanted her book to be a realistic, cinematic mood rather than a rigid narrative. The book's entries are as short as a few sentences and as long as a few words with consecutive entries often shifting between seasons or years. "I wanted it to feel bite sized and ephemeral," she says. "That's part of the reason the book is pocket sized. I imagine people reading it on the train or on a break between things."
The book's entries are typified by poetic descriptions of the city, free of candy-coating and often humorously grim. With each description you can vividly imagine Hopper's surroundings as if you're biking alongside her to a party, going nuts with her during the filming of a Hold Steady video, crying with her at a free jazz show or laughing hysterically with her friends, trying to figure out why the man on the roof of the adjacent building was peeing into a duct. Each brief anecdote leaves you wanting more.
While the book takes place relatively recently, the Chicago she describes and the times we live in now are worlds apart. Shockingly, she was paying only $250 for rent, which she split with a roommate. "It allowed me to do things with my life that I wouldn't have been able to in LA or New York," she says. "It kept the stakes of my life, financially at least, so low that I could get away with only part-time work if I wanted to—granted, as a young writer, to call it anything more than subsistence living would be a bit of a misnomer. It allowed me so much space to, as this book attests to, explore the city and participate in it."
Adding to the romance, Hopper details a time when people weren't as obsessed with social media and face-to-face interactions still largely reigned supreme. "The book chronicles the last fleeting moments of the time you could pinpoint 'Oh not everybody has smartphones,'" says Hopper. "Or not everybody even has cell phones yet, which was the case with some of my friends in the book. The dawn of the ubiquity of that transpires in the book and there's definitely parts where you see it changes in a blink."
Most recently with Lizzy Goodman's Meet Me in the Bathroom, everyone wants to read oral-history books about those storied, "you had to be there" music scenes that fostered future megastars, and maybe that's because there's this perception that those scenes aren't possible in today's world. Shows and festivals are now being livestreamed, and you can discover exciting local bands on social media that before would've required word of mouth, a local fanzine or an alt-weekly. Now you can literally quantify the buzz behind a new band based on their social-media mentions and Spotify streams.
"My fandom was very much cemented in real-life connection and being a few feet from my favorite bands and house shows," she says, "and that's always what I'm going to fundamentally understand as connection with music—to see it and face it and consider it by sharing the same breathing space with a band and an audience."
Hopper isn't a purist, though, or some crotchety evangelist of the good old days. "I think people will always connect within music, and one of the cool things about social media and greater interconnectedness is that we can find out about more and different things," she says. "Maybe there are certain things that are lost, but there are still so many things that we gain in the various ways that we're connected with each other, even though, lately, social media just feels like a hot turd."
For Hopper, it wasn't a matter of growing to love Chicago after moving there from Los Angeles. It was love at first sight after she visited back in 1996. "I was here for maybe three days, but I was like 'Oh! No, this is my place. These are my people. This is my scene. This is where I want to be,'" she says. "I went home from Chicago knowing definitively I wanted to move there. Within about two months, I was living in a Chicago apartment right around Damen and Division."
As with many large American cities, Chicago has succumbed to gentrification, so the places she lived either got a major facelift or no longer exist. "Not too long ago, I did take a whole cruise around one of my old neighborhoods," she says, "and while the edifice of it is very much the same, it seems to be in a continuing state of upgrade. When I was living there, it was a windowless warehouse. It was like a block from a trash dump and now it's like, 'What is this? The Ace Hotel?'"
Hopper writes in the book, "In order to love this city, you must also hate it dispassionately." Besides gentrification, another reason that she writes this is because of the city's racial and economic inequality. "I've always had the sense that anything that I was curious about, I could find some version of it in the city. I could learn about it in the city and connect with it in the city, but that is not the same for everyone," she says. "This is also a city that has historically been the most racially segregated city in America. It is a city with great disparity between the quality of life that is available to people who have money and people who are living in poverty."
The original title of the book was meant to put the city at the forefront in the most obvious possible way. She had been calling it "The Chicago book" for a while before deciding on Night Moves. "It was too specific," she says. "I didn't want it to make it seem like I was stamping my foot down and saying this is a definitive Chicago experience."
Instead, she named the book after the title track of Bob Seger's 1976 album, including lyrics from the song to begin the book: "Ain't it funny how the night moves/ When you just don't seem to have as much to lose." "It sounds corny but I was driving down Lake Shore Drive, beautiful Chicago expanding around me, listening to 'Night Moves' on the radio," says Hopper. "I've always been, I wouldn't even say a closet Seger fan, I'm an out Seger fan. I've always loved that lyric that I used as the epigraph in the book." Hopper continues, "The space in the book occupies that feeling that you're unbreakable or superhuman in a way. I think the book exists exactly in that same place of awareness as that Seger line."
It seems like, at one point, Hopper's identity as a music lover merged with her identity as a person. "I don't think they ever diverged," she says without hesitation. She began writing about music at age 15 when she started a fanzine devoted to the punk rock and DIY music scene in Minneapolis. You can see her heartfelt love for music and compassion in her writing, the way that she meets music on its own terms and dissects it as if she were a diehard fan rather than a cynical critic. She's just as interested, perhaps even more so, in what an album means to people than what that album means for that particular artist's discography.
After 20 plus years in the music industry and now a mother of two, Hopper's love of music has only grown. "Young me was pretty dogmatic about what was right and what was wrong," she says. "Some of that is just the shifting of parameters around me and the world. But having kids, in some ways, it just makes you feel more connected to everything and everyone in a good way."
"Being in a relationship with two young people in my own home who are discovering music and what they like…We talk about it all the time whether it's AC/DC or the soundtrack to Sing," says Hopper. "My son insists that Yo La Tengo is jazz and he's tired of listening to jazz. Living with two people who are building this collection and understanding of music in their head forces me to think even more deeply about music that I'm just consuming casually and not writing about."
Night Moves isn't your typical memoir and maybe that's because Hopper isn't your typical writer. Her precise attention to detail, infatuation with the Midwest, and her uncompromising, all-encompassing love of music make this book a joy to read. Though the book is short, your favorite entries will stick with you long after you finish. For that reason and in a desperate plea for closure, I asked Hopper about the man peeing into a duct on the roof. "People have offered some theories here and there," she says. "People are like, 'Well you know those are venting ducts and they just connect directly to the sewer.' I don't understand. I don't build fucking houses! I write record reviews for a living."
Night Moves is available on Sept. 18 via University of Texas Press. Click here to preorder and view her book tour dates.