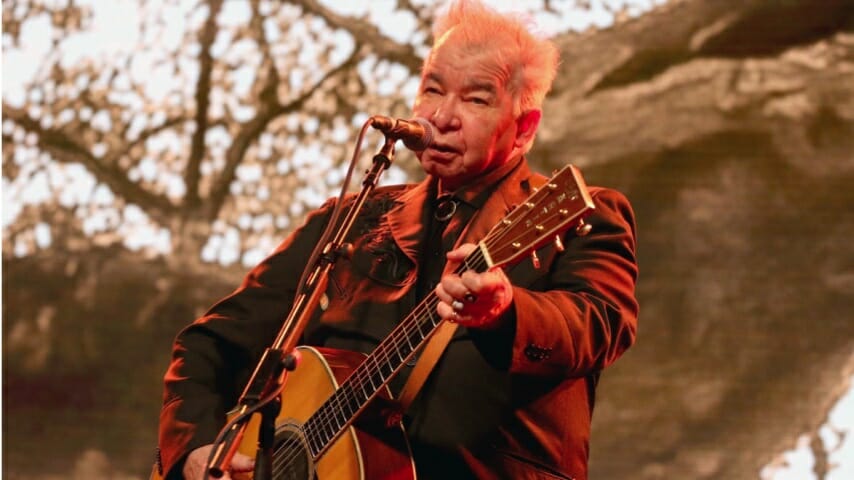 John Prine, who died Tuesday of Covid-19, once claimed that his three main influences were Bob Dylan, Hank Williams and Roger Miller. Like Dylan, Prine was a Midwesterner who got his start strumming an acoustic guitar and compensating for his small, nasal voice and melodic well with lyrics that made your head snap around and say, "What was that?"
Unlike Dylan, however, Prine didn't write long, sprawling lines with the flamboyant metaphors employed by bohemians arguing philosophy late into the evening, Prine wrote compact, down-to-earth lines using the common-sense aphorisms traded by blue-collar workers on their lunch break.
These were the same people Williams provided a voice for—folks who'd left the farms of Alabama and the mines of West Virginia to work at factories in Chicago and Baltimore and to send their kids to the state university or the civil service.
Prine was one of those kids and he twisted their stories enough to yield the absurdist humor that Miller was so brilliant at. Then he twisted them again to go where Williams and Miller had never ventured—to give his stories endings closer to face-slapping reality than to the comforts of Music Row. If Dylan specialized in the ironies of the overeducated, Prine did the same for the underemployed.
When this short, pudgy Chicago mailman released John Prine in 1971, the first five songs on that debut album were "Illegal Smile," "Spanish Pipedream," "Hello in There," "Sam Stone" and "Paradise." It was perhaps the strongest start to a singer-songwriter's career in history, but it was the fourth song that made Prine's reputation. While the bodies were still being counted in Vietnam, Prine wrote "Sam Stone," the war's best song, by doing what he did best: creating a specific character, putting him in a specific setting and letting the story unwind in short, terse lines.
It's significant that Prine's Vietnam character was no protester or Indochinese peasant but rather a working-class kid from Chicago, a G.I. who started shooting heroin to ease the pain of his knee injury and then couldn't stop. The song's crowning touch, though, was the chorus, which was sung by Sam's young daughter, who couldn't understand why all the money disappeared down "a hole in Daddy's arm" and why life wasn't like the sweet songs on the radio. Those songs promised everything was going to work out by the final chorus, and that wasn't happening to her father.
Prine didn't write that kind of song. Though his songs were covered by artists such as Bette Midler ("Hello in There"), Johnny Cash ("Unwed Fathers"), John Fogerty ("Paradise"), Bonnie Raitt ("Angel from Montgomery"), Swamp Dogg ("Sam Stone"), Kris Kristofferson ("Jesus Was a Capricorn") and Miranda Lambert ("That's the Way the World Goes 'Round), Prine's were not the sugary songs of pop or country radio; they were droll, deadpan observations on quotidian life, stories so understated that you often had to hear them twice to get the joke—or the knife stab of fate.
Though Prine grew up outside Chicago, his parents were from Paradise, Kentucky, and their son's childhood summer visits there had a profound influence. The song called "Paradise" had a light-hearted hillbilly tune and an off-handed delivery that camouflaged the knock-out punch line: "They dug for their coal till the land was forsaken, then they wrote it all down as the progress of man."
Many of his songs were like that: drawing their characters and settings from the hillbilly diaspora, whether in Alabama and Kentucky or Chicago and Baltimore. And the subjects also inspired the songs' sound: the vocal drawl, honky-tonk two-step and twangy strum of classic country music. In the summer of '71, Steve Goodman dragged Kristofferson to hear Prine at Chicago's Earl of Old Town. Kristofferson was so impressed he dragged Atlantic Records' Jerry Wexler to hear Prine at New York City's Bitter End. Wexler signed Prine to a contract the next day.
Prine soon moved away from the topical material of "Paradise" and "Sam Stone" in favor of quirky vignettes about down-on-their-luck misfits stuck in prison on Christmas, in a bungalow too near the highway or atop an elephant in a movie-promotion stunt. But whatever he wrote, he always transformed the characters, language and music of country music into something strange and wonderful. Perhaps the strangest and most wonderful song of all was 1995's "Lake Marie," an epic narrative about divorce, murder and fishing.
"When I'm writing by myself," he told me in 1997, "I know what a song's going to sound like, but I don't know what the subject matter is. I can almost hear the song, but I haven't written any lyrics yet. You know what the song's supposed to feel like, so if you write anything that isn't like that, you know you're going in the wrong direction. It's like editing and writing at the same time."
After four albums for Atlantic and three more for Asylum, Prine formed his own label, Oh Boy Records, with his manager Al Bunetta in 1981. He made 15 albums for Oh Boy, and the first 10 were wonderful, but by 2010, Prine's battle with cancer was worsening his already modest voice, his already slouching posture and his already intermittent productivity. When he and his wife/manager Fiona Prine returned from a European tour in February, she tested positive for the Coronavirus, and soon he did too. She survived it; he didn't. He was 73.
In the end, Prine was neither a folk nor rock artist, but rather a country singer in the tradition of Williams and Miller. His fast songs have that two-beat clip clop, and his slow songs have that honky-tonk fatalism. He writes about characters plucked right out of the country audience and puts them in familiar quandaries about marriage, work and home. Prine's commercial downfall and artistic salvation, though, has been his refusal to let his country-music stories turn out the way you'd expect. They always had a twist of irony. Dylanesque irony, if you will.
Hear him play "Angel From Montgomery" and more in 1973 below via the Paste archives.