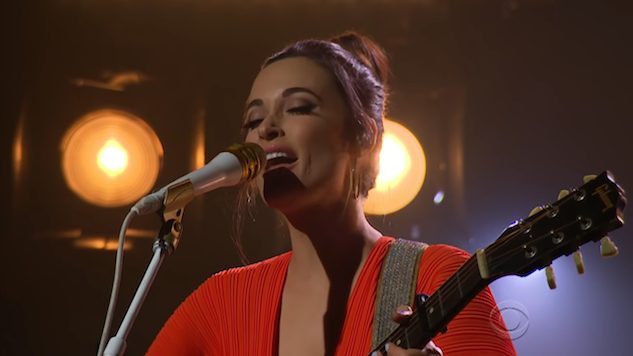 Currently, country queen Kacey Musgraves is in Japan, where she has a surprisingly enthusiastic fanbase—she'll play the Fuji Rock Festival this weekend. But thanks to the marvels of modern television, we can still enjoy some Musgraves magic while she's abroad. Her performance on The Late Late Show with James Corden, which was taped in May, aired on CBS Tuesday. She went for a softer number, performing the gentle title track from her much-buzzed-about album Golden Hour. Watch her croon out some delightful acoustic fare below.
Last week, Musgraves announced a headlining North American tour, and she must have some killer indie rock contacts in her phonebook: Soccer Mommy, Natalie Prass, Liza Anne and Sinclair are all confirmed as openers for different times throughout the 2019 run. The cleverly titled Oh What A World: Tour (a nod to Golden Hour track no. four, "Oh, What A World") commences Jan. 9 in Indiana and finishes up March 21 in Birmingham, Ala. She's also booked for a four-night residency at the Ryman in Nashville, Tenn.
Musgraves recently shared a new video for fellow Golden Hour bop "High Horse." You can also find her tour dates here. While you're at it, listen to a young Ms. Musgraves play a dreamy Daytrotter set from 2015, further down.