Katy Perry's "Dark Horse" Rips off a Christian Rap Song, Jury Finds
Photos by Lester Cohen/Getty, Emma McIntyre/Getty
Music
News
Katy Perry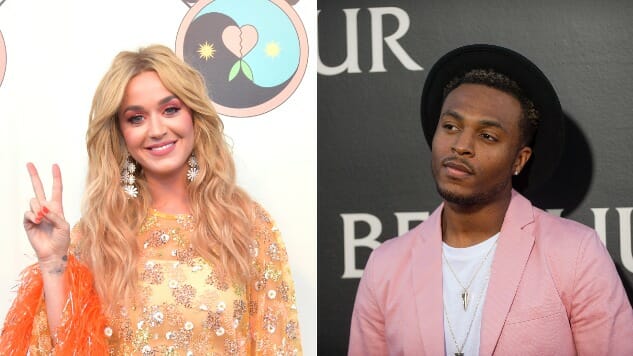 What we once thought was a dark-sided, secular summer anthem has now been deemed holy-rolling by the powers that be.
Say it ain't so, but Katy Perry's #1 pop triumph "Dark Horse"—you know, the Diamond-certified #1 that became 2014's second-best-selling song in the world, the one that secured the musician a Grammy for Single of the Year—has been declared by a court of law to have copied a Christian rap song titled "Joyful Noise," per The Associated Press.
Christian hip-hop artist Marcus Gray (known professionally as Flame) originally filed the infringement suit in 2014, alleging Perry and her band of co-conspirators—producers Dr. Luke, Max Martin and Cirkut; Juicy J and Capitol Records—lifted production elements from his 2009 track, namely the song's central trap beat.
Flame also alleged Perry's accompanying video tarnished his original work by incorporating imagery associated with black magic and witchcraft.
For the record, "Joyful Noise" kind of bangs—it has some decent synth, crunchy guitars and, of course, that unembellished, undeniably familiar trap beat. Though Perry and her "Dark Horse" co-authors testified that they hadn't heard the track or been aware of Gray's music prior to the lawsuit, Gray's attorneys called bullshit. Bringing forth the song's streaming numbers, the Grammy nomination the single's album received and Perry's roots in the Christian recording industry (yes!) as evidence, Gray's attorneys were able to convince a jury the song was distributed widely enough for Perry's writing team to have come across it.
Basing their argument on the song's instrumental similarity rather than its lyrics or recording, the jury found all six songwriters and four corporations that released and distributed the songs were liable for infringement—yes, including Juicy J.
The AP reports the case will now move into a penalty phase, where the jury will decide the amount Perry and other defendants owe for their copyright infringement. As most cases end in settlement or dismissal, paying restitution is a rare feat in most major copyright infringement lawsuits.
While we wait for Gray's payout to be determined, we can turn our attention to Ed Sheeran's upcoming infringement lawsuit for allegedly ripping off Marvin Gaye's "Let's Get It On."
Listen to both tracks below.