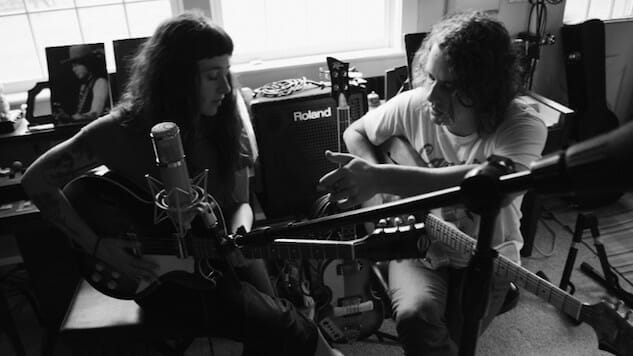 Kevin Morby and Waxahatchee have released a pair of Jason Molina covers to benefit MusiCares.
After an impressive 2017 for Morby and Waxahatchee's Katie Crutchfield with the release of their critically acclaimed records, City Music and Out In The Storm, respectively, they've covered two Molina classics for a digital 7", "Farewell Transmission" and "The Dark Don't Hide It." The duo previously teamed up for a cover of The Velvet Underground's "After Hours" last year.
Morby said of their recent Molina covers:
My love for Jason Molina began only a few years ago. I had overlooked him for years, too overwhelmed by his many monikers and sprawling catalogue. Then on a European tour in 2016 our driver put on Magnolia Electric Company and my mind was blown—and so began my obsession with the man and his music. A few months after hearing him I was on tour with Waxahatchee where Katie and I bonded over our mutual love for Molina, and we got the idea to record two of our favorite Songs: Ohia songs—which is what you have here today; "Farewell Transmission" b/w "The Dark Don't Hide It."
These were recorded in Upstate New York with my live band at my drummer's studio, The Chicken Shack, with both Katie and I splitting vocals duties. We would record all day, eating eggs from all the chickens running around, taking breaks to read old articles and watch live footage of Jason and his band. He's a true inspiration and there's no other songwriter or vocalist quite like him. We are deeply honored to be able to sing his songs, and we do hope you enjoy listening as much as we enjoyed creating them. The cover art was done by William Schaff, who is responsible for the iconic Magnolia Electric Co. album art. All proceeds of the digital sales will go to MusiCares—an organization that provides support and community services to musicians in need of medical, personal & financial assistance – and also helped Jason in his struggle with addiction, as well as paid to have a polyp removed from my vocal chords in 2014. A truly wonderful cause.
Listen to "Farewell Transmission" and "The Dark Don't Hide It" below.