Exclusive: Watch Launder Wander L.A. in His Blissed-Out "Wonder" Video
The lo-fi clip accompanies the lead track off Launder's Day Wave-produced debut EP, Pink Cloud
Music
News
Launder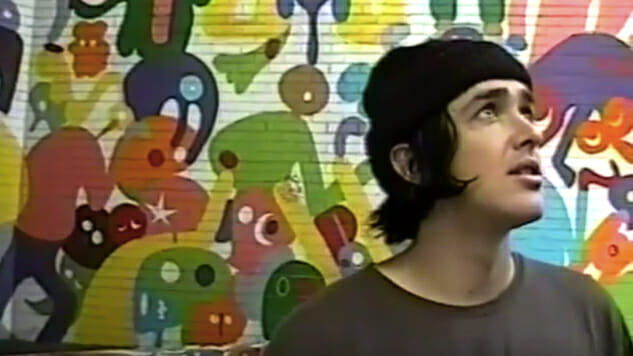 West Coast shoegaze solo act Launder, aka Dana Point, Calif. native John Cudlip, has shared the video for the lead track from his debut EP Pink Cloud, released in April. You can watch the lo-fi "Wonder" clip (dir. Jack Moser), debuting via Paste today, down below.
Pink Cloud was the fruit of Cudlip's move to his current home base of Los Angeles, where he was introduced to Jackson Phillips of Day Wave—the duo recorded the five-track EP in Phillips' Echo Park home studio, drawing the interest of DIIV guitarist Zachary Cole Smith and French singer-songwriter Soko, who helped hone Pink Cloud's blissed-out indie-pop/post-punk amalgam.
"Wonder" opens Cudlip's EP and is the only song on it without any guest spots—Smith contributed lead guitar to two tracks ("Fade" and "Annie Blue"), while Soko chipped in vocals on four ("Fade," "Annie Blue," "Keep You Close" and "Follow Me Down"). Phillips' production is felt throughout Pink Cloud, including on "Wonder," a dreamy, yet steady strummer that stands out from the rest of the EP's more riff-driven tracks. "I'll be fine in due time," Cudlip sings, his voice a gentle murmur over jangling guitar chords. The Slowdive shirt-clad musician meanders around the City of Angels in the idyllic clip, breaking a skateboard, shooting pool and palling around with a house cat, among other laidback activities.
"My friend Jack Moser and I shot this video a while back at the beginning of the project … It felt fitting to just take a drive around LA and grab shots of places we spent a time at during the making of it all," Cudlip recalls. "Cole makes a brief cameo with his cats. We used some footage with his projector and Jack nearly knocked it off the wall and cut the whole video short. Good thing Cole is the most level-headed guy I know, as he didn't even bat an eye when his $500 projector went crashing into the concrete floor … "
Watch Launder's "Wonder" video below and find the artist's tour dates further down (plus ticket info here). You can stream Pink Cloud in full right here or grab a physical copy here.
Launder Tour Dates:
July
03 – Fullerton, Calif. @ Continental Room (w/ Support from Goldensuns & Orchin)
05 – San Diego, Calif. @ Soda Bar (w/ Support from Goldensuns & Orchin)
06 – Los Angeles, Calif. @ The Echo (w/ Support from Goldensuns, Storefront Church & Orchin)
22 – San Francisco, Calif. @ The Chapel (Supporting Drugdealer)