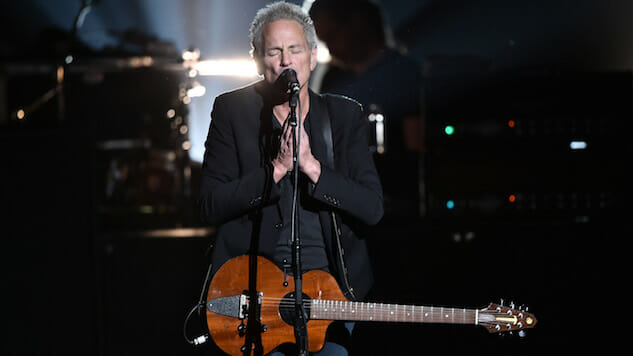 Ah, Fleetwood Mac. Stories of the band's disagreements, dramas and disdain for one another are almost more legendary than the music itself. Rumours is the catchiest damn album you've ever heard about four people constantly tearing at each other's throats. Decades later, the dust has barely settled.
I'm speaking, of course, of Lindsey Buckingham, who the band fired last year in April, quickly replacing him with guitarists Mike Campbell and Neil Finn. Buckingham wasn't a founding member of Fleetwood Mac—he played and toured with the group from 1975-1987 and again from 1997 until he got the boot—but he was certainly as established a member as Stevie Nicks, who joined at the same time. After he filed a lawsuit against Fleetwood Mac following last year's events, they eventually agreed on a settlement.
Today, however, is not about intra-band bickering. It's about Buckingham himself, who turns 70 today (Oct. 3). Outside of Fleetwood Mac, Buckingham has released multiple solo albums, not to mention a collaborative album with Fleetwood Mac keyboardist Christine McVie, who with Buckingham wrote many of the band's biggest and best songs including "Go Your Own Way."
Let's celebrate Mr. Buckingham with this more recent Fleetwood Mac show from 2003, in which they perform all the classics and Buckingham himself speaks directly to the audience while introducing the song "Say Goodbye." Listen to the full concert below via the Paste vault.
Read: The 10 Best Buckingham/McVie Songs