Lucy Dacus Wishes Bruce Springsteen a Happy Birthday with "Dancing In The Dark" Cover
Photo by Elizabeth Weinberg
Music
News
lucy dacus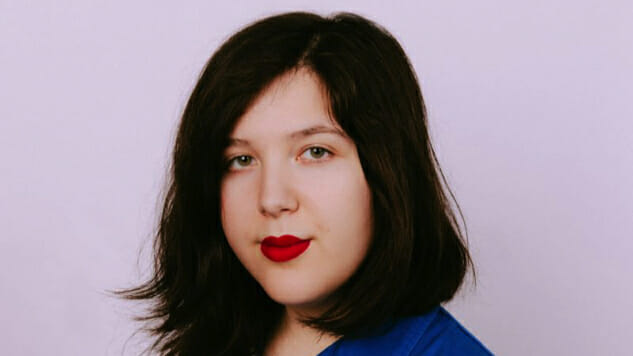 Lucy Dacus' latest installment in her 2019 series of holiday singles comes as an early 70th birthday wish to Bruce Springsteen in the form of a cover of "Dancing in the Dark."
On Dacus' reinvigoration of The Boss' enduring hit, the songwriter rounds out the edges of the track with her placid voice while keeping up the energetic pace set by Springsteen back in 1982.
Dacus explains in a statement how her dad's love of Bruce rubbed off on her songwriting:
Happy birthday to Bruce, but also happy birthday to my dad, the biggest Bruce fan I know and the reason I've listened to The Boss since birth. I resisted it when I was younger as a rebellion to my dad's taste, but I have come to love his music on my own time. His lyricism is embedded in my own songwriting inextricably at this point.
The cover is the fourth track to be released from Dacus' series of holiday-themed singles titled 2019, with an EP to be released this fall. Previous songs in the series include a cover of Édith Piaf's "La Vie En Rose" for Valentine's Day, "My Mother & I" for Mother's Day and "Forever Half Mast" for Independence Day. Singles still to come will be dedicated to Halloween, Christmas and New Year's.
You can listen to the cover below, along with Dacus' 2016 Daytrotter session, and find upcoming dates on her North American tour through December further down.
Lucy Dacus Tour Dates:
September
10 – Lancaster, Pa. @ Chameleon Club
11 – Hamden, Conn. @ Space Ballroom
12 – Portsmouth, N.H. @ 3S Artspace
14 – Burlington, Vt. @ Grand Point North Festival
15 – Ottawa, Ont. @ Ottawa Cityfolk Festival
16 – Montreal, Que. @ L'Astral
17 – Toronto, Ont. @ Lee's Palace
19 – Detroit, Mich. @ El Club
20 – Pittsburgh, Pa. @ Mr Small's
21 – Bristol, Tenn. @ Bristol Rhythm & Roots
October
09 – Louisville, Ky. @ Headliner's
10 – Chicago, Ill. @ Park West
11 – Madison, Wis. @ Majestic
12 – Minneapolis, Minn. @ Cedar Cultural Center
14 – Omaha, Neb. @ Slowdown
16 – Bozeman, Mont. @ The Rialto
17 – Missoula, Mont. @ Top Hat Lounge
18 – Boise, Idaho @ The Olympic
19 – Spokane, Wash. @ The Bartlett
21 – Vancouver, B.C. @ RIO Theatre
22 – Seattle, Wash. @ Neumo's
23 – Portland, Ore. @ Aladdin Theater
25 – San Francisco, Calif. @ August Hall
26 – Los Angeles, Calif. @ Teragram Theater
28 – San Diego, Calif. @ Belly Up
29 – Phoenix, Ariz. @ Crescent Ballroom
November
01 – Englewood, Colo. @ Gothic Theatre
04 – St Louis, Mo. @ Delmar Hall
05 – Cincinnati, Ohio @ Woodward Theatre
06 – Grand Rapids, Mich. @ Covenant Fine Arts Center
17 – Mexico City, Mexico @ Autódromo Hermanos Rodríguez
17 – Mexico City, Mexico @ Festival Corona Capital
30 – Charlottesville, Va. @ Jefferson Theater
December
04 – Boston, Mass. @ Royale
05 – New York, N.Y. @ Webster Hall
07 – Washington, D.C. @ 9:30 Club