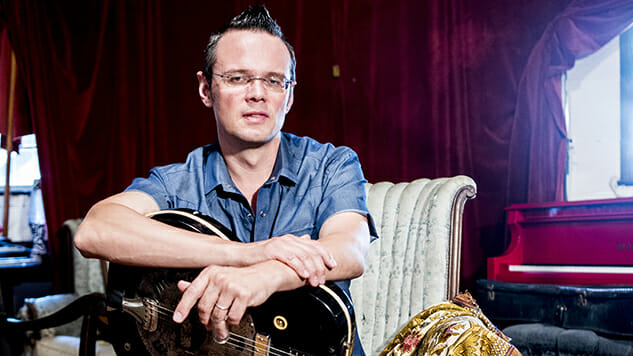 Luther Dickinson of the North Mississippi Allstars has shared the first single from the Grammy-nominated artist's new project, Luther Dickinson and Sisters of the Strawberry Moon, premiering exclusively at Paste. Their debut single, titled "Like A Songbird That Has Fallen," comes from the forthcoming album Solstice, due out Mar. 22 via New West Records.
The all-star collaboration also includes the voices and instrumentation of Amy LaVere, Birds of Chicago, Sharde Thomas and The Como Mamas. The group's debut was produced by Dickinson and recorded all together, mostly live in-studio over the course of four days at the Dickinson family's Zebra Ranch Studio in Mississippi. Dickinson rooted Sisters of the Strawberry Moon in the concept of collaboration, and believed highlighting that would be essential to the project's success. Solstice came together as a result of each individual party bringing their own ideas and songs, whether originals or reinterpretations, to explore within the space Dickinson provided for this new musical community to thrive.
"The whole idea of this album was to introduce a bunch of friends and get them to collaborate with each other. I wanted to let the chemistry flow, to create an environment where everyone's flavors naturally blended together and each artist could just be themselves," explains Dickinson. "I think you can feel that freedom in the music. Most of the work was in getting the spark lit. It was sort of like throwing a party. Once you manage to get everybody together, you can just step back and let it all happen."
Their first single "Like a Songbird That Has Fallen," written by T Bone Burnett and Bob Neuwirth, and featuring classically Americana vocals from Amy Helm, instantly cues into the project's folk-forward attitude and intention. Meanwhile, the backing vocals and softly twanged instrumentation to accompany Helm successfully capture the improvisational sentiments of recording live in the studio.
Listen to "Like A Songbird That Has Fallen" and watch Dickinson's 2016 performance live at the Paste Studio below.
You can catch Luther Dickinson and Sisters of the Strawberry Moon on their first tour in March, the dates of which are included further down below alongside the details of Solstice.
Luther Dickinson and Sisters of the Strawberry Moon Tour Dates:
March
11 – Chicago, Ill. @ City Winery
13 – Nashville, Tenn. @ City Winery
14 – Atlanta, Ga. @ City Winery
17 – Sellersville, Pa. @ Sellersville Theater
18 – Boston, Mass. @ City Winery
19 – New York, N.Y. @ City Winery
20 – Washington, D.C. @ City Winery
Solstice Tracklist:
01. Superlover featuring Birds of Chicago
02. Fly With Me featuring Sharde Thomas
03. Hallelujah (I'm a Dreamer) featuring Amy LaVere
04. Like A Songbird That Has Fallen featuring Amy Helm
05. Kathy featuring Birds of Chicago
06. Hold To His Hand featuring The Como Mamas
07. The Night Is Still Young featuring Amy LaVere
08. Sing To Me featuring Amy Helm
09. We Made It featuring Sharde Thomas
10. Cricket (At Night I Can Fly) featuring Amy LaVere
11. Til It's Gone featuring Birds of Chicago
12. Search Me featuring The Como Mamas
Solstice Album Art: