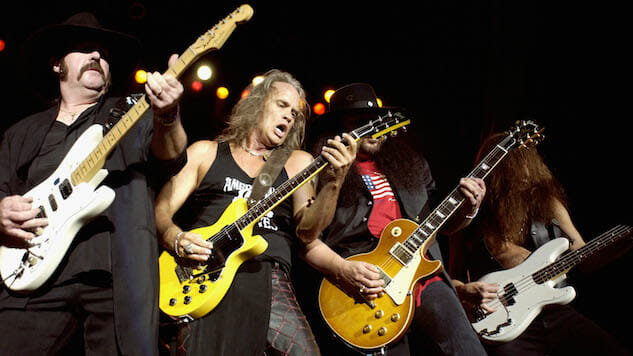 The King Biscuit Flower Hour was an American syndicated radio show that began in 1973 and featured live concert audio and interviews with some of the biggest rock bands on the planet. Before the show came to a close in 2005, over the years it featured appearances from Bruce Springsteen, Eric Clapton, Lynyrd Skynyrd, Rush, Emerson, Lake & Palmer and more.
On this day in 1977, the King Biscuit Flower Hour aired an extensive tribute episode about Southern rockers Lynyrd Skynyrd. They interviewed their producer Al Kooper, Atlanta Rhythm Section drummer Robert Nix, Leonard Skinner (the gym teacher that inspired the band's name), a Rolling Stone writer Cameron Crowe, Howard Levitt of Record World Magazine, producer Tom Dowd, concert promoter Bill Graham and more.
This radio special was recorded a few months after the plane crash that killed lead vocalist and founding member Ronnie Van Zant, guitarist and vocalist Steve Gaines, backing vocalist Cassie Gaines and their assistant road manager Dean Kilpatrick. For this radio tribute, people who loved the band and those who were in their inner circle shared their memories of Lynyrd Skynyrd, including stories from the studio and discussions about the band's origins, their famous long hair, rambunctious outlaw image and more.
Listen to the full 1977 Lynyrd Skynyrd radio tribute special and watch a performance of "Free Bird" from a few months prior below.