Mal Blum Shares New Video for "See Me" off This Week's New Album, Pity Boy
Photo by Lou Bank
Music
News
Mal Blum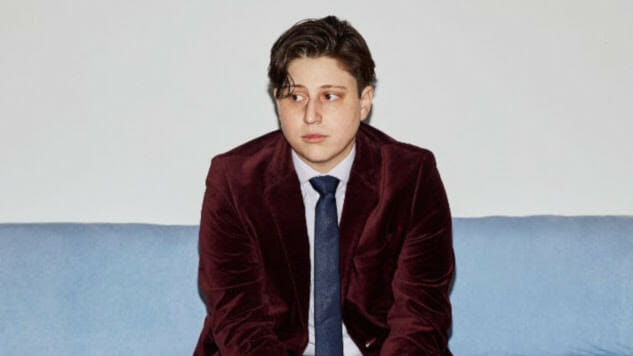 Here at Paste, we loved Mal Blum's new album Pity Boy. While you can't listen to the full album until this Friday, July 12, you can listen to the latest taste of it, a new cut that Blum shared on Wednesday morning called "See Me."
As its title suggests, "See Me" recognizes the imperative of visibility; "Why can't they see me," Blum repeatedly asks over soft instrumentation before the jubilant explosion of "When I'm right here." The track is expressive and jubilant, belying its lyrical anguish with noodling guitars and uptempo percussion that resemble Blum's cathartic self-realization.
"See Me" comes attached to a lovely video shot by Carly Usdin and Drew Gregory at Autostraddle's queer adult camp, A-Camp. In it, Blum walks the grounds and begins to gets more comfortable in their skin after feeling seen by fellow campers. Smiles abound in the video, which shows tons of folks photographed and accepted by new friends.
Pity Boy is out July 12 via Don Giovanni Records. You can read our full review of the record here. Watch the video for "See Me" below, then keep scrolling to see Blum's upcoming tour dates.
Mal Blum Tour Dates:
July
19 – New York, N.Y. @ Rough Trade
20 – Washington, D.C. @ Comet Ping Pong
21 – Philadelphia, Pa. @ PhilaMOCA
22 – Boston, Mass. @ Great Scott
23 – New Haven, Conn. @ State House
24 – Portland, Maine @ Aphodian Theatre
August
11 – Columbus, Ohio @ Big Room Bar
12 – Cleveland, Ohio @ Mahall's Locker Room
13 – Pittsburgh, Penn. @ Funhouse at Mr. Smalls
14 – Chicago, Ill. @ Beat Kitchen
17 – Denver, Colo. @ Hi Dive
19 – Salt Lake City, Utah @ Kilby Court
21 – Vancouver, B.C. @ KW Studios
22 – Seattle, Wash. @ Vera Gallery
23 – Portland, Ore. @ Paris Theatre
25 – San Francisco, Calif. @ Thee Parkside
26 – Los Angeles, Calif. @ Hi Hat
27 – San Diego, Calif. @ Soda Bar
28 – Phoenix, Ariz. @ Lunchbox
30 – Austin, Texas @ Mohawk
31 – Denton, Texas @ Backyard at Bell
September
02 – Birmingham, Ala. @ Firehouse
03 – Atlanta, Ga. @ The Earl
04 – Durham, N.C. @ Pinhook