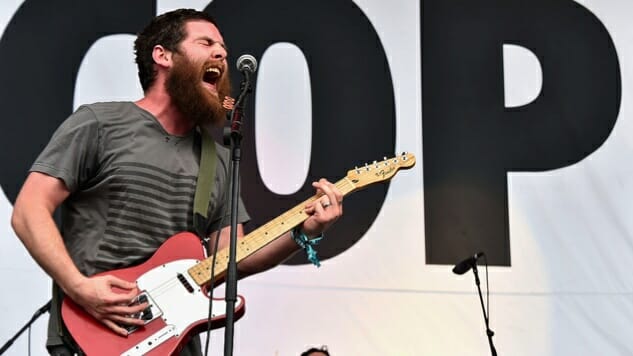 Per our review of the latest Manchester Orchestra album A Black Mile to The Surface, which came out over the summer via Loma Vista: "A strange thing happened to Manchester Orchestra in the past few years: They became human."
The Atlanta-native rockers have seen many phases of their lengthy rock careers: from five studio albums to endless festivals, to making two compilations at the same time. Most recently, they performed "The Gold" on Jimmy Kimmel—you can catch that here.
As retro crooner Nick Waterhouse imagines the remix, it's stripped of its lyrics and takes arena rock into an interesting emotional arena—the guitar riff is noticeably more upbeat and synthy saxophones layer to make the beat sexier than what is normally Manchester Orchestra's brand of sad.
Enjoy the angsty, Mean Everything to Nothing-era Manchester Orchestra below with "Where Have You Been" from the Paste Cloud. We've included the Waterhouse remix of "The Gold," as well as the original. Manchester Orchestra's tour dates into 2018 are also available below.
Manchester Orchestra Tour Dates:
December
08 – Oakland, Calif. @ Live 105's Not So Silent Night
February
02 – Melbourne, Australia @ 170 Russell
03 – Sydney, Australia @ Metro Theatre
04 – Wollongong, Australia @ UniBar @ UOW
06 – Brisbane, Australia @ The Triffid
07 – Perth, Australia @ Amplifier Bar
19 – Gulf Shores, Ala. @ Hangout Festival