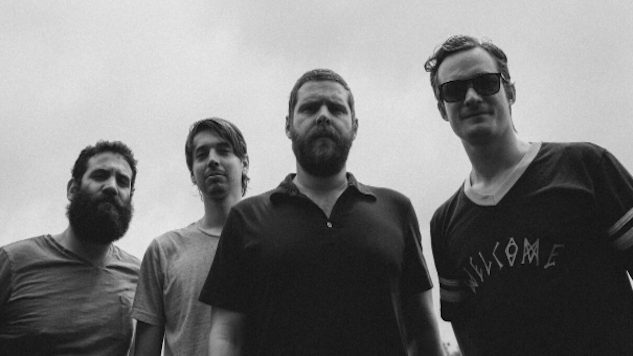 Atlanta indie rockers Manchester Orchestra have released a cover of The Avett Brothers' "No Hard Feelings."
"No Hard Feelings" is taken from The Avett Brothers' ninth and latest studio album, True Sadness, which came out in 2016. Rather than completely reinterpreting the song, Manchester Orchestra decided to preserve the powerful, somber quality of the original ballad. However, they opt to minimize the song's instrumentation, putting the lead vocals at the forefront and adding ambient backing vocals for a slightly slower, hazier version.
Manchester Orchestra lead vocalist Andy Hull explained the band's love of the song:
Rob and I became obsessed with this song last year. It is truly one of the best songs that I've ever heard and it got to a point where I was listening to it repeatedly for several months straight. Simultaneously analyzing these layered lyrics while being emotionally floored at its weight and conclusion. I think the only way we could exercise the song's grasp on us was to attempt a cover. We hope you enjoy.
Manchester Orchestra's latest album was last year's A Black Mile To The Surface and just last month, they released another cover, this time teaming up with Julien Baker for a rendition of Pedro The Lion's "Bad Things to Such Good People."
Manchester Orchestra are set to play several U.S. festivals this summer, including Shaky Knees, Hangout Festival, Boston Calling, Governor's Ball Music Festival, Bonnaroo, Lollapalooza and more.
Listen to the band's cover of "No Hard Feelings" (and Hull's 2008 Daytrotter Session) below and check out their upcoming shows further down. Read Paste's review of A Black Mile To The Surface here.
Manchester Orchestra Tour Dates:
May
05 – Atlanta, Ga. @ Shaky Knees
10 – Las Vegas, Nev. @ X107.5's Our Big Concert
13 – Littleton, Colo. @ On Tap with KBCO @ Breckenridge Brewery
19 – Gulf Shores, Ala. @ Hangout Festival
26 – Boston, Mass. @ Boston Calling Music Festival
27 – Napa, Calif. @ Bottlerock Festival
June
01 – New Haven, Conn. @ Toad's Place
02 – New York, N.Y. @ Gov Ball
03 – Cincinnati, Ohio @ Bunbury Festival
05 – Stroudsburg, Pa. @ Sherman Theater
06 – Wilmington, Del. @ The Queen
08 – Manchester, Tenn. @ Bonnaroo
15 – Kansas City, Mo. @ Boulevardia Festival
21 – Carrboro, N.C. @ Cat's Cradle
22 – Vienna, Va. @ Wolf Trap
23 – Glen Allen, Va. @ XL102 Big Field Day
August
02 – Chicago, Ill. @ Lollapalooza
03 – Montreal, Quebec @ Osheaga Festival