Twerps' Martin Frawley Came Undone. On His New Solo Album, He Puts Himself Back Together
Photo by Danny Cohen
Music
Features
Martin Frawley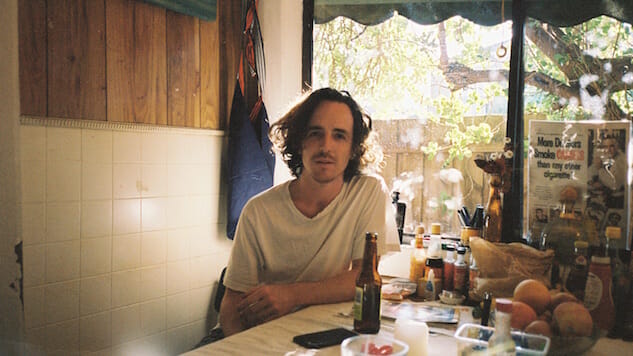 Martin Frawley doesn't leave much up to interpretation on his new album. Even the title, Undone at 31, is about as unambiguous as they come.
"I didn't want to hide anything," Frawley says, calling from his hometown, Melbourne, Australia, where a heat wave is currently causing everyone to swelter. It's 41 degrees celsius (105 degrees fahrenheit) there to our 35 here in Atlanta, where Frawley recalls making a tour stop years ago, to play a show "at that place that you can smoke cigarettes in" (what we later determine was smoky local club The Earl). During our conversation, Frawley sounds like he's running errands, but he's so readily honest and eager to air it all, it feels more like sitting down for a beer. Listening to the record feels much the same—while chaotic at times, it's graciously candid. "I just wanted to let it all out," Frawley says. "And I made that record for someone, so I wanted them to know all of it. And handy enough that it was my 31st year. That worked out."
That someone was Julia McFarlane, Frawley's former partner in music and in life. Together, with drummer Alex Macfarlane and bassist Gus Lord, they were in a band called Twerps, Melbourne's favorite guitar pop exports who epitomized the Aussie jangle sound in the 2010s. The band's most recent album, 2015's Range Anxiety, was praised by critics (including our own), drawing complimentary comparisons to the music of New Zealand's stalwart Flying Nun Records, winning them oodles of international fans. Emerging from a city with great rock acts to spare, Twerps stood out.
But then, after almost 10 years, Frawley and McFarlane called it quits, and the band disassembled, much to the surprise of many outside the Melbourne scene. Communication in Twerps crumbled, and it wasn't until he began pursuing a solo endeavor that Frawley got his groove back. "I couldn't control or understand how to do it and I couldn't communicate or connect," he says. "And I don't think it was anyone's fault. But once I started making music again by myself, you get a sense of confidence, and it was really important for me and it was really fun and I kind of really enjoyed making music again."
The year following that double-whammy break-up (Frawley's 31st, you may have gathered) was spent sorting through the wreckage. There was nothing else to do besides write down all those feelings, package them into a highly listenable spincycle of tumbling alt-country and soul and, in Frawley's words, "give it to someone."
"I found myself with a lot of spare time," Frawley says. "When you're in a relationship, you're just cooking dinner or watching movies or doing domestic stuff, and once that wasn't there, I was sitting at home listening to music, drinking beer and playing guitar."
As it turns out, that (non-sober, at times) solidarity proved totally fruitful, albeit painful. Undone at 31 is one of the best breakup records in recent memory, a truly conceptual heartbreak album designed to fit the romantic fumblings of our modern age. The first track and single, "You Want Me?," is the record's rambling thesis, a spoken-word manifesto detailing Frawley's unraveling. "Does she want me? Does she miss me? Does she love me? The words keep on ringing in my head," he says. By song's end, you know everything you need to know about Frawley's now defunct relationship—the beautiful beginning, happy middle and dreadful end. It sounds like a condensed version of 500 Days of Summer.
"It's like a chapter and that's what my record is, it's more like a book rather than a bunch of songs," Frawley says.
The lyrics may read like a book, but the album is still jarring, shaky and not-at-all linear at times. "End of the Bar" is the dreary drunken bender belied with intense piano accompaniment, where two songs later, "Smoke In Your House" is a more hopeful and swaying story-song. It's nostalgic, not bitter, in recounting the relationship. "How lucky was I?" Frawley sings. "Lo and Behold" is a weepy honky-tonk number full of quietly devastating rhymes ("Lo and behold, she had someone else to hold"). While cohesive, Undone at 31 is the story of upheaval.
"I wanted [the album] to be as disjointed as you feel on a daily basis or a weekly basis when you go through such a big breakup, because you can feel so good and then you can feel so bad," Frawley says.
The light shines through more often than you'd expect. Some songs on Undone at 31 are almost unfittingly catchy, like the bouncing "Chain Reaction," which sees Frawley singing a series of "wahhs" like cheers. He sounds almost happy, but listen closely and you'll hear all isn't necessarily well: "This won't come easy, this will probably ruin our night," he sings. Frawley takes cues from pop music, where happy, hopeful sounds don't always (or maybe hardly ever) signal happy, hopeful sentiments.
"Someone wrote that it was actually kind of uplifting in parts, but that goes with the story because some days you do feel good," he says. "Maybe you meet some cute person and they say hi to you and it makes you have a bit more confidence in yourself."
This may be Frawley's first album as a solo artist, but he didn't get here alone. He found a friend and musical collaborator in Stewart Bronaugh, a Nashville-based musician who's worked with the likes of Angel Olsen, Steve Gunn and Miya Folick. He plays a number of instruments, including guitar and bass, on the album, and the two musicians made a productive pair, in more ways than one. "I went to America to see him and to get away from Australia," Frawley says. "And I think more so than the musicianship our friendship was very important. He helped me a lot, and I felt like I could be open with him enough to trust him creatively what he thought should be happening with the songs."
Frawley says he's open to making more albums—alone, or even with Twerps, maybe. But either way, he's not content making the same album twice.
"I do like a lot of different genres and I don't want to do the same thing again, especially within this solo project," Frawley says. "I would definitely make a new solo record but I would want to make it very different."
Undone at 31 was born out of a need to express heartbreak, to organize those feelings and package them in a way that feels more tolerable. For Frawley, writing this record was akin to therapy. And there's a chance it might be just as cathartic for the listener. A writer over at Raven Sings The Blues said Undone at 31 is the "'sorting your shit out' record that we all need this year." And who doesn't need a little of their shit sorted?
"I'm a lot better than I was when I made that record," Frawley says. "I was out of my mind. It's got a start and it's got an end and that's important, but it was only important for me to give to one person. So now she has it, so it's all good."
Undone at 31 is out this Friday, Feb. 22, on Merge Records.