Listen to a Song by Every 2017 Mercury Prize Nominee
Sampha, the xx, Ed Sheeran, alt-j and eight more vying for British album of the year.
Music
Features
Mercury Award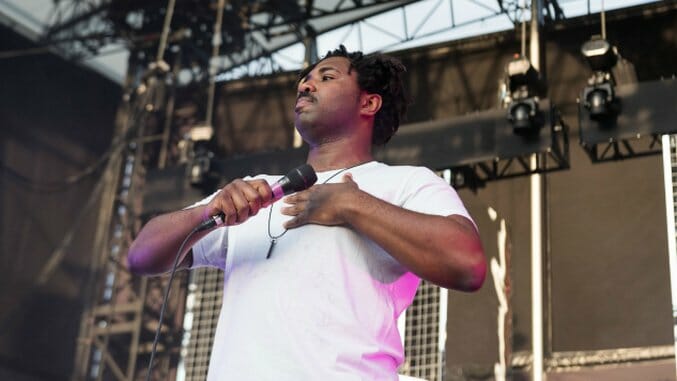 This year's nominees for the Hyundai Mercury Award, which honors the best British album of the year, were announced on Thursday. The list comprises a medley of bold-print stars (Ed Sheeran, the xx) and innovative newcomers like Sampha (pictured) and Stormzy, as well as artists in non-pop-centric genres like jazz (Dinosaur) and dancehall (J Hus).
Last year's winner, Skepta, took the prize for his cutting grime album Konnichiwa over superstars such as David Bowie and Radiohead. Previous winners include The xx, alt-J and Benjamin Clementine.
The Mercury Prize was established in 1992 by the British Phonographic Industry and British Association of Record Dealers. The 12 shortlisted albums are selected from a mix of British music-industry figures and working artists. This year's judging panel includes Marcus Mumford, Lianne La Havas and Jessie Ware.
Take a look at the full shortlist below, and whet your curiosity by listening to a track from each of the nominated albums.
Artist: alt-j
Album: Relaxer
Song: "3WW"
Artist: Blossoms
Album: Blossoms
Song: "Charlemagne"
Artist: Dinosaur
Album: Together, As One
Song: "Living, Breathing"
Artist: Ed Sheeran
Album: ÷ (Divide)
Song: "Shape of You"
Artist: Glass Animals
Album: How to Be a Human Being
Song: "Youth"
Artist: J Hus
Album: Common Sense
Song: "Did You See"
Artist: Kate Tempest
Album: Let Them Eat Chaos
Song: "Europe Is Lost"
Artist: Loyle Carner
Album: Yesterday's Gone
Song: "Ain't Nothing Changed"
Artist: Sampha
Album: Process
Song: "Blood on Me"
Stormzy
Album: Gang Signs & Prayer
Song: "Big for Your Boots"
Artist: The Big Moon
Album: Love in the 4th Dimension
Song: "Cupid"
Artist: The xx
Album: I See You
Song: "On Hold"
The 2017 Hyundai Mercury Award will be presented in a televised ceremony on Sept. 14, featuring live performances from several of the artists featured above.