MGMT's New Album Takes "Relaxed" Approach With Help of Ariel Pink, Connan Mockasin and LSD
Photo by Theo Wargo/Getty
Music
News
MGMT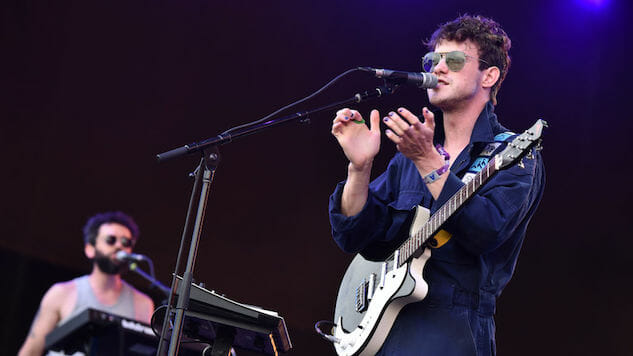 We've gotten some semblance of what to expect form MGMT's forthcoming album Little Dark Age with the release of its title track and "When You Die" as singles, and now, in an interview with Q Magazine, they've revealed more about the LP ahead of its February release.
The duo have progressively deviated from the catchy, pop-driven melodies of Oracular Spectacular in their latest releases, but are hoping to make a comeback to their former sound. "When we were doing the last album, we kept talking about wanting to make pop songs, but it just wasn't happening, like we had to get this other stuff out," said Andrew VanWyngarden of their 2013 self-titled album. "That album's very anxiety-filled. Maybe doing it allowed us to get to where we got with the new one, which is more relaxed."
They enlisted Chairlift's Patrick Wemberly to co-produce the album, and were advised to recruit collaborators to help develop the style they wanted. In turn, they brought in psych rocker Connan Mockasin and chillwave pioneer Ariel Pink, who helped write some ambiguous lyrics to "When You Die." Ambiguity also runs heavy in another song, "Me and Michael," which was inspired by European synth-pop.
Much of MGMT's music can be described as psychedelic, but one that was actually spurred by an acid trip is a track called "James." To stimulate creativity, VanWyngarden and bandmate Ben Goldwasser dropped acid, a bigger dose than actually intended, but luckily, the trip was fruitful. "I spent hours screaming at the top of my lungs about Pakistan," VanWyngarden said. But somehow, Goldwasser eventually managed to create a keyboard loop to kickstart some progress, and the two ended up finishing the song that day.
While the album's title is Little Dark Age, the duo seem to be working toward lighter music. They have yet to indicate a specific date that we can expect the album, but stay tuned for when they do. In the meantime, revisit the videos for "Little Dark Age" and "When You Die," and listen to their 2011 Daytrotter Session below.