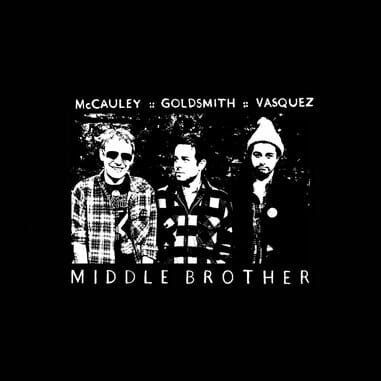 Putting the Super back in Supergroup
Very rarely does a supergroup manage to come up with something as good as the sum of its parts. Just like a movie starring a crowd of A-listers doesn't necessarily equal anything Oscar-worthy (we're looking at you, Ocean's 12), it isn't a given that a band with three frontmen will be able to effectively pool its talents. But on their self-titled debut, the men of Middle Brother sound as if they've been playing together for years.
John McCauley (Deer Tick), Matt Vasquez (Delta Spirit) and Taylor Goldsmith (Dawes) take turns singing lead, and from the first harmonies on "Daydreaming" it's clear that we've got a true collaboration on our hands. At times they sound so in tune with one another that the record starts to feel like a concept album, like a time capsule crafted by the trio of rock 'n roll troubadours to document their rise to fame.
There's a wonderful road-weariness that reverberates throughout Middle Brother. McCauley's vocals lend an air of melancholy to a first-rate cover of The Replacements' "Portland." The theme is echoed on "Mom and Dad," which opens with an even clearer image of life on the road: "Momma gave a camera to her little star/All she gets is pictures of hotels and bars/No Big Ben, no Statue of Liberty."
There are moments of individuality that shine through — when Vasquez howls "she's a Southern girl without a drawl, she's a good girl who'll wear a black bra" on "Blue Eyes," you'll think you're hearing a Delta Spirit outtake — but for the most part, it's a team effort. We get the sense that in addition to their shared influences, the members of Middle Brother have plenty of common experiences in their arsenal. As a result, their debut is a solid record that plays to each of their strengths. Hopefully, the boys aren't too sick of the road; if this record is an indication of things to come, they'll have plenty of opportunities to finally send home a picture of Big Ben.