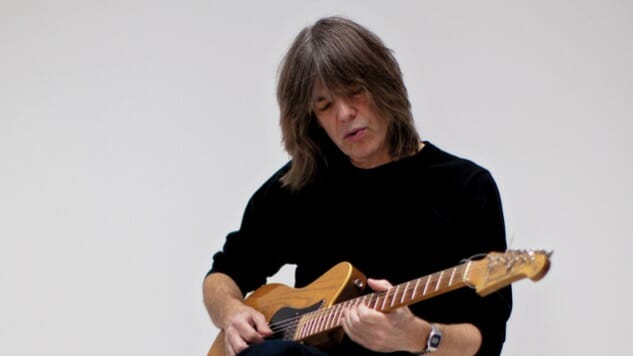 Welcome to Notes From New York, a monthly jazz column by Bill Milkowski that includes observations on the scene along with interview snippets, gossip and gig information.
MIKE STERN'S TRIUMPHANT COMEBACK
Following a terrible accident last July, where he tripped over some hidden construction in the street outside of his Manhattan apartment, breaking both his arms in the process, guitar hero Mike Stern underwent two surgeries to restore feeling to his nerve-damaged right hand. A year later, Stern still can't even hold a pick in that right hand, so he attaches his fingers to the plectrum with special wig glue in order to play. Judging by a recent appearance at his regular Monday-Wednesday night hang at the 55 Bar in Greenwich Village, where he was joined by Swedish jazz guitarist Ulf Wakenius (Oscar Peterson's last guitarist) on a set of burning Monk tunes and Stern originals, it appears that Stern is back on top of his game. As he said between sets, "I had to figure out a way to play. I don't know what I'd do if I couldn't play music. If you really want something bad enough, sometimes you have to fight for it; you find a way to make it happen. And now I have friends who I trust who tell me that they wouldn't have noticed any difference in my playing if I hadn't told them what happened to me." Watch for Stern's next Heads Up album, the aptly titled Trip, which features the guitarist's patented "chops of doom" in the company of such longtime friends and colleagues as Randy Brecker, Bill Evans, Dave Weckl, Dennis Chambers, Lenny White, Wallace Roney, Victor Wooten and Tom Kennedy.
CELEBRATING ORNETTE COLEMAN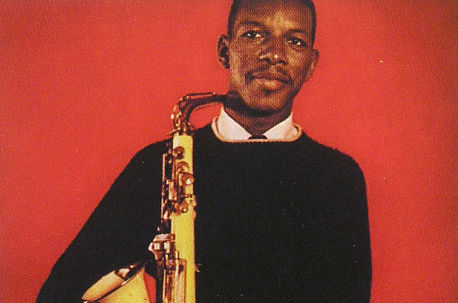 As part of its annual summer Lincoln Center Festival, the prestigious institution that is home to the Metropolitan Opera, the New York City Ballet and Juilliard paid tribute to the late, innovative free jazz saxophonist-composer Ornette Coleman, who died on June 11, 2015. Entitled "Ornette Coleman: Tomorrow Is the Question," the four-night celebration kicked off with a screening of the 1991 David Cronenberg film Naked Lunch, based on the William Burroughs novel and featuring live orchestra with jazz quartet performing the score by Howard Shore and Coleman. With alto sax great Henry Threadgill summoning up the plaintive call of Ornette's sax, alongside tenor saxophonist Ravi Coltrane, bassist Charnett Moffett and Coleman's son Denardo on drums, the 60-piece orchestra conducted by Brad Lubman created a stirring ambiance to accompany the bizarre and often disturbing images of Cronenberg's hallucinogenic film, which was projected on a large screen behind the ensemble. This was a true gala, attracting a sold-out crowd of cognoscenti from the jazz, literary and film worlds in New York. Two nights later saw the reunion of Coleman's Prime Time Band, an '80s avant-funk ensemble based on Ornette's harmolodic theory, which further liberated the music by treating melody, harmony and rhythm equally and encouraging simultaneous soloing by all the members of the ensemble. This concert presented two separate iterations of Prime Time, the first featuring a later edition of the band featuring guitarist Kenny Wessel, bassists Al McDowell and Chris Walker, keyboardist Dave Bryant, tabla player Badal Roy and drummer Denardo Coleman with special guests Wallace Roney on trumpet, Joshua Redman on tenor sax and Marc Ribot on guitar performing material from Coleman's 1995 album Tone Dialing. The second edition of Prime Time, featuring bassists MacDowell and Jamaaladeen Tacuma, guitarist Charlie Ellerbee, drummers Calvin Weston and Denardo Coleman and featuring special guest guitarist Vernon Reid (of Living Colour) along with 82-year-old New Orleans free jazz tenor sax legend Kidd Jordan and fellow tenorman David Murray, performed tunes from the punk-funk albums Dancing in Your Head and Of Human Feelings. Both ensembles united onstage for a rousing encore of Ornette's most famous tune, "Lonely Woman." The concert was dedicated to guitarist Bern Nix, who had begun rehearsing for this concert with the band but passed away on May 31 at age 69.
REMEMBERING ALLAN HOLDSWORTH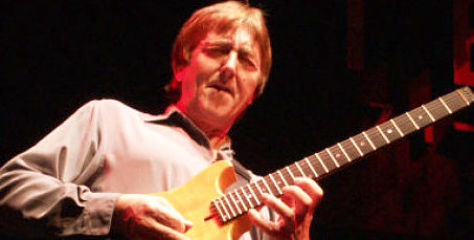 The late iconic guitar hero had booked a date earlier this year for three nights at the Iridium nightclub in early July. Sadly, Holdsworth would pass away in April, on Easter Sunday, but the band (drummer Virgil Donati, keyboardist Steve Hunt, bassist Evan Marien) kept the date and turned it into a tribute to their fallen comrade. With a bevy of guitar players and Holdsworth disciples filling in those big shoes, they ran through two sets of Allan classics. Nir Felder had the unenviable task of trying to replicate the impossible legato intro to "Non-Brewed Condiment" (from Metal Fatigue) and did the best he could with his pick-every-note George Benson-esque approach. Felder also put his own stamp on "Fred" and "Water on the Brain." Austrian guitarist Alex Machack captured the Holdsworth approach with his uncanny legato style, volume swells and odd chord voicing on "Material Real" (from Road Games), the atmospheric "Mr. Berwell" (from Atavachron) and the chops-busting "Devil Take The Hindmost." Boston-based guitarist Tim Miller, a teacher at the Berklee College of Music and an avid Allan admirer, made a strong impact with his passionate versions of "Above and Below" (from The Sixteen Men of Tain) and "Pud Wud" (from Sand). And Alex Skolnick, the most overtly "rock" guitarist of this crew, brought the appropriate bombast and edge to "Red Alert" (from the New Tony Williams Lifetime album Believe It) and slyly dropped in a quote from Miles Davis' "Solar" in the middle of his solo on "Protocosmos" (also from Believe It). Former Jean Luc-Ponty guitarist Jamie Glaser played "Norwegian Wood" (a Beatles tune that Holdsworth had covered on None Too Soon) and also played "Red Alert" alongside second guitarist Skolnick. With Donati fueling the proceedings with his astounding power-precision drumming and longtime Holdsworth collaborator Hunt adding his own heat on several synth solos throughout the night, these inspired six-stringers reached some ecstatic peaks on this special night of remembrance.
A BEVY OF MONK GUITARS
Nine the most innovative six-stringers on the NYC scene today gathered at Greenwich House Music School, an historic institution in the heart of the Village, to celebrate the music of Thelonious Monk in his centennial year. Organized by guitarist Rez Abbasi, this unique gathering functioned as a round robin event, whereby two guitarists appeared on stage at a time with shifting rhythm tandems throughout the night. Ringleader Abbasi, a member the Indo-Pak Coalition with pianist Vijay Iyer and drummer Dan Weiss, joined Steve Cardenas to kick off the evening with a romp through Monk's giddy "Four In One." Miles Okazaki then replaced Abbasi and joined Cardenas on the challenging "Evidence." Anders Nilsson then joined Okazaki on one of Monk's most beautiful and enigmatic ballads, "Crepuscule with Nellie," accompanied by Jerome Harris on acoustic bass guitar and Colin Stranahan on drums. David Gilmore and Liberty Ellman turned in a gorgeous reading of Monk's lush ballad "Ask Me Now," then Abbasi returned to join Ellman on a bop-flavored romp through "We See," which was fueled by Whitfield's unerring pulse. Julian Lage and Nels Cline, sans rhythm tandem, next explored their indelible chemistry together on one of Monk's most idiosyncratic numbers, "Jackie-ing." With Cline playing a beautiful D'Angelico guitar and Lage playing a Fender Telecaster, they extrapolated on the theme with contrapuntal lines, sounding at times like an intricate Bach partita. As the piece developed, they slipped into some dissonant flurries and furious strumming that sounded like a page out of the Derek Bailey book. Their re-imagining of Monk's "Played Twice" was similarly compelling and wholly personal. The real find of the evening was Mike Baggetta, a kind of post-Frisellian sonic explorer who brought an audacious touch to the proceedings with his wild whammy bar articulations, crazy harmonizer effects, ambient looping and rippling arpeggios. His renegade approach to Monk's playful "Locomotive," performed with Nilsson, Harris and Stranahan, was full of subversive surprises and yielded new possibilities for Monk's timeless music. And his pedal steel guitar effects added a wacky touch on "Light Blue." For a spirited finale, Okazaki joined Abbasi and Cline on a radical re-imagining of Monk's "'Round Midnight," accompanied by drummers Whitfield and Richie Barshay. All the musicians, who donated their time and talent for this benefit for the Greenwich House Music School, revealed rare camaraderie as well as a collective willingness to push the boundaries of Monk's music throughout the course of this memorable evening.
A DR. LONNIE SMITH CELEBRATION
Hammond organ ace Dr. Lonnie Smith celebrated his 75th birthday with a week of live recordings at the Jazz Standard. Smith, an enigmatic keyboard player who has been on the organ group circuit since the early '60s and affectionately known as "The Turbanator" for his omnipresent turban on the bandstand, played the first three nights with his working trio of guitarist Jonathan Kreisberg and drummer Johnathan Blake. However, he ended up his engagement with an expanded ensemble featuring trumpeter Sean Jones, trombonist Robin Eubanks, tenor saxophonist John Ellis, baritone saxophonist Jason Marshall and singer Alicia Olatuja. Blue Note Records president Don Was, who was presiding over the recording each night, now has to decide if he has one or two separate CDs on his hands.
SEEN ON THE SCENE
Avant grade guitarist and critics darling Mary Halvorson bringing in her octet into the Village Vanguard for her first week-long engagement there as a leader; Chris Potter playing material from his new ECM album, The Dreamer Is The Dream, at the Village Vanguard with pianist David Virelles, bassist Joe Martin and drummer Marcus Gilmore; former Spin Doctors drummer Aaron Comess leading his Air Conditioned Gypsies, featuring trumpeter Steven Bernstein, Living Colour guitarist Vernon Reid and keyboardist Leon Gruenbaum on a set of electric Miles-inspired improvised music at the Rockwood Music Hall; Galactic drummer Stanton Moore leading his New Orleans trio of pianist David Torkanowsky and bassist James Singleton on material from their album Conversations; guitarist Bill Frisell joining bassist Thomas Morgan for a set of intimate duos from their new ECM recording Small Town at the Roulette performance space in Brooklyn; guitarist Adam Rogers premiering material from his new power trio album, DICE, with bassist Fima Ephron and drummer Nate Smith in a CD release party at Le Poisson Rouge.