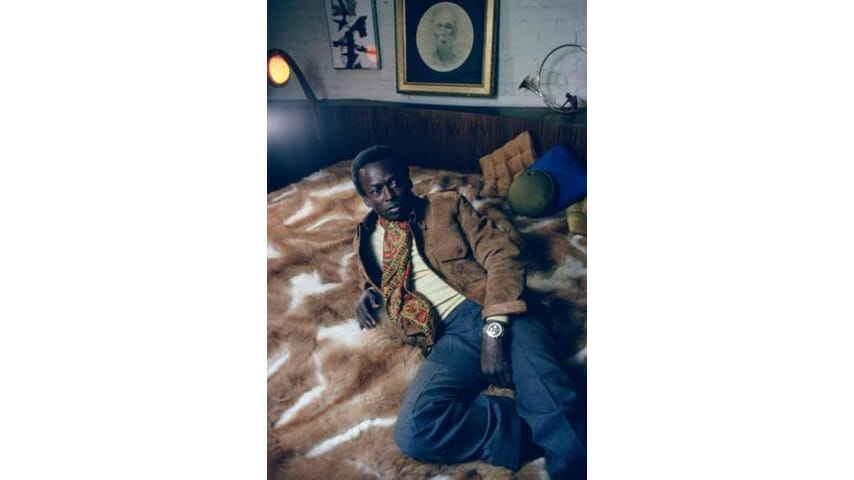 Seventy-one disc box set gives new meaning to the word "comprehensive"
At the end of 1967's Miles Smiles, the second great album from Miles Davis' second great quintet, the trumpeter's gravelly voice emerges from "Gingerbread Boy" like HAL from 2001: A Space Odyssey: "Teo, play that," he hisses to producer/saxophonist Teo Macero in a slight singsong. "Teo, Teo, Teo, Teo—play that." Macero had produced Davis' earlier classics, including 1959's Kind of Blue, but by the late '60s the trumpet giant and his new quintet—saxophonist Wayne Shorter, pianist Herbie Hancock, bassist Ron Carter and drummer Tony Williams—were entering a whole new realm where jazz would collide with funk, rock and the avant-garde.
Macero, like The Beatles' George Martin, would help Davis get there. Within three years, Macero was cutting up tape and reassembling it, creating themes and transitions for landmarks of electric jazz-fusion such as In a Silent Way and Bitches Brew. Listening to Davis' entire Columbia Records output today, it's hard to believe the same guy who bebopped with Charlie Parker in the late '40s would blast off into space with jazz-rock guitarist John McLaughlin two decades later and then cover Cyndi Lauper in the '80s. And yet the sound of his trumpet—whether muted or raw—remains constant throughout, as does the darkly chaotic vibe he created with each new crew of musicians.
Since his death in 1991, Davis' most important Columbia albums have been expanded, remixed, repackaged, boxed and served back in wildly different configurations: complete recordings with Gil Evans, complete recordings with John Coltrane, the complete Kind of Blue, Bitches Brew and On the Corner sessions. It's easy to forget that this music was initially released chronologically as painstakingly edited LPs, and that those LPs made such a profound impact on music—not just in jazz but in pop, rock, funk, hip-hop and electronica.
That's what makes Legacy's latest and most ambitious Davis project such a treat. The Complete Columbia Album Collection compiles his 52 Columbia albums—as originally edited—onto 70 CDs, adds a DVD of a 1967 concert, and includes a 250-page booklet with photos, a lengthy bio, an annotated discography and a song index. Each disc comes in a miniature LP jacket with the original artwork. While some discs include extra tracks, there's none of the alternate takes or studio chatter of the "sessions" releases, and no complete concert recordings such as the mammoth eight-CD Live at the Plugged Nickel 1965 set released in 1995. Hearing these albums in their original forms, we get a more accurate picture of how Davis helped chart the course of late-20th-century jazz.
When he signed to Columbia in 1955, he'd already been recording and performing for about a decade, and helped move jazz into its cool era. But he didn't begin making his biggest impact until he put together his revolutionary first great quintet—saxophonist John Coltrane, pianist Red Garland, bassist Paul Chambers and drummer Philly Joe Jones—for his Columbia debut, 'Round About Midnight. A master at assembling the right combinations of musicians, Davis continually tweaked his lineups and reached several peaks on Columbia in the late '50s. With Kind of Blue, he created a sensuous, brooding modal-jazz masterpiece accessible to pop fans (with no small debt to pianist Bill Evans). On Porgy and Bess and Sketches of Spain, he teamed with arranger Gil Evans for sets exploring classical and ethnic styles. By the early '60s, he was putting some of his most exciting live performances on wax, most notably My Funny Valentine, a 1964 engagement at Lincoln Center that remains one of the greatest live jazz albums.
But it was Davis' '70s period—when the civil unrest of the previous decade turned to simmering anger and righteous pride—that both galvanized and polarized jazz and rock crowds. To jazz purists, Bitches Brew wasn't "real jazz." To rock fans, the sounds on that album—and follow-ups like A Tribute to Jack Johnson, On the Corner and his live sets recorded at rock venues like the Fillmore—were either inscrutable or the very essence of what they'd been looking for in acts as diverse as James Brown, Sly Stone, Jimi Hendrix, Cream and the Grateful Dead: pure, African-based avant-psychedelic mayhem. This period laid the groundwork for the ambient and techno music DJs would explore two decades later.
By the early '80s, Davis had stopped working with Macero and had left Columbia for Warner Brothers. While he dabbled in synth-funk on final Columbia albums like Decoy, and began expressing an interest in hip-hop, he never got a chance to adequately realize this new direction before his death at 65. His revolutionary work was behind him anyway, and all of that can be found here.