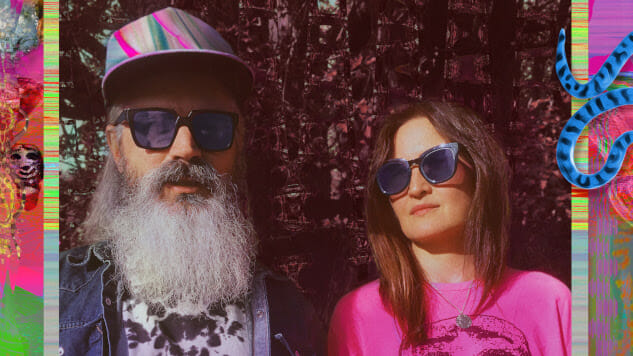 Daily Dose is your daily source for the song you absolutely, positively need to hear every day. Curated by the Paste Music Team.
Portland's Moon Duo have beamed down the latest single from their forthcoming album Stars Are The Light, the psychedelic acid-house odyssey "Lost Heads." It's our second taste of Ripley Johnson and Sanae Yamada's latest, due Sept. 27 on Sacred Bones, following the late-June release of its title track.
"Lost Heads" is as mesmerizing as its title would suggest, a mystical disco temple erected on the foundation of a pulsing, drum machine-driven beat, sparkling chimes and ethereal synths. Johnson and Yamada's murmured vocals merge over guitars that hang in the air and reverberate for what feel like ages, like a cast-off object following its own momentum endlessly through space. The song stretches ahead to the horizon, beckoning you blissfully into the unknown for its near-seven-minute duration.
A press release attributes to Stars Are The Light "a sonic physicality that is at once propulsive and undulating; it puts dance at the heart of an expansive nexus that connects the body to the stars." The duo's latest single, mixed by Sonic Boom (of Spacemen 3) and mastered by Heba Kadry, certainly lives up to those interstellar ambitions.
"We have changed, the nature of our collaboration has changed, the world has changed, and we wanted the new music to reflect that," says Yamada in a statement.
Johnson and Yamada will tour Europe, the U.K. and North America in support of their new record throughout October and November, including 10 stops in the States.
Zone out to "Lost Heads" below, find Moon Duo's tour itinerary further down and revisit the details of their forthcoming album here.
Moon Duo Tour Dates:
October
17 – Ghent, Belgium @ Videodroom
18 – Krakow, Poland @ Malopolski Garden Of The Arts
20 – Amsterdam, Netherlands @ Paradiso Noord
21 – Berlin, Germany @ Volksbuhne
23 – Zurich, Switzerland @ Bogen F
24 – Vevey, Switzerland @ Rocking Chair
26 – Angers, France @ Le Chabada
28 – London, U.K. @ Earth
29 – Manchester, U.K. @ Dancehouse
30 – Liverpool, U.K. @ Invisible Wind Factory
31 – Glasgow, U.K. @ BAAD
November
01 – Birmingham, U.K. @ The Crossing
02 – Leeds, U.K. @ Brudenell
03 – Gateshead, U.K. @ The Sage
04 – Brighton, U.K. @ St. Bartholomew's Church
05 – Paris, France @ Petit Bain
06 – Charleroi, Belgium @ Rockerill
09 – Utrecht, Netherlands @ Le Guess Who
12 – Brooklyn, N.Y. @ Music Hall of Williamsburg
13 – Philadelphia, Pa. @ Underground Arts
14 – Washington, D.C. @ Rock & Roll Hotel
15 – Kingston, N.Y. @ BSP
16 – Montreal, Que. @ SAT
18 – Toronto, Ont. @ Longboat Hall
19 – Detroit, Mich. @ MOCAD
20 – Chicago, Ill. @ Thalia Hall
22 – Los Angeles, Calif. @ Lodge Room
23 – Oakland, Calif. @ The New Parish
25 – Portland, Ore. @ Wonder Ballroom
26 – Seattle, Wash. @ Neumos
27 – Vancouver, B.C. @ Hollywood