Mothers Announce New Album Render Another Ugly Method, Share First Single
Images via Tonje Thilesen, Anti- Records
Music
News
Mothers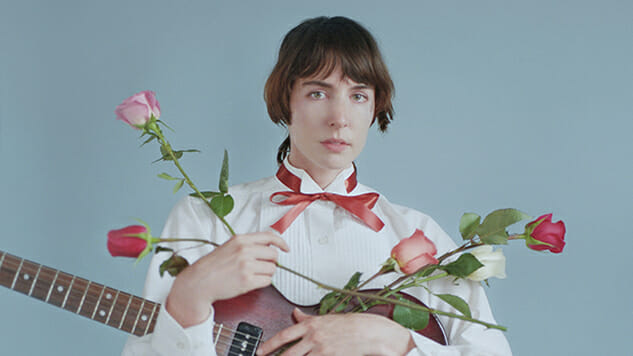 Indie-rock outfit Mothers have announced their forthcoming sophomore album, Render Another Ugly Method, out Sept. 7 via their new label, Anti- Records.
Led by Athens, Ga. native singer-songwriter Kristine Leschper, the band first came on the scene with 2016's When You Walk A Long Distance You Are Tired.
They describe their follow-up record as "an assemblage of personal vignettes and imagine scenarios that examines consent, escape of the body, power & powerlessness, and the act of making."
The first single, which starts off upbeat before transitioning into a creeping ballad, is "Blame Kit," which is out now. Along with the single, the band has also released an abstract album trailer featuring a snippet of another new track, "Baptist Trauma," which Leschper says is a dissection of her self-described "ugly" work ethic.
Mothers have a handful of tour dates in support of Lucy Dacus and Japanese Breakfast this summer before heading out on their headlining North American tour starting on Sept. 19.
Below, listen to "Blame Kit" and check out the Render Another Ugly Method album trailer, along with the band's tour dates and their 2017 Daytrotter Session.
Mothers Tour Dates:
July
11 – Baltimore, Md. @ Ottobar ^
13 – Montreal, Quebec @ Le Ministère ^
15 – Burlington, Vt. @ ArtsRiot ^
16 – Rochester, N.Y. @ Bug Jar *
17 – Buffalo, N.Y. @ 9th Ward
18 – Toronto, Ontario @ Phoenix Concert Theatre *
19 – Grand Rapids, Mich @ The Pyramid Scheme *
20 – Milwaukee, Wis. @ Turner Hall *
21 – Chicago, Ill. @ Thalia Hall *
24 – Cleveland, Ohio @ Beachland Ballroom *
28 – Denver, Colo. @ The Underground Music Showcase
September
19 – Boston, Mass. @ Great Scott
20 – Brooklyn, N.Y. @ Baby's All Right
21 – Washington, D.C. @ Songbyrd
22 – Raleigh, N.C. @ Kings
24 – Athens, Ga. @ 40 Watt
25 – Asheville, N.C. @ The Mothlight
26 – Nashville, Tenn. @ The 5 Spot
27 – Atlanta, Ga. @ Aisle 5
28 – Orlando, Fla. @ Will's Pub
29 – Tampa, Fla @ Crowbar
30 – Tallahassee, Fla. @ The Wilbury
October
02 – New Orleans, La. @ Gasa Gasa
03 – Houston, Texas @ White Oak Music Hall
04 – Austin, Texas @ Barracuda
05 – Dallas, Texas @ Curtain Club
06 – San Antonio, Texas @ Paper Tiger
08 – El Paso, Texas @ Lowbrow Palace
09 – Tucson, Ariz. @ 191 Toole
10 – San Diego, Calif. @ Soda Bar
11 – Santa Ana, Calif. @ Constellation Room
12 – Los Angeles, Calif. @ Resident
13 – San Francisco, Calif. @ Cafe du Nord
16 – Portland, Oreg. @ Liquor Store
17 – Seattle, Wash. @ Barboza
18 – Boise, Idaho @ Neurolux
19 – Salt Lake City, Utah @ Kilby Court
22 – Fort Collins, Colo. @ Downtown Artery
23 – Omaha, Neb. @ Slowdown
24 – Kansas City, Mo. @ recordBAR
25 – Des Moines, Iowa @ Vaudeville Mews
27 – Minneapolis, Minn. @ Turf Club
30 – Columbus, Ohio @ Ace of Cups
31 – Cincinnati, Ohio @ MOTR Pub
November
01 – Pittsburgh, Pa. @ Spirit
02 – Richmond, Va. @ Strange Matter
03 – Philadelphia, Pa. @ Johnny Brenda's
(^ = w/ Lucy Dacus)
(* = w/ Japanese Breakfast)