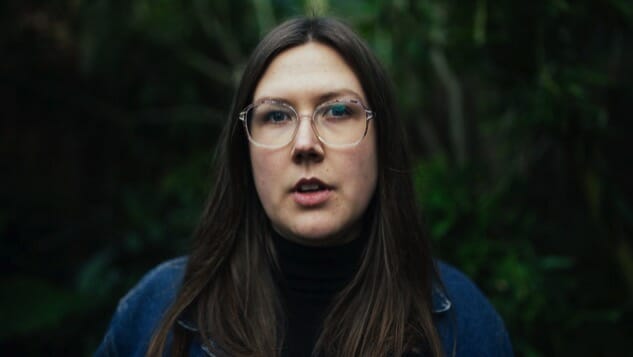 When I talk with New Zealand's Nadia Reid over Skype, she tells me the future is bright. It's Saturday in my city, and I'm under a grey winter sky, but Reid is waking up to a summer Sunday. When I ask her what I can look forward to tomorrow, she assures me the day is "really beautiful and sunny."
The feeling of needing to catch up to Reid seems entirely appropriate given the timeline of her debut LP Listen to Formation, Look for the Signs. After self-releasing her album back in 2014, it wasn't until March 2015 when Spunk Records picked it up in Australasia and November when Scissortail Records released it in the US and Melodic Records in the EU. As reviews from publications like Uncut Magazine, Mojo and Pitchfork started streaming in, audiences in New Zealand and abroad did, too. Finally arriving to where Reid had been all along.
"As soon as New Zealand starts seeing America and Europe talking about an artist or featuring them in something, they feel like it's actually worth supporting. Which is a sad reality," Reid says. "It's frustrating but perhaps the way it goes."
Reid's captivating ability to convey emotions is what audiences are greeted with when they do hear Listen to Formation, Look for the Signs. In the record's emotional journey of falling in and out of love, Reid's warm voice is the steady centre of the positives and negatives. Her cadence bites at some moments and reveals a deep sadness at others, but, most compellingly, is marked by a self-assurance. From the album's opening lyric, "When I hit the ground in all my glory, I will know where I have come from," Reid exudes confidence and is ready to take on the future.
"This shit happens, and it can be really hard, but we just carry on," explains Reid. "We just keep going. And [the record] is me talking about it, and I'm alright."
When Reid picked up the guitar at 14, she wasn't thinking about having a career in music. After leaving school in 2009, Reid worked as a nanny and in a restaurant, but after releasing her debut Letters I Wrote and Never Sent EP in 2011, a career began to take shape. Though she now characterizes the EP as "very teenage-y" and filled with "cringe moments," it does show how much Reid has grown in a few short years. "I sort of go from feeling like I never want [the EP] to be heard by anyone ever again, but then I also like the fact that it represents that point in time," she says. "I was 17 when we made that, and I had no idea what it was like being in a studio. I remember feeling so nervous just playing with other musicians."
Unlike the snapshot of youth the EP represents, Listen to Formation, Look for the Signs is an accumulation of about seven years worth of songs and captures Reid's maturation during that time. "The album in many ways had been pushed back," says Reid. "I wanted to make it a couple of years before it happened, but I didn't because of reasons like self-doubt or not having the ability or the finances or the support to make the album. As soon as I felt the need to, it happened. When we got into the studio, the album was so ready to be made that it just happened in under 10 days. The timing was perfect."
This extended songwriting period ultimately gave Reid time to reflect and mature both personally and as a musician. In the song "Reaching Through," with its declarative opening statement, "I keep the art separate from the love," Reid meditates on her role as a songwriter and the challenge of writing songs that use metaphor rather than retell personal stories.
"I think at the time I was writing ["Reaching Through"], I had just started seeing my ex-partner, and it was me reflecting on keeping my personal, intimate relationships separate from what I write about and what I perform. It was me reflecting on how it would mortify me for someone like him or someone else to say, "what are you trying to say?" or "what does this part mean?" It was me thinking about having two parts to it. Which is hard, and I don't think I do it all the time."
"I feel very privileged that I am able to have this ability to process and heal," she continues. "But then sometimes, it's quite overwhelming on how public it is. I don't think I've grasped that quite yet."
What helps further convey Reid's emotions is the warm folk style she works with on the record. Primarily anchored by an acoustic guitar, Listen to Formation, Look for the Signs glistens with additional instrumentation – the smoky "Ruby" is punctuated by a double bass, while the pedal steel wails with growing pains on "Seasons Change." It's a sonic style that she says was shaped, in part, by Vancouver folk trio The Be Good Tanyas and also praises fellow New Zealanders Tiny Ruins (Hollie Fullbrook) and Aldous Harding for paving the way.
"People want to feel connected, and I think, in a way, folk music is raw and authentic enough to connect with people on a deeper level," she says. "I think people need that."
Recently, Reid started her Bachelor of Arts in English, but her schedule has become so full that university is now on hold. "We're going to go back on tour, and so school's not going to work," explains Reid. "There's certainly other things that I would like to achieve outside of music. I don't think a career of music is necessarily something you choose. It can be quite unsettling when you don't know what's going to happen but we'll see."
The tour started in March in New Zealand and goes until early June, taking her to Australia and Europe. Meanwhile, the follow-up to Listen to Formation, Look for the Signs has already been written and could be released as early as this year.
"I'm excited," she says about her forthcoming album. "It's going to be a bit more gritty. Not so down and out on love but a bit wiser. It's certainly folk driven, but the themes are a nice progression."