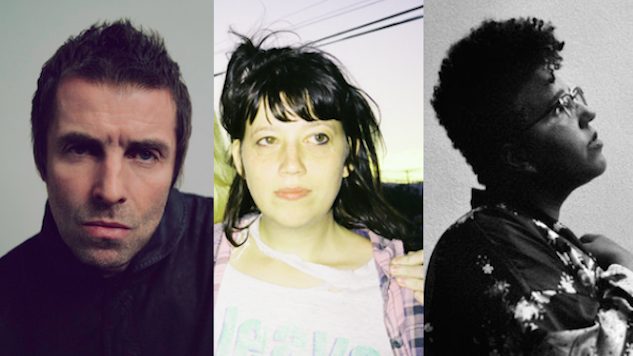 Whether you're in the mood for lounge-y R&B, lush folk-rock, driving noise-pop or spitting punk, this New Music Friday has something for everyone. The biggest names include the debut album from Alabama Shakes frontwoman Brittany Howard, the first Vivian Girls album in eight years and Liam Gallagher's second solo album. You can also hear two exciting debut records from Nashville's Twen and Los Angeles' Kills Birds, plus the latest albums from Seattle rockers Chastity Belt and French electronic outfit M83. Dive headfirst into 10 notable new albums out today, listed alphabetically by artist below.
1. Brittany Howard: Jaime
With her soulful vocals and impassioned electric guitar playing, Brittany Howard is known as a blues-rock powerhouse, and the lead singer and rhythm guitarist for Alabama Shakes. She also just released her debut solo album Jaime. Howard was inspired to create the album after taking a cross-country trip from Nashville to Topanga, Calif., where she recorded it. "I wrote this record as a process of healing. Every song, I confront something within me or beyond me. Things that are hard or impossible to change, words and music to describe what I'm not good at conveying to those I love, or a name that hurts to be said: Jaime," Howard says. —Marissa Matozzo
2. Chastity Belt: Chastity Belt
Feminist rockers Chastity Belt dropped their self-titled LP, the fourth full-length record from the Seattle-based group. It follows 2017's I Used To Spend So Much Time Alone, which spawned the popular singles "It's Obvious," "Different Now" and "Caught in a Lie," among others. Chastity Belt album opener "Ann's Jam" features their signature electric riffs, tinges of lo-fi sounds and nostalgic, introspective lyrics. "We were driving South in your parents' car singing aloud to scratched CDs," Julia Shapiro sings, "feeling meaningful, thinking this is a start and it'll go on." —Marissa Matozzo
3. Hiss Golden Messenger: Terms of Surrender
M.C. Taylor announced announced Hiss Golden Messenger's latest full-length project, Terms of Surrender, with a moving celebration of North Carolina's's school employee protests, "I Need a Teacher." Taylor turned away from public advocacy and towards private mysticism on the album's second single, "Cat's Eye Blue." As his quasi-religious moniker indicates, Hiss Golden Messenger has never shied away from a deep-seated spirituality in hismusic. —Substitute Thapliyal
4. Kills Birds: Kills Birds
Los Angeles rockers Kills Birds released their self-titled debut album, featuring the scorching singles "Worthy Girl" and "Ow," the latter of which premiered at Paste. Their album was produced by Justin Raisen (Sky Ferreira, Angel Olsen, Miya Folick), and it's out on Raisen's own KRO Records. "Ow" has the kind of reckless thrash and willfully messy lyrics that seem absent from a lot of today's guitar music. It bleeds with stark confidence, primitive guitars and grating lead vocals, and it embodies the slightly threatening but ultimately exhilarating swagger that you get from spitting on the concrete or gleefully launching into a mosh pit. —Lizzie Manno
5. Liam Gallagher: Why Me? Why Not.
The debut solo album from former Oasis frontman Liam Gallagher, As You Were, was a huge success, debuting at number one on the U.K. charts, out-selling the other nine albums in the top 10 combined, hitting gold in its first week and now sitting at certified platinum. Gallagher wrote a few songs on As You Were with producers Greg Kurstin and Andrew Wyatt, but he co-wrote every song on his new second album Why Me? Why Not. alongside the same two producers. "It's nice to be back with some new music because it means I can get out there, play some gigs and give some people some stick because that is what I do. Let's face it, it's boring without me," Gallagher said in a statement. —Lizzie Manno
6. M83: DSVII
French electronic and early-2000s cult heroes M83 released their latest album DSVII. The follow-up to 2016's Junk, the album serves as the successor to 2007's largely instrumental Digital Shades Vol. I and draws heavy influence from "early videogame soundtracks, '80s sci-fi/fantasy films and analog synth pioneers." "I wanted to create some music that could be part of this adventure and journey with all of its solitary knights, dreamy landscapes, strange animals, forgotten myths and old spells," frontman Anthony Gonzalez explained. —Savannah Sicurella
7. Molly Sarlé: Karaoke Angel
Mountain Man are a very special band because not only are Molly Sarlé, Alexandra Sauser-Monnig and Amelia Meath great as a group, but they're also all creators of other accomplished projects. Meath is one-half of synth-pop duo Sylvan Esso, Sauser-Monnig makes thoughtful folk music under the alias Daughter of Swords, and Sarlé writes stunning, roomy songs under her own name. Sarlé's new album Karaoke Angel was written and recorded over the span of three years and as many places, from a trailer in Big Sur to home in North Carolina to a studio in Woodstock, N.Y. —Ellen Johnson
8. Monster Rally: Adventures on the Floating Island
Sometimes, you don't have to physically go to a tropical paradise to feel like you're there. On Monster Rally's wavy and idyllic productions, there might as well be an island bum in the room, playing lounge music atop the whimsy of Adult Swim style hip-hop beats while you sip on a Campari soda in the shade. Monster Rally's Ted Feighan is also an adept visual artist: The dimensions of the collage artwork he creates for the vinyl covers of his many Gold Robot Records releases (including Adventures on the Floating Island) just heightens the escapism of his music. Press play on "Menagerie," and see you at the bar. —Adrian Spinelli
9. Twen: Awestruck
Nashville-based indie-rock outfit Twen made quite a first impression with debut single "Waste," the lead track from their first full-length studio album. The band, anchored by lead vocalist Jane Fitzsimmons and guitarist Ian Jones, signed to Frenchkiss Records and announced a tour in support of White Reaper. "Waste" is an arresting introduction to Twen's fully formed sound, blending elements of psych rock and dream pop to make a sunny and energetic mélange, like surf rock à la Sunflower Bean. Theirs is the kind of timeless rock that leaves room for introspection and escapism both, conjuring infectious hooks without ever sacrificing texture. —Scott Russell
10. Vivian Girls: Memory
Dream-pop heavyweights Vivian Girls came out of the woodwork earlier this summer to announce their first new album in eight years. Memory marks the band's first return to performing as a trio since parting ways in 2014, and welcomes back their core lineup of vocalist-bassist Katy Goodman, vocalist-guitarist Cassie Ramone and drummer Ali Koehler. Described as an album filled with personal reflections on toxic relationships, mental health struggles and accepting oneself, Memory captures a sense of desperation and longing and the "trademark mystery that set the band apart during its first incarnation," per a press release. —Savannah Sicurella