Nicolas Jaar Uploads New Mix, Announces EP Featuring FKA twigs, Lydia Lunch
Photo by Timothy Norris/Getty
Music
News
Nicolas Jaar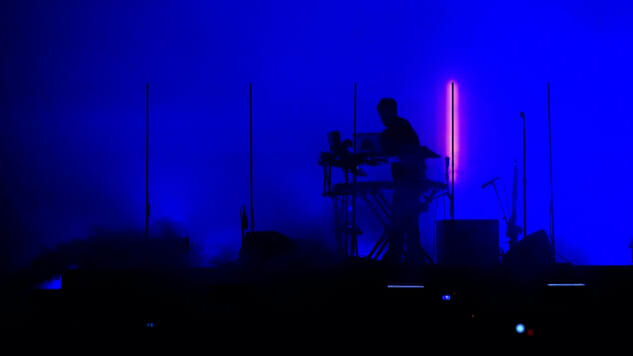 Nicolas Jaar (Against All Logic, one half of Darkside) posted a mix that first aired on NTS Radio to his SoundCloud Thursday. The mix hints to further material coming from his Against All Logic alias, notably the title "A.A.L Mix" and the image associated, which is a military officer holding a cellphone. Jaar requested his image never be associated with his Against All Logic work, instead preferring any stock photo "of a military man holding a cellphone."
The mix's description notes he plans to release an EP this Friday, Jan. 31, that features both art-pop auteur FKA twigs and New York noise legend Lydia Lunch. The EP is titled Illusions. Last year, Lunch began a podcast named The Lydian Spin, which she hosts weekly with Tim Dahl.
Jaar previously worked with FKA twigs on her genre-defying 2019 breakup album MAGDALENE, assisting with production and writing on five tracks, including single "sad day." The work present in his mix is pretty different from what he accomplished with twigs, but eschews genre in much the same spirit. The mix is crunchy and full of reinterpreted disco, techno and house beats, much like his 2018 release under his alias 2012-2017.
You can listen to the mix below, or via SoundCloud here.