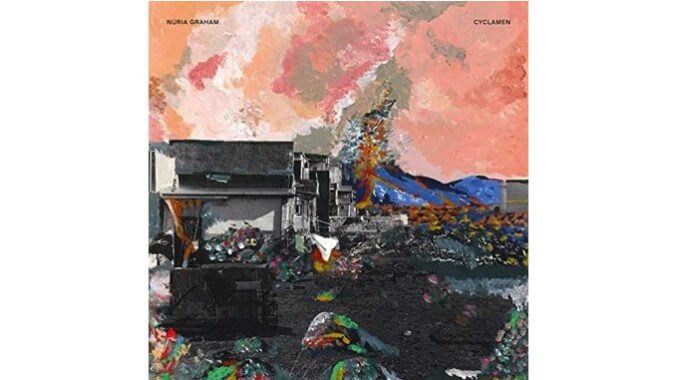 Listening through Cyclamen, an arresting collection of piano-led folk adorned with lush horns and strings, you imagine how the Núria Graham of her debut album, pictured on the cover gazing into the distance with a bright red guitar dangling beneath her fingers, might feel knowing that she'd be ditching the instrument almost entirely one day. On the four albums in between First Tracks and her newest offering, the Catalan-Irish songwriter built a legacy as a reliable rocker, tumbling through nostalgic tales of friends and lovers in a six-stringed trance. Culminating in 2020's breezy Marjorie, Graham never emerged with anything less than inspired in the lead up to Cyclamen, but even as she left multiple-movement psychedelic odysseys behind to explore '70s-tinged indie pop, her growing vocabulary seemed to hit its limit at the end of the fretboard.
It could be the warm reception to her 2020 release of a five year-old demo that spurred Graham to seek a new muse. The threadbare production of only piano and voice on her uncharacteristically desolate ballad "Boredom" draws the listener deep into the solitude of a lonely summer morning with Graham's vocals perching high above the scene with a commanding new intensity as she watches the dying wisps of a lost romance ("Tell me, what's poetry compared to your silence?/ Birds on your chest, you are singing a song") burn off like clouds in the heat. I imagine the fact that it's grown to be her most streamed song doesn't hurt, but perhaps revisiting the track's tender brutality struck a deeper chord with Graham during the reflective early days of lockdown, with little to do but pick apart the past for clues. Unable to fully tour behind her last LP, she released a pair of singles in 2021 that anchored her firmly behind the keyboard, with spacious arrangements that freed up her voice even further, clearing the runway for a soaring theatricality to take flight.
In light of Cyclamen, "At Last/Ready to Fool You" indeed feels like a proving ground for the album's convincing reinvention of Núria Graham as a cinematic folk balladeer, but it's surprising just how cohesively her first album-length vision within this format holds together. The clever framing device of bookending the album with a pair of scene-setting theme tracks does a lot of the heavy lifting. Titled "Procida" (I and II) after an island off the coast of Naples, they draw on the same melody and lyrics as we wade into memories of a "nothingness we call love instead." The first dives in eagerly, with pitch-shifted harmonized vocals that float past a siren-like choir and plinking harp. When its reprise drifts in on a somber drone, a field recording of ringing church bells over a busy street emerges to push the ground back beneath your feet. Completing the arc of a journey, Graham pulls you out of Cyclamen's extended daydream, tenderly dragging you back to shore after a brisk half hour spent swimming through her mind.
That the album moves quickly while maintaining that hazy sense of wonder is a credit to the remarkable chemistry between Graham and composer Helena Cánovas Parés. They're certainly unafraid to pile on texture at the right moment—the swirling saxophone arpeggiations and plucked harp chords of "Yes, It's Me the Goldfish!" might well be their finest hour, with the perfectly-timed sigh of the string quartet on "Gloria" a close second—but their approach is largely one of tasteful restraint, never letting sonics getting in the way of the narrative. Ironically, this is best seen in action on the shambling, guitar-centric "Disaster in Napoli", which bounces along to a dizzy blues riff as chaotic scenes rage around her. Parés pours fuel on the fire by doubling it with strings, allowing the brief inferno to rage without interference. Graham sings of falling asleep in a boat with a lit cigarette; Parés pushes the waves higher until they tower over her.
Lyrically, Graham expands her talent for character studies by merging with the natural world, shifting shape to dream from surreal new perspectives. In one moment, she's "The Catalyst", a shadowy entity harnessing powerful winds to weather the storm of a breakup. The next, she's shrunk into the passive "Goldfish", pondering the "nonsense land" around her from the safety of a bowl. These whimsical detours give Cyclamen a healthy dose of levity; her weighty meditations on impermanence ("It turns out, if you paint things nicely they pass as good, for a while") and self-deprecating barbs ("I want to say goodbye properly, with my stupid Catalan-English") glide by, tickling your subconscious. But she sketches her most affecting portrait by returning to human form. A hymn to an imagined daughter named after a dear friend, "Gloria" immortalizes the fantasy with tantalizing detail ("Stuck with a teddybear on the window, at the back of a train") and disarming earnesty ("Dancing with no limits, that's how I'd like to see her"). When Graham pleads "Why don't you come?", her bleary-eyed grief snaps into sharp focus.
Any artistic experiment this bold would feel charmless and over-calculated if there weren't a few naive missteps to be encountered along the way. Late game interlude "Dust Bowl Dreaming" loses the plot for a bit, meandering along to an inconsequential melody. Parés attempts a rescue in the outro using the string quartet, though the rope's too short to reel in Graham's sinking imagery of two lovers lazing on a couch. "Oh well, these mysteries" she sighs, approximating the track's hollowness all too well. Nonetheless, the transformation that she achieves across the record is so complete that you can't help but forgive its weakest two minutes. Cyclamen is a bold reintroduction to Núria Graham, a confident demonstration that, nudged into fresh sunlight, experience can always blossom into beautiful new forms.
---
Phillipe Roberts is a music critic living in Crown Heights, Brooklyn. He subsists purely on bodega coffee and the misguided belief that we're getting a new Deerhunter album any day now.