of Montreal's UR FUN Is One Hell of a Party
It's the first album in years that Kevin Barnes has recorded on his own
Music
Reviews
of Montreal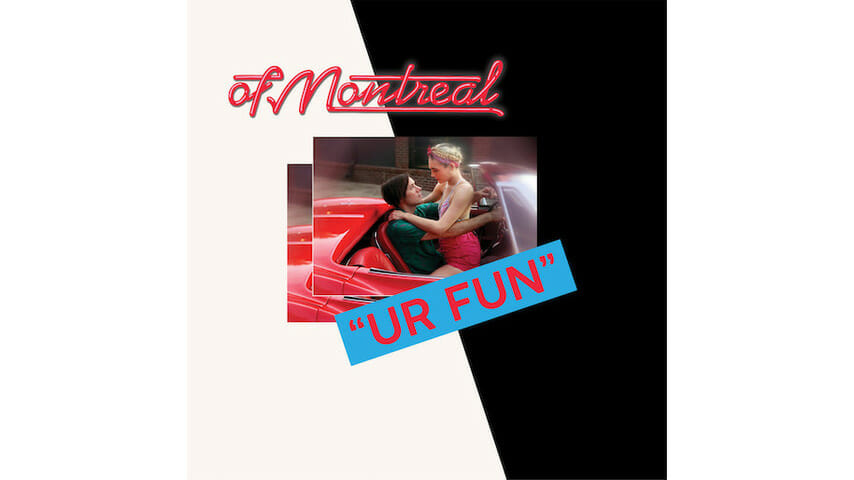 One of life's most persistent aphorisms, right up there with observations about death and taxes, is that the pre-party is usually better than the shindig itself. It's more intimate, you get to play DJ and it's not as over-hyped as parties tend to be. The night lays ahead of you, filled with opportunity. Likewise, falling in love often feels like the pre-party, full of anticipation and discovery. The relationship itself is the central goal, though, and it's where all of the challenges lie.
Kevin Barnes, better known as of Montreal's frontman and founding member, made his last record White Is Relic/Irrealis Mood to depict falling in love with Christina Schneider of Locate S,1, and it appropriately had an intoxicating feeling to it, evoking the best of Animal Collective. If that album made you feel drunk (or, more likely, high) on love, then UR FUN is the dance party after, where you keep moving in order to prevent yourself from getting bored. Barnes intended on making an album comprised of tracks that could all be singles, mostly achieving his goal with catchy electro-pop and his usual psychedelic detours. For the first time in years, he recorded an album on his own, giving us a clearer picture of him as a solo artist. He's as sonically varied as ever and infectious as all get-out, with the occasional self-indulgent stumble.
Songs like "Peace to All Freaks" and "Gypsy That Remains" (the latter featuring none other than Locate S,1) represent the album at its best, informed by '80s synth-pop and brimming with starry-eyed optimism. After an ethereal start, "Peace to All Freaks" explodes with a drum machine dance beat and easily stands out as of Montreal's most memorable single since 2016's "it's different for girls." "Hush, hush / Don't let's be negative / Hush, hush / Don't let's be cruel," Barnes tells us over a melody reminiscent of fellow neon-tinged pop outfit Stars. "Gypsy That Remains" bursts with twinkling synth, featuring dreamy—albeit cheesy—lyrics like "And suddenly we're dolphins in the sea of love / And I'm kissing you in caps lock." On the chorus, Barnes reaches new vocal highs, emanating strong David Bowie vibes.
Then there are the missteps, like "You've Had Me Everywhere," which could be a forgettable B-side from some '80s Pet Shop Boys single. of Montreal's lyrics are nearly always a goldmine of obscure references and odd anecdotes, but "You've Had Me Everywhere" tends to lean on run-of-the-mill depictions of love, like, "Listening to your heartbeat / Realizing it's my heartbeat too."
Besides love, Barnes also makes the necessary acknowledgment of 2020 politics ("Don't Let Me Die in America") and touches on his own struggles with mental health and interpersonal relationships ("Deliberate Self-harm Ha Ha," "20th Century Schizofriendic Revengoid-man"). "Don't Let Me Die in America" showcases feuding electric guitars as Barnes sardonically declares, "I don't even wanna haunt this place." It's a protest song that hits even harder as medical expenses climb in the States and climate change poses an existential threat. "Deliberate Self-harm Ha Ha" has tinges of Kasabian's "Fire" to it at the beginning, and "20th Century Schizofriendic Revengoid-man" is as frenzied as its title promises, sending the album out on a flaming guitar solo.
With tunes for dancing, thrashing and falling apart, of Montreal's latest effort is a fitting start to 2020. The pre-drinks may have been a trip, but UR FUN is one party that you don't want to miss.
Revisit of Montreal's 2006 Daytrotter session: