Ohmme Announce Sophomore Album Fantasize Your Ghost, Share Lead Single "3 2 4 3"
Photo by Ash Dye
Music
News
Ohmme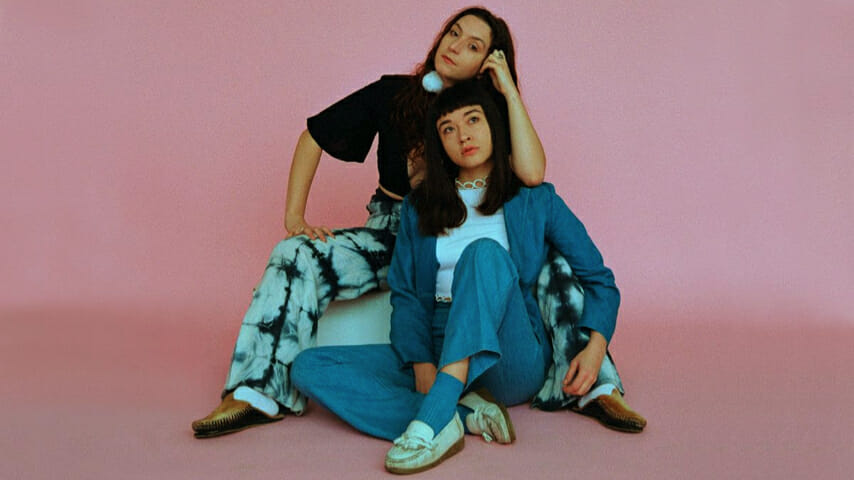 We've hailed indie-rock duo Ohmme as both a Chicago band to know and an outstanding live act, so you could say we're pleased to report they've announced a new album, the follow-up to their 2018 debut Parts. Fantasize Your Ghost, coming June 5 via Joyful Noise Recordings, is preceded today (March 4) by lead single "3 2 4 3," which arrives alongside an arresting music video somewhat reminiscent of Jordan Peele's Us.
Ohmme's Sima Cunningham and Macie Stewart star in the video for "3 2 4 3," a jittery, shuffling rocker described in a press release as "tackl[ing] the terrifying realization of needing to make a change." The duo harmonize, "Looked in the mirror the other day / Caught my reflection / My mouth had moved a different way / The muscles were straining"—it's as if the speaker doesn't recognize herself, unable to reconcile the person she used to be with who she is now. The video, filmed in Mexico City, finds Cunningham and Stewart dressed in black, moving through the city and filming each other (their footage is spliced in) while being stalked by looming, featureless figures—agents of change. Things take a turn when the duo come face-to-face with themselves, only dressed in white, and it's the pair who welcome the new who emerge victorious. "Different today, but I'm the same," Ohmme sing, leaning into the unknown.
"Sima and Macie explained to me that the song was about seeing the landscape/neighborhood change in front of your eyes even though you don't want it to change," says director and editor Alejandra Villalba García in a statement. "I thought that the first half of the video should be about them staying still trying to resist change as the scenery around them changes quickly. The tall dark figure represents change and how it keeps getting closer to them until there's no escape. When they fight with another version of themselves, the newer versions are the ones that win because they embrace change."
In conjunction with the announcement of their new album, Ohmme have announced a batch of performances at Austin's SXSW, not to mention a North American tour. The duo are currently winding down a tour with Wye Oak, and will be sharing bills with Waxahatchee and Vundabar on their upcoming run, which begins in late March and continues on through June. You can get tickets for their upcoming shows here.
Watch the "3 2 4 3" video and revisit Ohmme's 2017 Daytrotter session below, and find the details of Fantasize Your Ghost and the band's upcoming tour dates further down. You can preorder their new album here.
Fantasize Your Ghost Tracklist:
01. Flood Your Gut
02. Selling Candy
03. Ghost
04. The Limit
05. Spell It Out
06. Twitch
07. 3 2 4 3
08. Some Kind of Calm
09. Sturgeon Moon
10. After All
Fantasize Your Ghost Album Art: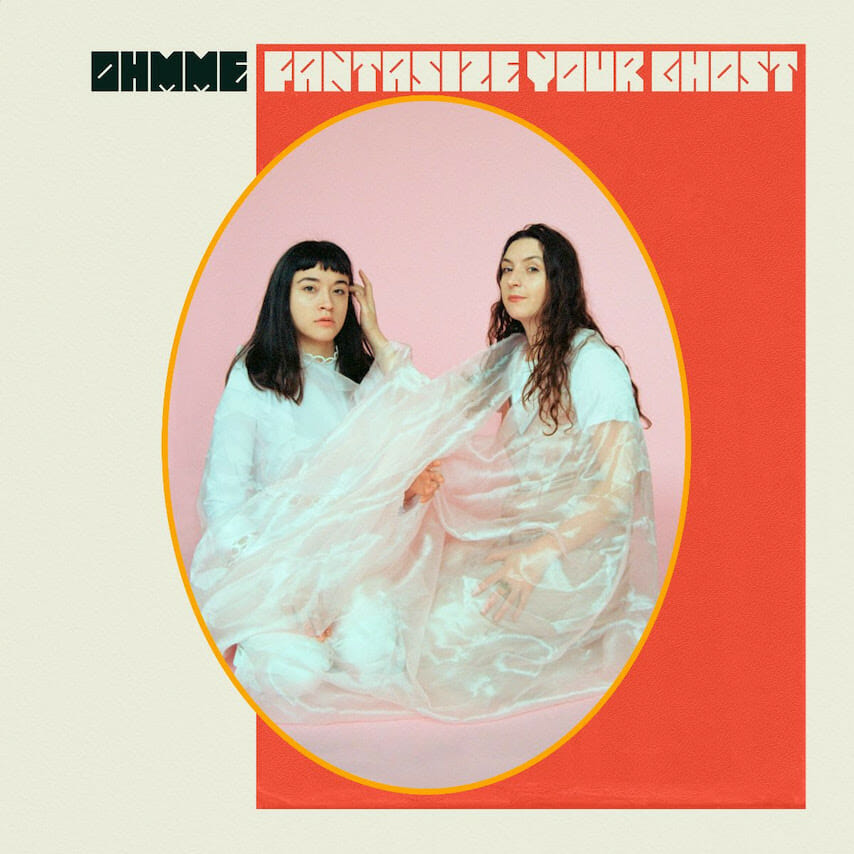 Ohmme Tour Dates:
March
04 – Brooklyn, N.Y. @ Music Hall of Williamsburg (duo) *
05 – Richmond, Va. @ The Broadberry (duo) *
06 – Savannah, Ga. @ Savannah Stopover Music Festival
07 – Cincinnati, Ohio @ Motr Pub
13 – Columbus, Ohio @ Melted Music Festival
14 – Chicago, Ill. @ The Hideout – SXSW Send-Off
16 – Memphis, Tenn. @ The Hi-Tone Cafe
18 – Austin, Texas @ Drafting Room (PMA) – SXSW
19 – Austin, Texas @ Container Bar (Dr. Martens) – SXSW
20 – Austin, Texas @ Cheer Up Charlies (Ground Control) – SXSW
20 – Austin, Texas @ 2300 Coronado St. (Radio Milk Fest) – SXSW
20 – Austin, Texas @ Flitch Coffee (Flitch Fest) – SXSW
21 – Austin, Texas @ Kinda Tropical (GET A GRIP) – SXSW
21 – Austin, Texas @ Handlebar (Tiger Bomb) – SXSW
22 – Dripping Springs, Texas @ Chill Phases
24 – Denver, Colo. @ Marquis Theater %
25 – Salt Lake City, Utah @ Kilby Court %
26-27 – Boise, Idaho @ Treefort Music Fest
April
03 – Iowa City, Iowa @ Mission Creek Festival
10 – Detroit, Mich. @ Jam Handy &
11 – Pittsburgh, Pa. @ Rex Theater &
14 – Philadelphia, Pa. @ Union Transfer &
15 – Holyoke, Mass. @ Gateway City Arts &
17 – Providence, R.I. @ Columbus Theatre &
19 – Allentown, Pa. @ Muhlenberg College
20 – Kingston, N.Y. @ BSP Kingston
21 – Winooski, Vt. @ Monkey House
23 – Washington, D.C. @ 9:30 Club &
24 – Saxapahaw, N.C. @ Haw River Ballroom &
25 – Nashville, Tenn. @ Mercy Lounge &
26 – Atlanta, Ga. @ Terminal West &
27 – Birmingham, Ala. @ Saturn &
29 – Baton Rouge, La. @ Mid City Ballroom &
30 – Houston, Texas @ Satellite Bar &
May
01 – Dallas, Texas @ Sons Of Hermann Hall &
02 – Austin, Texas @ Scholz Garten &
21 – Minneapolis, Minn. @ Fine Line Music Cafe &
22 – Madison, Wis. @ Majestic Theatre &
June
05 – Los Angeles, Calif. @ Zebulon – Record Release Show
06 – Oakland, Calif. @ Crystal Cavern
07 – Santa Cruz, Calif. @ Atrium at The Catalyst
08 – Sacramento, Calif. @ Harlow's
09 – Sisters, Ore. @ The Suttle Lodge
11 – Portland, Ore. @ Doug Fir Lounge
12 – Seattle, Wash. @ Barboza
13 – Spokane, Wash. @ Lucky You (Upstairs)
14 – Boise, Idaho @ The Olympic
16 – Bolinas, Calif. @ Farm Stand
(* = w/ Wye Oak)
(& = w/ Waxahatchee)
(% = w/ Vundabar)