The 6 Best Acts at Outside Lands Festival
From Khruangbin to Gorillaz, the Bay Area festival shines for its 10th anniversary.
Top photo by Amy Harris
Music
Features
Outside Lands Festival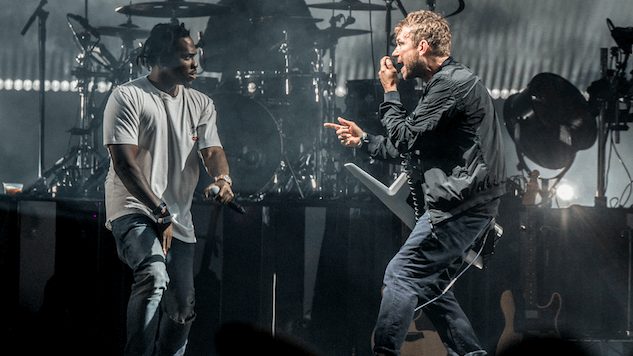 This past weekend, 210,000 people descended on Golden Gate Park for the 10th anniversary of Outside Lands Festival. The venue is unlike any other, with a newly expanded footprint of lush green fields surrounded by cypress trees, all bisected by clever thoroughfares that develop into their own smaller entertainment villages, before giving way to wide open stages.
For many, the festival was marred by high-profile cancellations: Queens of the Stone Age bowed out for "medical reasons" two weeks before the fest, though were quickly replaced by Cage the Elephant. A Tribe Called Quest cancelled literally 30 minutes before their already rescheduled set, when frontman Q-Tip did not make it to San Francisco in time. Despite this, Outside Lands' many fine acts delivered spectacularly all weekend long, particularly the headliners. With that, here are our six favorite performances of the weekend.
6. Khruangbin
Photo by Adrian Spinelli
The Houston trio played their '70s Thai Funk-inspired set in a gloriously scheduled 4:20 pm slot on the intimate Panhandle Stage. There isn't an act like Khruangbin out there, who can deliver South Pacific psychedelia that appeals to both the budding indie crowd as well as the folks who were just getting to the fest before seeing The Who later that evening. As the band coursed through their excellent debut, The Universe Smiles Upon You, the smoke-filled air gave rise to groovy dance moves and mellow moods that were decidedly San Franciscan.
5. Kaytranada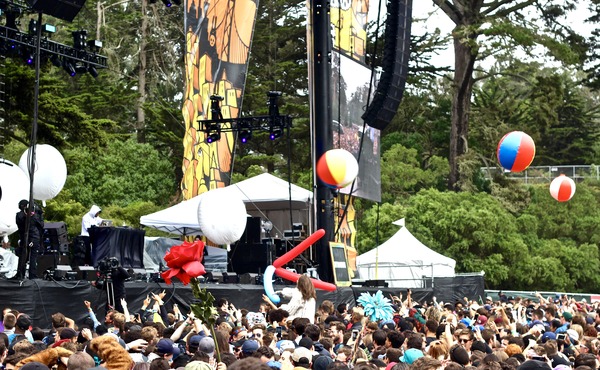 Photo by Adrian Spinelli
On a day when news of hate-fueled rallies in Charlottesville was visible on faces throughout the park, Canadian super-producer Kaytranada delivered the escapist dance party that everyone sorely needed. Anytime you're mixing Gal Costa samples into Anderson .Paak features, you most definitely have the juice.
4. Solange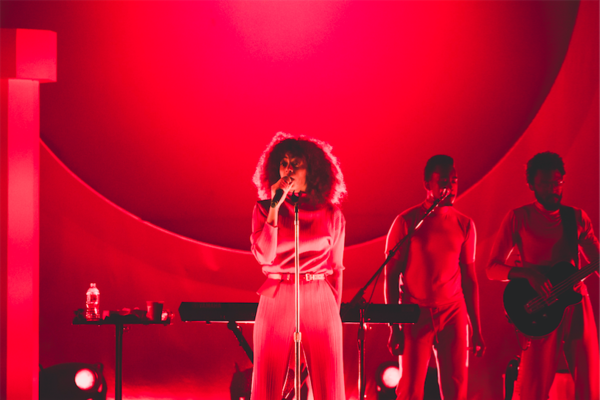 Photo by Ian Young
While the SF crowd didn't show nearly the kind of movement and sheer elation that the Los Angeles contingent did during Solange's set at FYF Festival in July, this was essentially the same incredibly elaborate and well-executed performance from Solange and her backing ensemble. Choreographed and arranged entirely by Solange, this is a ground-breaking performance that's still making its way across the country (Afropunk Brooklyn!) Don't miss it.
3. Metallica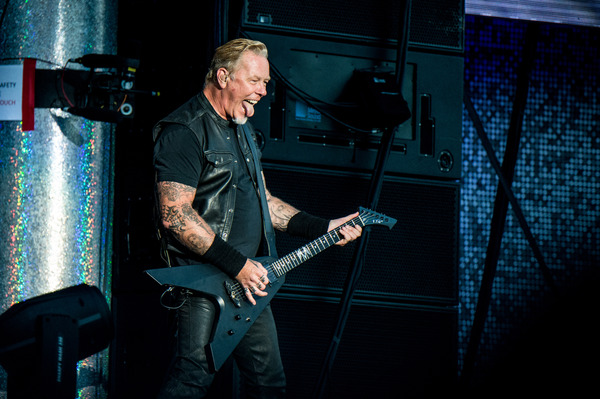 Photo by Amy Harris
With the disappointment of a top act bailing last minute looming (Q-Tip's no show for A Tribe Called Quest's set), Metallica did everything in their power to erase those thoughts. And holy shit did Hetfield, Hammett, Trujillo and Ulrich want to be on the main stage! The Bay Area mainstays showed the type of power that made them the most iconic band in heavy metal history. From "Master of Puppets" to "Sanitarium" to "Enter Sandman," Metallica played classic after classic with fury, dexterity and legendary disposition. There were lasers, there were heavy pyrotechnics and most of all there was totally electric rock 'n roll.
2. Dr. Octagon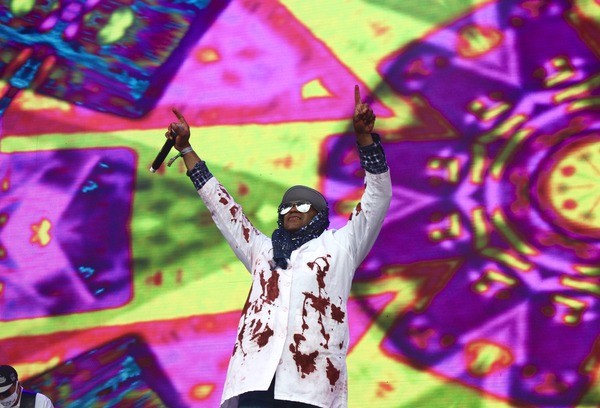 Photo by Adrian Spinelli
For a moment there, Outside Lands was taken back to hip-hop's golden age in the late 90's, with Kool Keith's Dr.Octagon alter-ego on the mic, Dan the Automator on the decks and DJ Q-Bert on the cuts. Automator has been at the helm of some of hip-hop's finest concept albums in Deltron 3030, the Handsome Boy Modelling School series and Friday's offerings from Dr. Octagonecologist and beyond. The trio, backed by a drummer and bass player, played jams like "Blue Flowers," "3000," "Earth People" and the delightful "Girl Let Me Touch You." Del joined Keith on the mic for a freestyle and a tepid version of "I'm Destructive," that made up for what it lacked in cohesion with nostalgia and audacity. The set's best moment saw Keith and the backing band step offstage, as Automator and Q-Bert went back-to-back on a "Bare Witness" turntablism session. Whereas Metallica and The Who were excellent legacy acts in the more traditional sense, Dr. Octagon's set managed to conjure up the precise feeling of what made 90's underground hip-hop so engaging, timeless and unique.
1. Gorillaz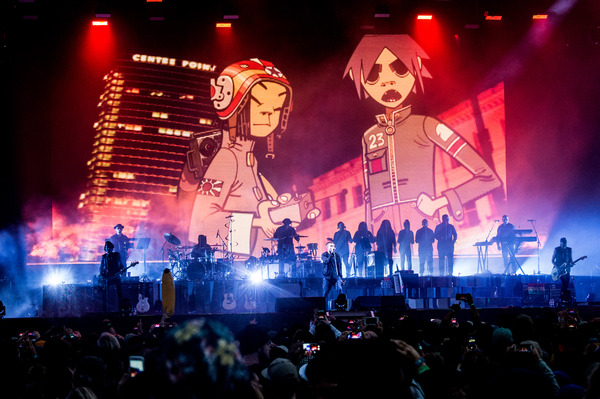 Photo by Amy Harris
Plainly stated, Damon Albarn and Gorillaz put on a festival headlining clinic. On the heels of the band's feature-heavy fifth studio album, Humanz, Albarn & Co brought out a slew of guests throughout their 26-track, nearly two-hour set on Friday night. 2001's "M1 A1" into 2005's "Last Living Souls" opened the set before appearances from the likes of De La Soul, Anthony Hamilton, Pusha T, Kali Uchis, Bootie Brown, Peven Everett [inhales, exhales] Jamie Principle, Little Simz, Del the Funkee Homosapien and Little Dragon's Yukimi Nagano. The latter provided vocals for the first live rendition of "Empire Antz" since 2010.
These weren't just features, these were the best features—as in every singer who jumped on the mic came across like they were delivering their absolute best live performances of the songs they're featured on. London's Little Simz stood out on "Garage Palace" and "We Got The Power" while Del's "Clint Eastwood" was as crisp as it has ever sounded. But at the end of the night, it was Albarn's chameleon-like modern-day bandleader performance that we'll remember most. In the same way that Richard Russell extracted Albarn's finest in his criminally slept-on solo LP, Everyday Robots, Albarn does the same for all of his collaborators, with veteran maestro-like charm.