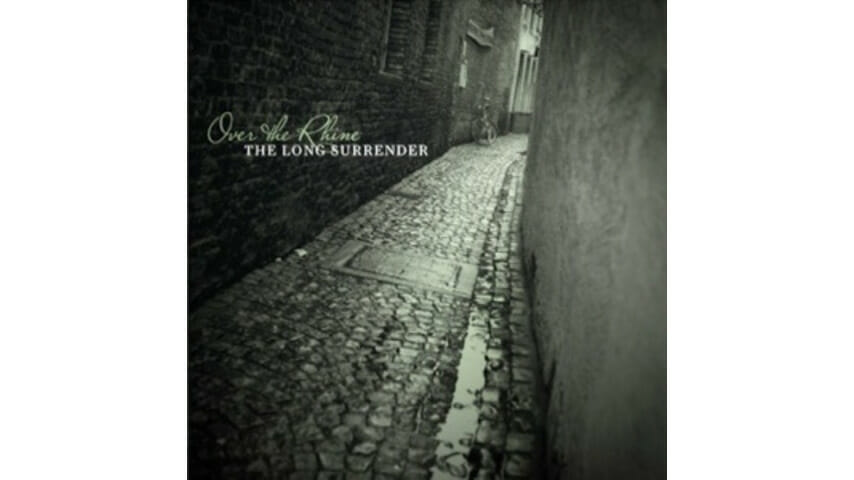 Giving up never sounded so good
"When you ain't got nothing, you got nothing to lose," Bob Dylan once famously sang, and Cincinnati's Over the Rhine delivers an hour-long treatise on that sentiment on The Long Surrender, their latest in a series of criminally overlooked albums.
Okay, maybe not nothing, but close enough. When Over the Rhine solicited their fans to pony up their hard earned cash so that this album could be recorded, it was clear that the old business model wasn't working. And perhaps in those circumstances musicians don't particularly care about singles and iTunes downloads and radio play. Maybe they just let it rip. Whatever the case, Over the Rhine pooled their meager resources and headed out to South Pasadena to record with renowned producer Joe Henry and his fine house band. The always splendidly ragged Lucinda Williams showed up to sing one day. Songwriting couple Linford Detweiler and Karin Bergquist, aided and abetted by two stellar contributions from Henry, delivered another finely observed batch of songs. And the resulting album is the most emotionally raw and musically nuanced of the band's fine career.
Detweiler and Bergquist, the sultry voice of Over the Rhine, have been at this for 20 years now. They've watched musicians and record labels come and go, career hopes wax and wane, and their marriage strain under the weight of too many nights on the road. Here they emerge on the other side of disappointment and trauma, a little weary, a little chastened, but full of hard-won hope. The desperation comes through on almost every song, but so does the determination to hold on at any cost.
The primary reason to care, as always, is Karin Bergquist's remarkably supple, soulful singing. Stretching out syllables, whispering and wailing, Bergquist's high-wire act is the consistent highlight of the 13-song set. But not far behind is Henry's intimate production, and the marvelously intuitive band that supports these songs. Drummer Jay Bellerose and bass player David Piltch offer consistently stellar accompaniment, building to crescendos that mirror the emotional high points of the choruses, laying back when the focus is on the nuanced lyrical narratives that accompany many of these songs. Greg Leisz plays pedal steel lines that snake around Bergquist's vocals like wisps of smoke.
Like every Over the Rhine album, the lyrics plumb the mysteries of love, divine and human, not so much blurring the boundaries as acknowledging that they are inseparable and integrally related. "Undamned" finds Bergquist trading lines with alt-country legend Williams, the verses a confessional catalogue of misplaced passion and rueful regret, but suffused with the knowledge that there is still time to fall back on a love that endures. On "Oh Yeah, By the Way," a song whose throwaway title belies a heartbreaking woundedness in the verses, Bergquist and Detweiler sing one of their infrequent duets, an acknowledgment of emotional and marital wounds that linger and fester, but eventually heal. And on the album's best song, the stunning "Rave On," Bergquist adapts a B.H. Fairchild poem and turns it into a harrowing account of kids who get drunk and blast Buddy Holly with the windows rolled down; who wreck their cars just for the twisted, elusive thrill of it. It is a search for that one transcendent moment of being able to feel something, anything at all. And it's a songwriting tour de force, featuring Bergquist's finest singing to date.
"All my favorite people are broken," Bergquist sings on the closing vocal track. It's a theme that is echoed throughout the album's length, and made explicit at the end. From the splintered shards of a life—from marital discord and tentative healing, from the middle, or perhaps end, of an uncertain career, from the vantage point of starting over when you're already way, way down the line—Over the Rhine have pieced together a lovely, heartbreaking, and ultimately uplifting musical mosaic.
Download Over the Rhine's "The Laugh of Recognition."