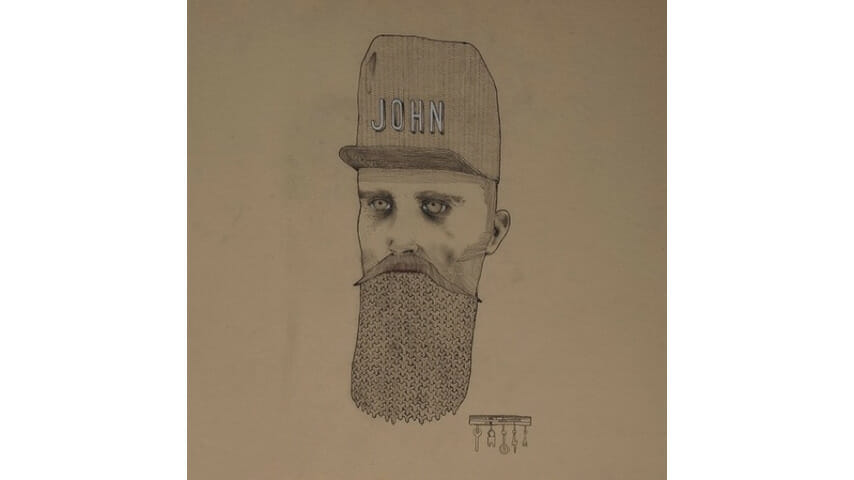 Frightened Rabbit's Scott Hutchison is no stranger to the world of solo projects. Back in 2003 when the band had just begun, Hutchison was essentially going it alone. Frightened Rabbit gradually added members and fleshed out its sound, but Hutchison was still writing the bulk of the parts for these songs. That all changed upon the release of their major label debut, Pedestrian Verse, when the band took a more collaborative approach to its songwriting and set the goal to continue down that road. But thus, Hutchison lost an area of creative output that solo work allows, an outlet for unfiltered introspection with no parameters set forth.
Frightened Rabbit has become known for its triumphant choruses and raw, gritty lyricism; it's what propelled the band to such wide acclaim across the globe. But on Owl John, the debut album from Hutchison's new solo project, those cheerful feelings of shouting along to choruses are long gone. They're traded in for brooding bursts of self-loathing and insecurities. Thematically it's a huge departure from what Frightened Rabbit fans have come to expect from the songwriter, but sonically it's not too harsh of a transition. Perhaps that's because Hutchison recorded the album with Frightened Rabbit cohorts Andy Monaghan and Simon Liddell, knocking out an instrumental arrangement a day before Hutchison would hull up and craft lyrics to all of the work.
The album starts off with a dissonant fuzz and slowly unraveling percussive line, something that immediately places a new set of expectations for the listener. As the delayed guitar and reverb-washed processed vocals bubble into the mix, it's clear that the sounds of opening track "Cold Creeps" will be unlike anything Frightened Rabbit has previously explored.
Hutchison's lyrics have always proved to be palpable pieces of work. There's a sense that he's laying it all on the line with reckless abandon. As Hutchison sings of "cold creep[ing] through the invisible arc" one can immediately grasp at the feelings of longing he's so vehemently expressing.
Some of the tracks on Owl John feel remarkably familiar though. Tracks like "Two" and "Red Hand" feel like a subtle mix between Frightened Rabbit and fellow Scottish rockers Biffy Clyro, yet other tracks feel steeped in American traditionalism and grandiosity. "Hate Music" kicks in with a dark, slow churning blues riff and rattles along with a rolling melody and massive chorus. As we're greeted with a fuzzed-out guitar solo, it becomes immediately clear that this album could never have been made under the Frightened Rabbit moniker.
Tracks like "Los Angeles Be Kind" further drive this point home. The song begins with a slowly stuttering synth and gradually builds into a riveting take on the feeling of displacement for this disenchanted immigrant who's now calling Los Angeles home. He makes the struggle of stopping at red lights feel like an existential qualm as he proclaims that he gets drunk by pseudo-rivers to fit in. This is what makes Hutchison such a gifted songwriter, and ultimately what makes Owl John such a great departure from his prior work. Regardless of the thematic standards he approaches, Hutchison's execution is what makes it all worthwhile. Owl John reels along with a methodical swagger, careening through a myriad of genres while still staying close to home. Sometimes it can feel a bit sporadic, but it's just as easy to indulge that spastic nature as it is to feel disenchanted by it.
Whether you're focusing on his effortless alliteration, gut-wrenching emotional appeal or that enchanting Scottish drawl, Owl John gives listeners plenty to dig into and envelop themselves with. Fans of Frightened Rabbit will feel right at home with the dynamic song structures and visceral lyricism while newcomers will be able to appreciate this album as much more than a one-off solo release, but rather a refreshing take from a songwriter looking to jump out of his comfort zone.