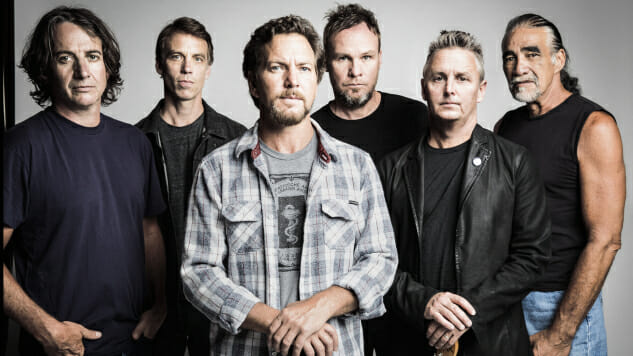 Pearl Jam have been announced as the official ambassadors of Record Store Day 2019, set to take place at independent record stores around the world on April 13.
"Independent record stores are hugely important to me, and have been ever since I was 12 years old," said Pearl Jam guitarist and founding member Mike McCready in a statement. "Before I even really knew what they were— there was a certain feeling of 'this is a dream come true,' and it's a wonderland and there's so much to learn in here … and it's still that way."
McCready continued, "Support every independent record store that you can. They're really a good part of society. Know if you love music, this is the place to find it. And it helps people who work here and that's important, too."
#PearlJam has been selected as the official 2019 @recordstoreday ambassadors. https://t.co/NaLdQxdr9l#RecordStoreDay2019pic.twitter.com/zYCydBkNFS

— Pearl Jam (@PearlJam) February 12, 2019
Record Store Day began back in 2008 as an effort to promote and preserve the unique culture surrounding independent record store owners and their employees. Since 2008, this celebration of music and small business has blossomed to thousands of eager vinyl collectors and record stores across every continent except Antarctica. Events for a typical Record Store Day include everything from limited-edition vinyl pressings, various store promotions, musical performances and more.
Previous Record Store Day ambassadors have included Run the Jewels, St. Vincent, Metallica and Iggy Pop.
An ever-growing list of participating retailers can be found on the Record Store Day website.
Watch a 1994 Pearl Jam performance from the Paste archives below.