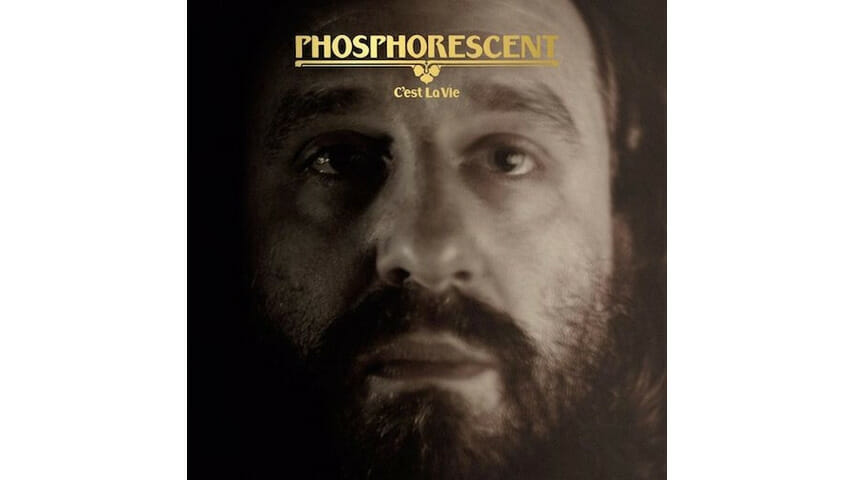 Phosphorescent's Matthew Houck was probably due for a record about the ever-changing nature of life and the associated beauty and mystery of human transformation. After all, his last full-length—2013's celestial folk-rock masterpiece, Muchacho—was a breakthrough, earning more accolades and ears than his previous five albums as Phosphorescent. That alone will change a man. Plus, Houck released Muchacho in his early thirties, after 10 years of living the lifestyle of a hard-touring musician. Hurtling toward his forties, he knew he couldn't keep that up. "I think that was the first time I ever slowed down enough to have a moment like that," he told The Guardian in a late-2013 interview, "where everything musically and personally just seemed at a questioning point."
And then came the next five years: Houck fell in love, got married, moved from New York City to Nashville, became a father, nearly died in a bout with meningitis and built his own studio, by hand, from the ground up.
That's a lot of major life events to pack into a half-decade, so it's no surprise that Houck sounds like a different man on his new album C'est La Vie. His fine-grit tenor is still perfectly raspy, and his songs still hang effortlessly near the border between barstool country and warm-glow pop, with Houck's experimental streak interloping into both territories. This is still Phosphorescent. It's just that the man behind the wheel is older and a little bit wiser these days.
C'est La Vie is bookended by instrumental tracks, one called "Black Moon / Silver Waves" that features a layered chorus of Houck's voice, and the other a long, meandering tapestry of staccato guitars, twinkling organ and ghostly vocals called "Black Waves / Silver Moon". Strip those two away, though, and you're still left with thematic bookends in "C'est La Vie No. 2" and "These Rocks," two songs that plainly acknowledge a lifestyle shift. The latter is a slow-burning, almost spiritual meditation on burden and change: "I was drunk for a decade," Houck sings in the middle stanza. "Been thinkin' of putting that stuff away." The former finds him recounting his old ways and his new ways against the steady march of keys. "I wrote all night, like the fire of my words could burn a hole up to heaven," he sings through an amiable melody. "I don't write all night burning holes up to heaven no more." In case it's not clear, he has made peace with that fact; he says so in the song's title, nay, the album's title.
In between, Houck's songs are are consistently wide-eyed and wondrous. "There From Here" wraps the revelation of clarity in a gentle sway of burbling organs. "Around the Horn" is hazy and hopeful, and it stands out thanks to its fuzzy motorik groove and sumptuous coda. "My Beautiful Boy" is a sweet love song for Houck's son, streaked with pedal steel guitar and textured with hand percussion. And on "New Birth in New England," Houck's band, which includes wife Jo Schornikow, showcases its gospel-pop-rock chops as its leader takes a few minutes to unwind with some lines about the miracles of beer and childbirth. Houck sounds bemused but happy, like a man still learning to navigate and appreciate a whole new existence. No doubt, his beautiful and affecting music will grow with him—and help guide him.
Listen to Phosphorescent's 2007 Daytrotter session below: